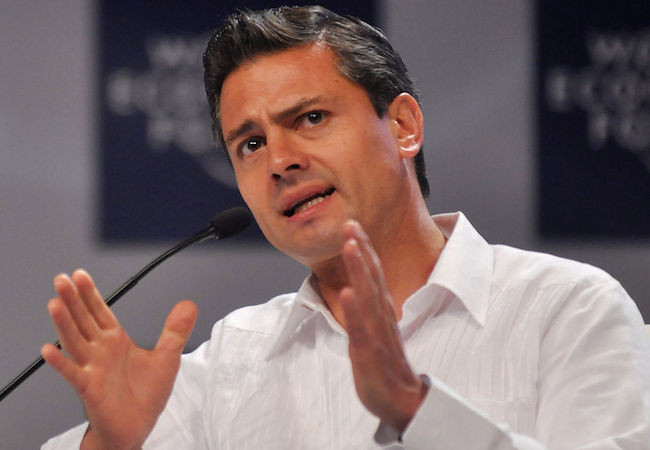 Mexican President Enrique Peña Nieto has cancelled next week's trip to Washington to meet US President Donald Trump. His decision comes a day after the new US president unveiled his plan to build a wall along the Mexico-US border and insisted the US would recoup the costs for the barrier from Mexico, which has strongly objected.
Senate Republicans said the US Congress would move ahead with the plan, and it would cost US$12bn to US$15bn.
Peña Nieto announced that he had called off the 31 January trip after president Trump suggested he should do just that.
"If Mexico is unwilling to pay for the badly needed wall, then it would be better to cancel the upcoming meeting," the US president wrote on Twitter on Thursday morning.
White House spokesman Sean Spicer told reporters that they are looking "for a date to reschedule", adding they will "continue to keep the lines of communication open".
Earlier Peña Nieto said he "lamented" the plans for the barrier. In a televised address, the Mexican leader told the nation: "I've said time and again: Mexico won't pay for any wall. I regret and condemn the decision of the United States to continue construction of a wall that, for years, has divided us instead of uniting us."
Peña Nieto met Trump – then a presidential candidate – in Mexico City in September and came under intense criticism at home. His approval ratings remain low. Building a barrier along the 3,200km US boundary with Mexico was one of Trump's key pledges in the election campaign.
As he signed the directive at the Department of Homeland Security on Wednesday, he spoke of a "crisis" on the southern US border. His executive orders also called for hiring 10,000 immigration officials to help boost border patrol efforts.
"A nation without borders is not a nation," Trump said. "Beginning today the United States gets back control of its borders."
On Thursday – less than a day after Trump's announcement – US media reported that the chief of US Border Patrol is leaving the job.
Trump is next expected to announce immigration restrictions from seven countries with Muslim-majority populations in the Middle East and Africa. This could affect refugee programs. These countries are believed to be Syria, Iraq, Iran, Libya, Sudan, Somalia and Yemen.