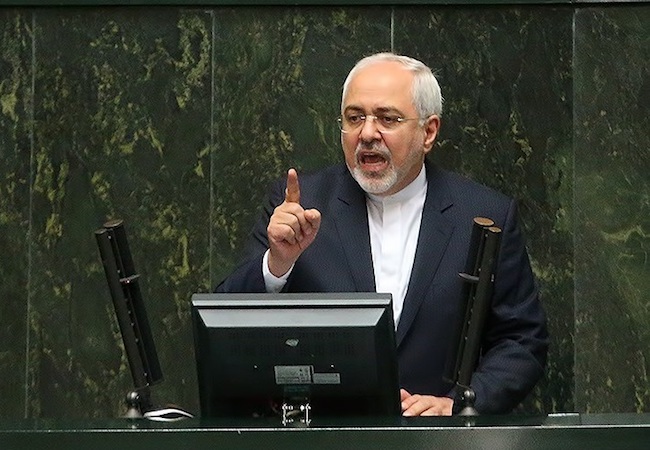 Iran will counter the fresh sanctions the United States has imposed against entities and individuals involved in its ballistic missile program, Iranian Foreign Ministry said in a statement on Friday.
The U.S. sanctions, which came days after Iran conducted a ballistic missile test, are "inconsistent with the U.S. commitments and in contradiction with the spirit of the UN Resolution 2231," it said.
Iran "will counteract any measure which targets the national interests of the Iranians."
"Iran will also exercise legal restrictions on some U.S. individuals and companies who have the role in formation of and assistance to the extremist and terrorist groups in the region," it said, adding that related names will be announced shortly.
Meanwhile, Iran again defended its missile launch as being part of its deterrent policy.
"Developing missile capabilities of the country, which is solely designed for defensive purposes and carrying the conventional weapons, is the international right of the Iranians based on the UN charter," it said, reiterating that Iran's security is non-negotiable.
UN Security Council Resolution 2231, adopted in July 2015 to endorse a nuclear deal between Iran and six world powers, opposes Iranian activities related to ballistic missiles capable of delivering nuclear weapons, including launches using such ballistic missile technology.
The United States on Friday announced sanctions on multiple entities and individuals involved in Iran's ballistic missile program and providing support to a military force in Iran.
The U.S. Treasury Department said in a statement that the action reflects the U.S. commitment to enforcing sanctions on Iran with respect to its ballistic missile program and "destabilizing" activities in the region, and is fully consistent with the U.S. commitments under the nuclear deal with Iran.
U.S. President Donald Trump also issued a warning to the Islamic republic, tweeting: "Iran is playing with fire."
Before the sanctions, Washington on Wednesday officially put Iran "on notice" over its recent missile launch and an attack against a Saudi Arabian vessel by Iran-supported Houthi militants in Yemen.
In a statement, Michael Flynn, national security advisor to Trump, accused Iran of "destabilizing behavior across the Middle East."
In response, Iran's Foreign Ministry on Thursday dismissed Flynn's comment on its missile launch as "baseless and provocative."
In addition, in response to a Trump tweeted threat on Thursday that the United States will keep every option on the table vis-a-vis Iran's "provocative" moves, Iranian Foreign Minister Mohammad Javad Zarif tweeted Friday: "Iran is unmoved by threats."
Earlier, Zarif had warned Washington against using Iran's missile program as an excuse to create new tension for the country, Iran's official IRNA news agency reported.
On Friday, an IRNA report said the Iranian Foreign Ministry has decided against the participation of the U.S. men's freestyle wrestling team in the world cup competitions to be held on Feb. 17-18 in Iran.
The decision is in reaction to Trump's executive order signed on Jan. 27 to ban nationals from seven Muslim-majority countries, including Iran, from entering the United States, the IRNA report quoted foreign ministry spokesman Bahram Qasemi as saying.
The travel ban, which bars nationals from Iran, Iraq, Libya, Somalia, Sudan, Syria and Yemen from entering the United States for a period of 90 days, has drawn nationwide protests and worldwide criticism.
On Jan. 31, Iran said it stopped granting visas to U.S. citizens in response to the ban.