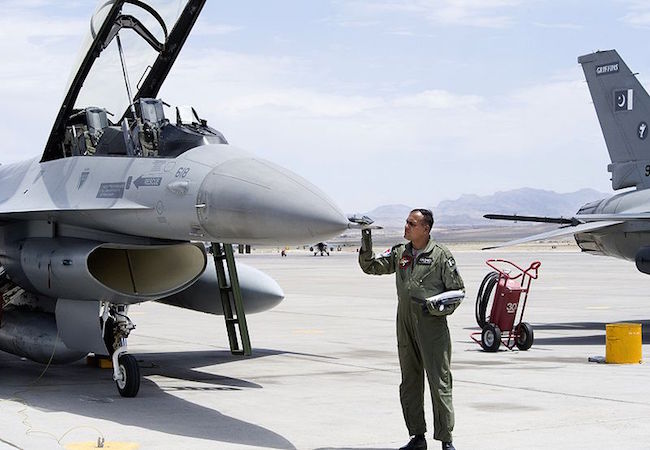 By Maimuna Ashraf
States usually conduct 'strategic dialogues to conduct regular, high level, comprehensive and forward looking exchanges on wide ranges of issues'. Pakistan and United States last year recommenced the stalled series of extensive working groups, to revisit and manage the ties between two states at different levels, known as ministerial-level strategic dialogue. In wake of this resumed platform after three years of hiatus, the US Secretary of State John Kerry lately welcomed Pakistani Advisor on Foreign Affairs Sirtaj Aziz to convene the multi-faceted Dialogue and to build long-term cooperation in energy, strategic stability and nonproliferation, the Defense Consultative Group, Counterterrorism, Economics and Education. Notwithstanding sharing the common drivers, the bilateral relationship has been facing the tailspin due to many suspicions and expectations. Although there have been array of bilateral activities and not much could provide a breakthrough or buzz the headlines, yet state level interaction between two states holds undeniable significance because the course of dialogue go to lengths to mark a renewed vitality relations. On the contrary, historically, Pakistan and US relations are defined more appropriately by the term kinetic than bilateral. The US largely is being viewed as a state that treated Pakistan merely to uphold its strategic interests in the region.
It was expected that Pakistan-US dialogue will place in this February, however with new Trump administration, this dialogue is facing a setback. There are certain issues that were discussed previously and still the issues have not reached on any consensus. In the same vein, the Afghanistan problem remains a focal agenda to add any noticeable progress to these strategic dialogues. Pakistan remained the key member to all the quadrilateral, trilateral, bilateral discussions, which took place to support an Afghan-led peace process. However, Pakistan faced a hard time to convince Haqqanis towards negotiating table which led to question its influential role in the process. Despite the fact that US recognized the extraordinary and real sacrifices of Pakistan's military, especially in previous Operation Zarb-e-Azb, US remains skeptical of Pakistan's counter-terrorism strategy in the region. Likewise, the attack on Indian Air Force base last year in Pathankot reverted all the efforts and appreciations related to Pakistan's counter-terrorism measures. Although there has been appreciation to Pakistan's commitment not to differentiate between terrorist groups in the implementation of this strategy, still there surfaced demands to take concrete steps to show the world its commitment not to differentiate between terrorist groups. However, the fact that both countries share the objectives related to counterterrorism and their relations have been pushed through Afghanistan affairs cannot be underrated. Moreover, for decades, the major reason of complicated relations between the two states has been the disagreements over limits on Pakistan's nuclear weapons. Granted the United States is appreciative of Pakistan's nuclear security measures, yet the frustration expressed over the so-called 'growing nuclear arsenals' of Pakistan on every significant event comes as no surprise. Pakistan has affirmed that it would not sign any deal that would limit its nuclear program and compromise its national interests when India and US persist to strengthen their defense and nuclear cooperation. These realities suggest that the prospects of civilian nuclear deal and Pakistan's NSG membership on a criteria-based approach are doubtful in such circumstances. It is pertinent to mention here that Pakistan has approved the inter-agency process to ratify the Convention on Physical Protection of Nuclear Material (Amended) and reiterated its determination to take all possible measures to make national security robust that could enable it to effectively respond to the threats to national security without indulging in an arms race. Pakistan has also participated in the IAEA nuclear safety action plan. Additionally it has extended its cooperation in other areas with the IAEA to improve nuclear security. The persistent demands to put limits on Pakistan's nuclear weapons is the result of ignoring these efforts taken by Pakistan with regards to its weapon's security and control measures; compliance to global norms; capacity to keep them safe; and their risk environments.
Notwithstanding the abovementioned realities, the strategic dialogue process is of evident importance as it reestablished a certain level of normalcy in relations. The previous trend showed that if Pakistan improves ties with neighbors and put limits on its nuclear program then the engagements declared by US in the dialogue would be easy, otherwise there would be another twirl in the roller coaster relationship but what the Trump administration brings for Pakistan is yet to be seen.
Consequently, it would take time to witness a transformation in the sentiment of the relationship that continues to be defined by concerns rather than pledges. Hence, a sustainable course needs to be adopted to lift this loaded relationship. Otherwise if the US continues to exercise its previous Asia pivot strategy without realizing deterrence theory in South Asia and Pakistan's interests in the region then the future dialogues would also prove another episode in the saga of random talks and ineffectual outcomes. Evidently, just entitling 'strategic' dialogue will not transform the transactional relationship into strategic relationship without mutual trust and interests which should be developed with new administration in US.