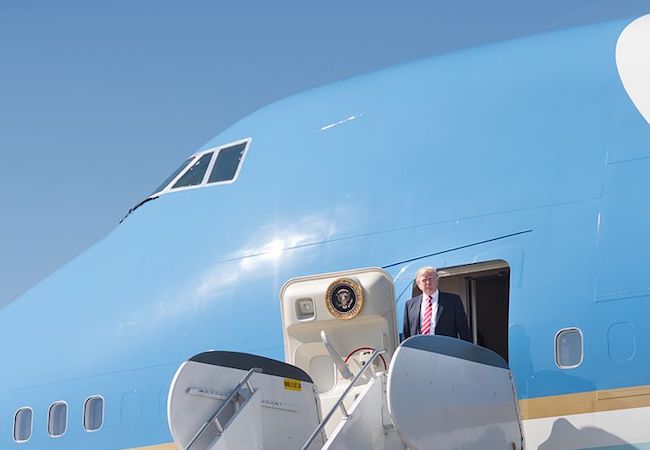 By Abdul Ruff
Undoubtedly, US-Arab relations, in particular US-Saudi ties, have been strained badly for quite some time now because of unilateral operations by Washington and its military allies in West Asia. Though Saudi Arabia is being considered as a strategic partner by official America, the western media do not appreciate what they see as an "illogical civilizational link" between USA and Saudi Arabia,  given what they say the "profound" difference in values. For them, USA which leads the NATO to invade energy rich Muslim nations for their cash, gold, petrol, as well as blood and flesh of Arab Muslims in order mainly to appease the Jews in USA and Israel, more that to showcase its military prowess to the world.
Saudi Arabia – which is home to Islam's holiest sites – will be the first stop on Trump's first foreign trip since becoming president in January. The four-day trip will also include Israel, a NATO summit in Belgium and a visit to Italy and the Vatican. Trump's aides described his decision to visit Saudi Arabia as an effort to reset relations with the Muslim world. The Trump government is currently appealing rulings against an executive order Trump issued in March that tried to halt new visas from six Muslim-majority countries and suspend refugee resettlement in the US, sparking widespread protests.
Presidents Bush and Obama diluted the intensity and depth of traditional bilateral ties with Saudi Arabia as well as GCC by their terror wars in Mideast with Israeli backing. . Since Obama's term came to an end in 2016, relations with Saudi Arabia have changed. During Obama's last visit to Riyadh, ties were at their lowest in more than half a century. With Trump in power, Americans are hoping to witness changes in all aspects: Syria, Iran, Yemen, Israel-Palestine conflict and bilateral relations. First lady Melania Trump will "will accompany her husband for the entire trip," an East Wing spokeswoman told CNN.
On 17th May King Salman bin Abdul-Aziz Al Saud extended an invitation to the US President to visit the Kingdom of Saudi Arabia. This came during a phone call which was held last night between the two leaders who reviewed the historic relations between the two friendly countries and the latest developments in the region and the world. The president also invited the Custodian of the Two Holy Mosques to visit the United States. They discussed the strategic partnership of the 21st century between the two countries and the importance of improving the economic, security and military cooperation between them. The Saudi King and President Trump emphasized the depth and strength of the strategic relations between the two countries.
President Donald Trump has decided to choose Saudi Arabia, an ally and partner with both secret and open agendas as on one of his foreign destinations on assuming power at White House three months ago. The White House announcement that US President would carry out his first foreign visit and that Saudi Arabia will be a major stop is a message on a major shift in his foreign policy priorities.
On May 4 President Donald Trump confirmed that his first foreign trip later this month will include visits to the Vatican, Saudi Arabia and Israel. The stops that his top aides hope will both combat views of the President abroad and build toward Middle East peace. The stops will come before Trump attends a NATO meeting in Brussels on May 25 and a G7 meeting in Italy on May 26. "Saudi Arabia is the custodian of the two holiest sites in Islam, and it is there that we will begin to construct a new foundation of cooperation and support with our Muslim allies to combat extremism, terrorism and violence, and to embrace a more just and hopeful future for young Muslims in their countries," Trump said in announcing his trip during a Rose Garden ceremony where the he signed a religious liberty executive order. "Our task is not to dictate to others how to live, but to build a coalition of friends and partners who share the goal of fighting terrorism and bringing safety, opportunity and stability to the Middle East," Trump said.
Trump will also meet with Pope Francis at the Vatican during his trip. According to a senior administration official, Trump feels like accomplishing Middle East peace by establishing a soverign Palestine state is "one of the things that he has to try to do" during his presidency and has been "very involved" with "a lot of ideas" during the trip's planning.
To date, Trump has left the foreign travel to his top aides and Cabinet members, including Vice President Mike Pence, who has been on two international trips so far, national security adviser H.R. McMaster and Secretary of State Rex Tillerson. He will visit Riyadh, Saudi Arabia, Jerusalem, Israel, according to a senior administration official.
Besides meeting with Saudi officials, Trump will also meet with leaders of the six-nation Gulf Cooperation Council (GCC) and have lunch with leaders of more than 50 Muslim countries. In March, Trump hosted Saudi Arabia's powerful Deputy Crown Prince Mohammed bin Salman at the White House, aiming to rolling back Iranian influence in the region. Saudi Arabia hailed a "historical turning point" in U.S.-Saudi relations. "This meeting is considered a historical turning point in relations between both countries and which had passed through a period of divergence of views on many issues," a senior adviser to Prince Mohammed said in a statement.
There is also a clear interest among top aides in the White House to counter the view Trump has cultivated abroad. "Saudi Arabia is going to convene a lot of the leaders from the Muslim world, and you will see that there is a lot of objectives they share with America," one senior administration official said.
Trump's election has provided the USA with opportunities to "re-engage the world," the officials said, given Trump's perceived unpredictability and that he is "not dogmatic to one school of thought, (rather) open-minded, flexible and opportunistic." With a view to gain Christian and Jewish voters, Trump ran on a ban of Muslims entering America, proposing the in a December 2015 announcement a "total and complete shutdown of Muslims entering the United States" until American officials could get a handle on terror. While his campaign slowly backed away from that pledge, one of Trump's first actions in the White House was to push a travel ban for seven – and eventually six – Muslim majority countries.
The senior officials said it's a time when the Trump government can pursue policies that "strengthen our hand and weaken our enemies." "Certain things will be formalized and announced in the time leading up to the visit," one senior administration official said.
A senior official said that a recent visit to Saudi Arabia revealed open-mindedness to stepping up and leading in a way the official had not seen in the country since right after 9/11 hoax engineered to generate global sympathy for the subsequent US invasion of an Islamizing Afghanistan, Iraq, Libya, among others. Both Afghanistan and Pakistan remain destabilized but the USA or NATO rogue states refuse to take responsibility.
A White House spokesperson says: "Saudi Arabia realizes the challenges it , according to Israel, stems from the Obama government's nuclear deal with Iran, which they view as providing a path to a nuclear weapon for the country, as well as Iran's continued funding of terrorism throughout the region. The officials add USA has been working hard to produce a "meaningful set of deliverables" to be announced around the trip. Trump's top advisers insist the President is focused on making deals with foreign leaders in a bid to create a more secure planet, despite the lack of foreign travel. They point to frequent visits from foreign leaders — including the most recent visit of Palestinian President Mahmoud Abbas — as proof that Trump has influence on foreign affairs from the White House.
The televised interview of Deputy Crown Prince Mohammed bin Salman bin Abdulaziz clarified the stances from these issues that are expected to be part of the discussions in Riyadh. Regarding Syria, Riyadh eased its stance to reach a political solution that satisfies Russia and doesn't grant the regime and its allies a free hand. In the Astana talks, there were two prime developments – approval to differentiate national factions from terrorists and readiness to establish safe zones, two of Trump's pledges while campaigning for the presidency. On the Yemeni war, the deputy crown prince was persuasive when he boldly admitted that the rush in liberating Sana'a and other cities might cause huge losses on both sides of the conflict. "Time is in our favor and we are not in a rush. We can liberate it in two days with a costly human price or liberate it slowly with fewer losses," he said.
The Muslim Brotherhood is a unified group from Gulf, Egyptian, Sudanese, Tunisian and other nationalities. The Arab "permanent" rulers are scared of the MB and made a united front to defeat it and they have thrown and defeated the first ever elected government of Egypt Mohamad Morsi by staging a military coup as Morse could not foresee the military plans. The group tried to besiege the government in Egypt and by guiding the Egyptians against it as well as urging the region's people to cut ties with it. Trump reversed the foreign policy of Obama who had boycotted the government of Egyptian President Abdel Fattah al-Sisi. The Egyptian government claims to be stronger than when President Mohamed Morsi's government was ousted more than three years ago.
Riyadh will be looking for assurances that the Trump administration will continue its notably harsher tone toward Iran and keep up pressure, through both rhetoric and action, to stop what Saudi Arabia sees as Tehran's destabilizing activities in the region. Iran is a huge concern for Riyadh and the USA as well as other Sunni governments in the region. The Trump government has called the nuclear agreement with Iran "the worst deal ever negotiated," and senior officials have repeatedly criticized Iran's behavior for its support for Assad, its ballistic missile activities and its support for militant groups in the region.
Iran, which has been accused of exposing sectarian fault lines in the region, especially in Yemen, Syria and Iraq, tried to soften its rhetoric as Rouhani said there should be greater unity between Shiites and Sunnis and that they had coexisted side by side peacefully for hundreds of years. The main motivation behind the visit seems to be Trump's policies and his eagerness to better relations with Saudi Arabia, which was abandoned in the era of former US President Obama. The deputy crown prince said President Trump has already delivered clear messages against the policies of the Tehran regime in Iraq, Syria, Yemen and the Gulf waters.
The Mideast trip is meant to show that Trump's "America First" motto is "fully compatible with American leadership in the world," another official said. White House press secretary Sean Spicer said the President's first trip came after King Salman bin Abd Al-Aziz of Saudi Arabia, President Reuven Rivlin and Prime Minister Benjamin Netanyahu of Israel and President Mahmoud Abbas of the Palestinian Authority extended invites to Trump. Trump's first foreign trip is coming later in his presidency than any president since Lyndon B. Johnson, who waited over 10 months after President John F. Kennedy was killed to travel abroad. He is also the first president since Carter to not make his first trip to Mexico or Canada.
Meanwhile, Palestinian Authority President Mahmoud Abbas has received an invitation from King Salman bin Abdulaziz al-Saud to attend an upcoming summit in Riyadh between Muslim leaders and US President Donald Trump. King Salman said the Arab-Islamic-American Summit on 20-21 May aimed to address the challenges facing the Arab and Muslim worlds and to forge a new partnership to fight extremism and tolerance. "The summit will aim to strengthen our peoples' security, stability and cooperation in the present and in the future by spreading the values of tolerance and peaceful co-habitation," read the letter. Abbas was visiting Jordan on the first leg of a three-nation trip that also takes in Russia and India. He met Trump in Washington earlier this month and was among the first ten foreign leaders to do so.
Separate meetings will also take place in Riyadh between monarchs of the six-nation Gulf Cooperation Council and Trump, as well as bilateral talks between the Saudi and US leaders, according to Saudi Foreign Minister Adel al-Jubeir.
Observation
President Donald Trump's visit to Saudi Arabia is the first stop on his maiden international trip since taking office in January. U.S. and Saudi officials are eager to highlight the powerful symbolism of an American president choosing to visit the birthplace of Islam as his first stop rather than to neighbors Canada or Mexico.
After turbulent years, President Trump meets Saudi princes in Riyadh as he can expect a warmer welcome than the one given a year ago to his predecessor Barack Obama, who Riyadh considered soft on arch foe Iran and cool toward a bilateral relationship that is a mainstay of the Middle East's security balance.
Trump's visit "sends a clear message that the U.S. is standing with its close allies in the region and that they're not abandoning them," a senior Saudi official told Reuters, reflecting the view many Gulf leaders had of Obama, who they considered had made securing a nuclear deal with Iran a higher priority than the U.S.-Gulf alliance.