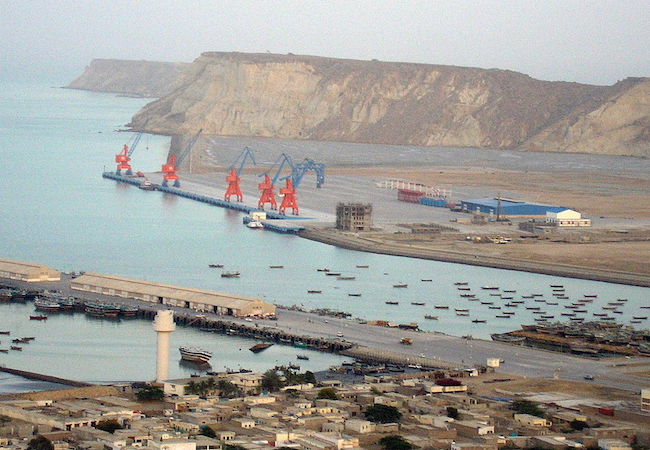 By S. Sadia Kazmi
Until now India has stood its ground and there is no blinking in sight over its stance on the CPEC. India's opposition to CPEC centers around the argument that the all-weather energy corridor passes through Gilgit-Baltistan, the region which India claims should have been the part of its own territory. India has been quite vocal about this concern and hence remains unconvinced to be part of China's initiative as it allegedly violates India's sovereignty. China on the other hand defends CPEC as a project meant for regional peace and development. While this issue was already becoming a source of friction between China and India, recently the India-China standoff in Doklam has further reduced the chances of cooperation between the two countries as far as the OBOR initiative and the CPEC are concerned.
China on its part has time and again made an effort to mitigate India's unfound apprehensions about the CPEC but doesn't seem to have been successful in this. Earlier in Januray, speaking at the inaugural session of the Raisina Dialogue, Indian Prime Minister Narendra Modi had said: "Respect for sovereignty is important for regional connectivity to improve. In response to this statement, Hua Chunying, the spokesperson for China's foreign ministry, said: "Regarding CPEC, this is a project that is devised for long-term development and cooperation in various fields… It is for regional peace and development."
With the fast-track construction work on CPEC, India's concerns have increased with the reports of China-Pakistan naval cooperation in the Gwadar port of Baluchistan. This port will serve as the entry point to CPEC. Large part of CPEC passes through Azad Kashmir and once completed, it will provide all-weather energy route for China from the Gulf. This will not just be beneficial for Pakistan and China but will bring prosperity and economic benefits to the whole region and beyond. This is one of the reasons a large number of countries have shown their willingness to be part of this project. India on the other hand, however seems to continuously lose sight of major economic benefits that CPEC could bring. It is adamant to look at it from a narrow angle of territorial integrity despite China's repeated assurances that it would in no way change China's stance on Kashmir issue nor will it be at the expense of any third country.  India on its part also refused to attend "Belt and Road Forum" hosted by Chinese President Xi Jinping, nor sent any official delegation to the summit. While it made the same argument the bases of its boycott of the summit, there have been voices inside India that are not supportive of this policy adopted by India. The Indian Express stated that "By boycotting the summit rather than showing up and making our voice heard loud and clear in the comity of nations, India has in fact sent out a message that it will make proforma noise on this issue but actually acquiesce to the fait accompli."
While others inside India believe that India's position is valid, three major Indian news publications in their editorials or opeds have largely criticised India's refusal to attend the summit in Beijing, calling it a failure of the country's foreign policy and diplomacy. They claim that this decision has effectively closed the door for diplomacy and stands in contrast to the countries such as the US and Japan which although are not part of BRI but sent their official delegations to the summit.
In the same vein, India continues to oppose CPEC even though 19 of its so far agreed 50 projects have already been completed and its fast becoming a reality. It might be easier to skip just one conference but the way CPEC is evolving, nobody can deny that it is fast becoming a force to reckon with. China is going to go ahead with the BRI as a major geopolitical initiative in the coming decade. For India, sitting still is not an option. It needs to have itself engaged into the progressive initiatives. How India is going to do it, will be the major challenge. Apparently, India's counter plan to CPEC i.e. Chababhar has already failed to yield the desired result. Even though this could have been a good counterstrategy since India has successfully maintained close relationship with Iran for years now even when it was under immense US sanctions. By building Chabahar in Iran next to Gawadar, India was hoping to undermine the utility of Gwadar and supersede China as possibly the most dominant country in Asia. This could very well be one of the reasons why US also gave some breathing space to Iran i.e. to ultimately secure Indian interests in the region.
However, in interesting turn of events, Iran itself has agreed to be part of the CPEC. Even though it might not have any effect on Iran-India relations but India Policy to act against CPEC through Chabahar has clearly failed. Iran has also offered Pakistan to build and invest in the Iran-Pakistan pipeline. Apart from that it has offered to open oil refineries and Invest in Gwadar Industrial Sector, which is a major loss for India as it wanted to undermine CPEC. It is a major loss for India's plan to isolate Pakistan in the region and damage its economy. Not just that but India has also lost the opportunity to undermine China's position when in May almost 110 countries signed on to the Beijing Plan to provide "cooperative capitalism" to developing and underdeveloped nations.
It also points to the fact that China's rise is still intimidating for India which further means that the differences with China have not fully gone away despite their overall broadening of ties. The political difference continues to lurk in the background. India however needs to look at the project more objectively. However, India can still change its losses into opportunities. If at all India decides to join the project, the economic benefits are immense which will not be without geopolitical advantages. The Gilgit-Baltistan part of CPEC runs parallel to the LoC between India and China. Instead of an everyday exchange of fire across the LoC between India and Pakistan, there could be a possibility of enjoying quiescence in the context of one of the most incendiary of all international disputes. Hence, the CPEC could actually prove to bring prosperity and connectivity to all.