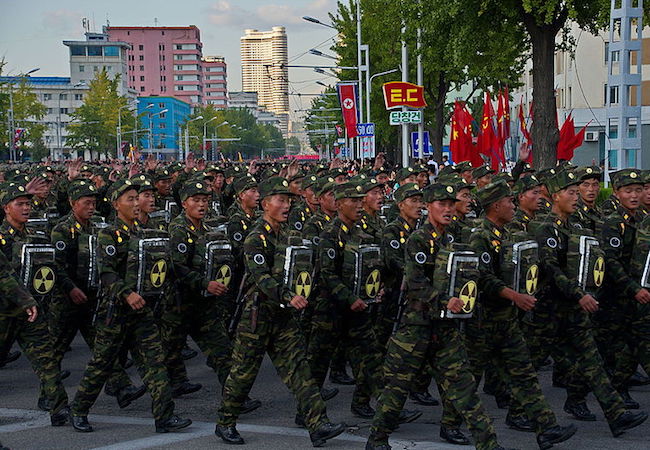 By Abdul Ruff
Russia and China – allies of North Korea- have strongly defended the nuclear actions of North Korea. The latest Hydrogen Bomb test has sent tremors across the western world represented by the NATO. USA, Japan and South Korea have condemned the missile firing in the strongest possible ways.
China has once again urged diplomatic talks to address the crisis with an emerging nuclear power North Korea and warned at the UN Security Council that it will not allow chaos and war on the Korean peninsula.
Chinese Ambassador Liu Jieyi said that the situation on the peninsula is deteriorating constantly as we speak, falling into a vicious circle. "The peninsula issue must be resolved peacefully. China will never allow chaos and war on the peninsula." His appeal was echoed by Russia, which said that diplomatic negotiations were the only way to settle the crisis over North Korea's nuclear and missile programs.
Russian Ambassador Vassily Nebenzia said there was "an urgent need to maintain a cool head and refrain from any action that could further escalate tensions." Russia backs China's proposal for a freeze on North Korea's nuclear and missile tests in exchange for a suspension of US-South Korea military drills.
US Ambassador Nikki Haley however rejected the proposal as "insulting" and said it was time to ratchet up the pressure on North Korea by enacting the "strongest possible measures." "When a rogue regime has a nuclear weapon and an ICBM pointed at you, you do not take steps to lower your guard. No one would do that. We certainly won't," she declared.
Russia and China did not specify whether they would support additional sanctions on North Korea. The communist state has test-fired dozens of missiles and conducted three underground nuclear tests over the past year and a half in defiance of punishing UN Security Council sanctions and diplomatic pressure. It also has tens of thousands of soldiers and artillery positioned near the heavily fortified border that divides the peninsula.
The USA, Britain, France, Japan and South Korea requested the urgent meeting after North Korea detonated what it described as a hydrogen bomb designed for a long-range missile.
South Korea's defense ministry warned Monday that Pyongyang may be preparing another missile launch after two tests in July of intercontinental ballistic missiles (ICBMs) that apparently brought the US mainland into range.
Meanwhile, North Korea has been observed moving what appeared to be an intercontinental ballistic missile (ICBM) towards its west coast, South Korea's Asia Business Daily reported, citing an unidentified intelligence source. The rocket started moving a day after North Korea's sixth nuclear (Hydrogen) test, and was spotted moving at night to avoid surveillance, the report said. North Korea has launch facilities for its missile program on its west coast. South Korea's defence ministry said they were unable to confirm the contents of the report. The ministry said in parliament that North Korea was considered ready to launch more missiles, including ICBMs, at any time.
South Korea is seen taking retaliatory steps to stop north from moving further with its nuclear blasts. Its defense minister said it was worth reviewing the redeployment of American tactical nuclear weapons to the Korean Peninsula to guard against the North, a step that analysts warn would sharply increase the risk of an accidental conflict.
And even as concern over Korea deepened following North Korea's huge nuclear test Sunday, South Korea's defense ministry said that Pyongyang might be preparing to launch another missile into the Pacific Ocean, perhaps an intercontinental ballistic missile theoretically capable of reaching the mainland USA.
USA also feels the heat. In New York, Nikki Haley, the US ambassador to the United Nations, said the regime of North Korean leader Kim Jong Un was "begging for war." President Donald Trump and his South Korean counterpart, Moon Jae-in, spoke on the phone for 40 minutes, some 34 hours after the nuclear test and more than 24 hours after Trump took to twitter to criticize Moon's "talk of appeasement." The two agreed to remove the limit on allowed payloads for South Korean missiles — something Seoul had been pushing for – as a way to increase deterrence against North Korea, according to a read-out of the phone call from South Korea's Blue House. They also agreed to work together to punish North Korea for Sunday's nuclear test, including by pushing for tougher sanctions through the United Nations. In a later phone call, Trump and German Chancellor Angela Merkel came to the same conclusion.
At a Security Council meeting, Haley pressed for the "strongest possible" sanctions against the North for openly challenging American power. . She did not spell out US proposals or how she would overcome the objections of veto-wielding permanent members China and Russia. But she cautioned, war is never something her country wants. "We don't want it now. But our country's patience is not unlimited. We will defend our allies and our territory."
Haley ruled out the "freeze for freeze" proposal backed by China and Russia, which would suspend US joint military exercises with South Korea in return for suspension of North Korean nuclear and missile tests. "When a 'rogue' regime has a nuclear weapon and an ICBM pointed at you, you do not take steps to lower your guard. No one would do that. We certainly won't," she said. Instead, she reiterated a White House threat to cut off trade with any countries that also trade with North Korea. That would presumably include China, with which the USA had nearly $650 billion worth of trade in goods and services last year. She said the USA will look at every country that does business with North Korea as a country that is giving aid to their reckless and dangerous nuclear intentions.
Haley's remarks appeared to be unpersuasive. Russia's UN ambassador, Vassily Nebenzia, said. China will never allow chaos and war" in Korea, said Liu Jieyi, the Chinese ambassador to the UN Sanctions alone will not solve the crisis.
Meanwhile, South Korea, under pressure from Washington masters, is ready to install four more launchers to complete the deployment of a controversial US missile-defense system to counter the growing threat from the North, the defense ministry said. The ministry made the announcement as tensions spiked following North Korea's sixth nuclear test, which raised fears of military confrontation as the United States warned all options are on the table in dealing with the communist state. It didn't give a date but suggested the remaining launchers would be installed soon.
US Forces Korea began deploying the anti-missile battery known as THAAD with two launchers and the radar in late April in an overnight operation that many saw as an effort to rush it into place before May 9 elections to replace ousted President Park Geun-hye. It made the THAAD agreement with Washington despite local protests and objections from China, which fears the system's powerful radar could be used against it as well.
New SK President Moon Jae-in suspended the THAAD deployment shortly after taking office but reversed that decision as the North conducted increasingly advanced missile tests and rebuffed his efforts to pursue dialogue. Moon said the installment could be completed at least on a temporary basis pending a full environmental assessment of the site. The final administrative hurdle was cleared when the environmental ministry said that it has given conditional consent after finding the adverse impact on the area from THAAD was limited. The Ministry of National Defense then said it "is planning to deploy the four additional launchers temporarily sooner or later in order to cope with North Korea's growing nuclear and missile threats."
One thing is very clear. USA would not dare attack North Korea chiefly because Russia and China, tow veto powers, oppose any such American misadventures. Pentagon would not switch on its terror machinery towards Pyongyang chiefly because North Korea is not Afghanistan. True, North Korea is seen in Washington challenging the US military power, knowing full well it had terror attacked Japan with its newly invented atomic bombs several decades ago and destabilized a powerful Iraq under Saddam Hussein and assassinating him in the crudest manner. . 
Moreover, USA cannot hate North Korea as much as it hates Islamic world which is its major civilizational foe.