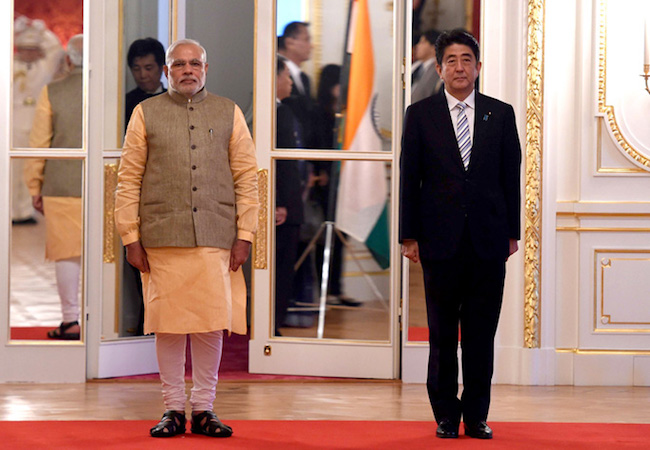 By Sadia Kazmi
India and Japan have given impetus to their bilateral relations after reviewing and revisiting their policies towards each other as well as towards the region in general. Ever since the World War II, the gradual warming up of relations has been taking place. Now it is almost over two decades of economic ties which are visibly turning into strategic cooperation. One common factor that has been instrumental in bringing the two closer to each other is China. The exponential economic rise of China as well as its Asia Pacific policies including its growing stronghold in South China Sea, has raised worries for both Japan and India. China's massive investment in Pakistan's infrastructural and developmental projects is another major area of concern for India. Infact both India and Japan have suggested an alternative to CPEC in the form of Asia-Africa Growth Corridor (AAGC). In the backdrop of 12th Indo-Japan annual Summit meeting the Indo-Japan nexus gains a renewed significance within the context of Asia Pacific and specifically its implications for South Asia.
The meeting between Japanese and Indian Prime Ministers Shinzo Abe and Narindra Modi took place during the former's two day visit to India on 13-14 September 2017. The timings of this meeting is quite significant as India recently disentangled itself from a "could have been" violent conflict with China over Doklam. The post Dokalm overtures of India towards the US and Japan, show an intentional effort on its part to reduce its dependence over China and to establish more robust and reliable alternatives. Even though the analysts are expecting a possibility of positive ties between China and India especially after the BRICS Xiamen declaration where China for the first time condemned Pakistan based terror outfits Lashkar e Taiba and Jesh e Muhammad for committing terrorist acts. Nonetheless it is being considered more of a diplomatic victory of India and it is yet to be seen whether China and India can get back on the cordial terms so soon after the Doklam crisis. India has already been showing resistance against CPEC alleging it to be a threat to its sovereignty and territorial integrity. It is for the same reason India has not only consistently refused to join the CPEC but by doing so it has denied China a 1.3 billion market of consumers. In the same vein, the visit of Prime Minister Abe pronounces the objective of embarking upon a geo-economic vision as a counter to China's "Belt and Road Initiative". The leaders of the two states were vocal in expressing disappointment with China's BRI and especially the CPEC. It is unfortunate that Japan blindly tows the line of India and believes that CPEC is somehow violating India's territorial integrity.
Ultimately deepening and reinforcement of their footprints in the Indo-Pacific region is the intended part of the plan. Similarly, US Secretary of Defence Jim Mattis' visit to New Delhi on 25th September, further highlights the increased efforts by India to strengthen the relations. Although the prime reason for the Defence Secretary visit is in connection with Trump's South Asia policy and possible US-India cooperation in Afghanistan, it is believed that China factor is quite relevant. As is also evident from Pentagon's statement which outlines Mattis' agenda, stating "the secretary will emphasize that the United States views India as a valued and influential partner, with broad mutual interests extending well beyond South Asia". Similarly, PM Abe's visit comes in the wake of North Korea's nuclear and ballistic missile tests, as he condemns the tests and announces that "strengthened Japan-India ties are the basis to underpin the regional order". The two states also hailed the civil nuclear cooperation agreement that was agreed upon in July, allowing Japan to export its nuclear power technology to India. With regards to this development, the critics have raised their concern that it would instead disturb the regional peace. Their objection is indeed quite valid that technology export to India, which conducted nuclear tests in the past without joining the Nuclear No-Proliferation Treaty, could be diverted to military use.
Nonetheless Japan along with India assumes for itself a role of torchbearer for peace and prosperity in the Asia-Pacific region and the world. While specifically in an attempt to minimize China's role in the Asia-Pacific region, Japan and India agreed to promote defence and maritime security cooperation between their countries. The two states have vowed to expand their area of cooperation and the 12th Indo-Japan annual Summit was followed by signing of 15 MoUs in sectors like engineering, automobile and infrastructure, IT and skill development, aerospace, defence manufacturing, pharmaceuticals, electronic and housing etc. The visit also saw the launch of Mumbai-Ahmedabad bullet train project. For this, a training institute has also been set up that will help develop human resources with high level knowledge for the operation of High Speed Railway. For this Japan has committed loan of 10.45 billion Yen (about INRs 606 crore). Further to improve the connectivity in North Eastern Region of India, Japan will provide a loan of 38.66 billion yen (about INRs 2,242 crore) to improve roads and bridges. This project consists of the construction work of NH-40 (in Meghalaya) and NH-54 (bypasses in Mizoram). For up-gradation of existing ship recycling yard at Alang, Gujarat INRs 494 crore loan agreement was signed. All these developments clearly hint at the intentional effort to have less economic reliance on China and to have parallel developmental and infrastructural projects implemented in India as counter to China's developmental venture in Pakistan i.e. CPEC. Furthermore, in order to counter China, Japan will massively keep pouring in money into the Indian market with an aim to seek enhanced influence in the South Asian region.
Not just that, but the maritime security has also been an important area of concern during the annual Summit. Both countries unanimously highlighted the significance for the freedom of navigation at sea, overflight and unobstructed trade based on international law. This could very well be alluding to China's growing influence and stronghold in the South China Sea.
Nonetheless, one can predict that since China's economic presence on the world stage is only going to further grow with the passage of time, so will the cooperation between India and Japan. And if this cooperation actually helps in sustaining peace in the region, then this cooperation should be embraced wholeheartedly. But that is not the case. It is essentially to enhance India's influence within the region and beyond and to collectively contain China with the help of Japan and the US. Even though it is quite daunting for Japan and India to match up with China's growing economic clout, they will strive to keep playing their important role in the geostrategic environment of South Asia.