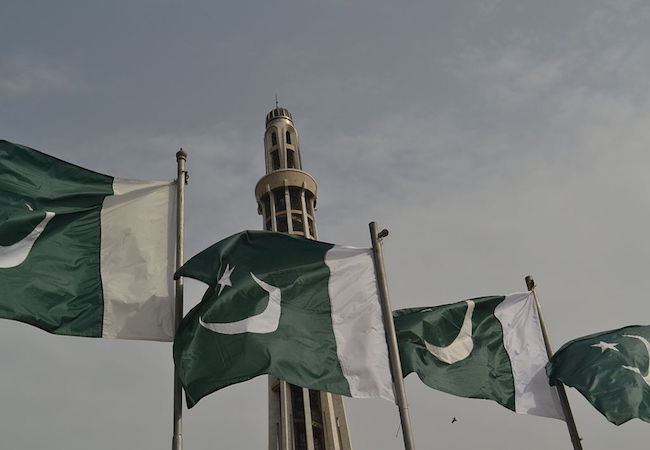 By Ammar Younas
Last week, Pakistan's chief of army staff, Gen. Qamar Javed Bajwa visited Iran and expressed its interest in learning from Iran's Basij Organization. Basij Organization was formed by the order of Ayatollah Khomeini. It consists of civilian volunteers who were urged by Khomeini to fight in the Iran–Iraq War.
It seems that Pakistan is trying to avoid the rare happening of mistrust among Pakistan-Iran relations. On the other hand, I think that Pakistan is finding an excuse for not joining any proposed future alliance against Iran, Yemen or Lebanon. This year in August, US president Donald Trump said in a speeech that US is paying billions of dollars to Pakistan but Pakistan is hosting the same terrorists with which US is fighting. Trump's statement made aggressive to the many fractions of Pakistani establishment.
2 years ago, since the Saudi-led alliance started fight against Houthi rebels in Yemen, Pakistan has been under immense pressure from Saudi Arabia and the Gulf Cooperation Council (GCC) for military support in the region. Since then, Former Prime Minister of Pakistan, Nawaz Sharif had chaired several high-level meetings with civil and military officials to determine Pakistan's involvement in the conflict. While the government had clearly stated it would defend Saudi Arabia's "territorial integrity," it is yet to commit troops and resources to the Saudi-led offensive in Yemen. The reason was quite simple that Pakistan had too much to deal with its own internal conflict ranging from Karachi to the bordering areas with Afghanistan in the North. Moreover, Pakistani army would never go against the will of Shia population of Pakistan. Pakistan was simply not in position to join hands with Saudi Arabia to fight in Yemen.
Later on, Saudi Arabia formed a military coalition of Muslim countries – including powers such as Egypt and Turkey – to coordinate a fight against "terrorist organizations". Surprisingly, the Former Military chief of Pakistan Gen Raheel Sharif was appointed the leader of this military alliance. The aim of this 41-nation armed coalition was to provide a platform for military cooperation among Muslims countries for fighting against terrorism, by sharing military expertise and by involving religious scholars to propose a counter-terrorism narrative. After two years, we cannot see any significant activity done by this coalition.
Saudi Arabia's crown prince Muhammad bin Salam has been very active during this month. Trump's son in law met with the Crown Prince. Many analysts are claiming that Saudi Arabia with the support of US and Israel have formed an alliance against Iran and it is vivid by Saudi Arabia stating that Lebanon has declared a war on it. In the meantime, Saudi Arabia and other Gulf countries have asked their citizens to return from Lebanon. Can Saudi Arabia attack on Lebanon? No. Saudis can never think of attacking on Lebanon against Hizballah because it is physically impossible for them. Can Israel attack on Lebanon? Theoretically, Yes but, practically it seems very difficult. Hizballah has secured the Lebanon-Israel boarders. Palestinian fighter groups Hamas and Al Fateh both are looking for a chance to knockout Israel. If Israel declares a war on Hizballah, Lebanon or Iran, the Palestinian fighter groups "Hamas and Al Fateh" will use this chance to smash Israel. Israel can only weaken the Hizballah by fighting with it in Syria. It is Syria through which Hizballah is getting Iranian weapons. Saudis and Israel can fight with Iran and Hizballah in Syria but with the passage of time, it is also becoming very difficult for them. Saudis and Israelis can find other arenas to exhaust their frustrations against Iran.
I think that the visit of Pakistan's Army Chief to Iran at this point is very smart and strategic move. The tendency towards confirmation bias that this time Pakistan will act differently by the fact that Pakistan's army is the key player in forming the country's domestic and foreign policy. Former Prime Minister Nawaz Sharif had very close and personal relations with Saudi Royal Family. That is the reason that Pakistani parliament especially former Prime Minister Nawaz Sharif took too much time before clearing its position on Yemen in 2015. After the disqualification of Nawaz Sharif by Supreme Court in Panama verdict, visit of Pakistan's Army Chief to Iran is a clear message to Saudi Arabia including Israel that Pakistan will remain neutral in upcoming Saudi aggressions against Shias in Iran or Lebanon as it remained in the case of Yemen. Pakistan effectively dodged Saudi Arabia in Qatar crisis as well. Besides giving credibility to Pakistan's policy of neutrality in the Middle East, the visit of Army chief of Pakistan is a clear message to Trump administration that Pakistan always have other options available including an alliance with Iran. Moreover, If Saudis and Israelis have to flex their muscles against Shias in Iran, Yemen or Lebanon, they should not look towards Pakistan for any support.