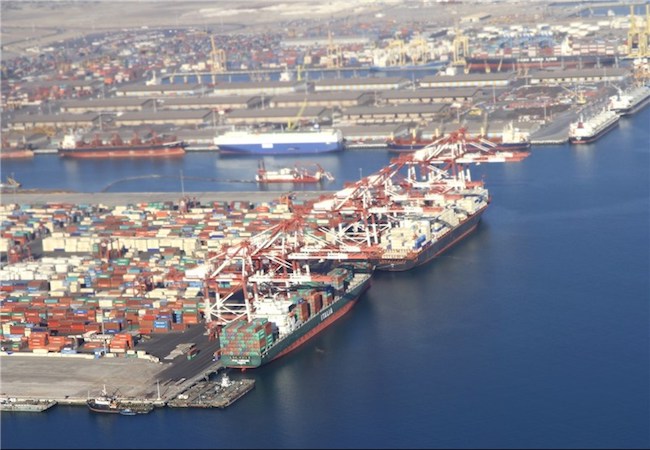 By Sadia Kazmi
Lately China's BRI has been able to attract India's and US' attention where the former has been more anxiously concerned about China's expected strategic control of the Sea lanes through its flagship project of CPEC with Pakistan.  It is believed that Pakistan with the help of Chinese support will be able to deny India access to important strategic sea lanes for international trade, causing it huge economic damage in the process. In order to counter alleged China-Pakistan nexus, India has been trying alternative options to reach Iran, Afghanistan and Central Asia, while at the same time it is expecting a more effective role by the US in somehow helping India establish its hegemony in the region. Within this context, Chabahar port has been touted as an effective counter strategy by Indian policy makers. On 3rd December 2017, the Iranian President Hassan Rouhani marked the inauguration of newly built extension of Chabahar port which is being built by the Indian financial support. The US $340 million project was constructed by a Revolutionary Guard-affiliated company, Khatam al-Anbia, the largest Iranian contractor of government construction projects. Last year India committed around US $ 500 million for the construction and development of this port in Iran which is located on the Gulf of Oman only 85 km from the Gwadar port in Baluchistan, Pakistan. India also plans to invest in the rail and road infrastructure development within Iran, specifically so that once the cargo reaches the port, it could be carried through road and rail links to Afghanistan and onward to Central Asia. Iran expects to receive US $ 400 million of steel rails to Tehran. Two countries have planned joint ventures for fertilizer plants. There is a planned 500 km railway link which will connect Chabahar to Zahedan in Iran i.e. India's connectivity to the rest of Iran. Not only does the landlocked Afghanistan stand to gain from this trade arrangement but India itself will be able to engage with resource rich Central Asian states, that too through bypassing Pakistan. India also seeks to bring progress on the international North South Transport Corridor of which both India and Iran are signatories along with Russia.  So all in all Chabahar port opens ship, road and rail routes for the transfer of goods between India, Iran, Afghanistan, Azerbaijan and Russia. Chabahar also has Iranian Navy and Air force bases along with international airport which enhances the significance of the port. Hence, one gets to hear recurrent claims by Indian leadership and strategy planners regarding Chabahar port being the "neutralizing" factor against China-Pakistan strategic nexus in the region. Further progress on Chabahar port includes the trilateral transit and trade agreement between India, Iran and Afghanistan, which was discussed during the inauguration but yet has to be ratified. Nonetheless the three countries reiterated their commitment to the early operationalization of the port.
However, despite all these facts, there are certain realities that cannot be ignored. The very fact that the Pakistan's Minister for Maritime Affairs Mir Hasil Khan Bizenjo travelled by road from Gwadar to Chabahar to attend the inauguration ceremony shows that Pakistan whole heartedly welcomes this development and genuinely takes Chabahar as the sister port of Gwadar port as has been claimed by Pakistan at several occasions. This claim of Pakistan holds water as this region has a huge potential to become a global financial hub in which case having one port might not be sufficient. This is where Chabahar can complement the deep-sea Gwadar port and mutually reap the benefits through regional connectivity.
At the same time, President Rouhani's statement during the inauguration ceremony sends out a clear message to all and sundry that Chabahar is not to hamper the efforts for regional connectivity either by China or any other state but to further contribute to this very cause. This is quite evident from his statement where he categorically mentioned that "we should go after the positive competition…we welcome other ports in the region…we welcome Gwadar's development" and that "the port will bring more engagement and unity among regional countries".
Hence, one can deduce that Pakistan does not really need to be concerned about Gwadar port being overshadowed or ending up ensnared into some kind of competition vis-à-vis Chabahar. Even though India's presence in the South is a natural worry for Pakistan but the reassurances by Iranian leadership can be relied upon. This is important because Iran is expected to play a wise role in this whole arrangement where it should not let China's and Pakistan's economic interests be sabotaged by India's self-imposed insecurities. Iran realizes that CPEC is the need of time and has shown inclination to join it too. Staying out of CPEC or being involved in anti-CPEC lobby will only harm its own strategic and economic interests. Hence, it is hoped that while Iran may welcome Indian investment and its growing economic footprint inside Iran, it should not allow Chabahar to turn into a den of Indian spies who could easily cross over into Pakistan through Iran. This is one aspect that Iran has to stay mindful of.
Pakistan on its part wholeheartedly agrees with China and welcomes all countries including India to be part of the CPEC. Pakistan also understands Iran's need to remerge and reestablish its relevance at regional and global level after long spell of US' sanctions, therefore, India's initiative is commendable in that regard. However, India must also understand that CPEC is not aimed against any particular country. It is a flagship project of a much bigger economic initiative of China i.e. BRI, which intends to bring immense economic uplift for the Asian state and prospects for regional and extra-regional connectivity between South, Central, West Asia, Africa and Europe. Hence working against CPEC or making counterstrategies will only serve limited interest for a short run. This shift in policy thinking is the only way that could ensure a win-win for all the regional states collectively.