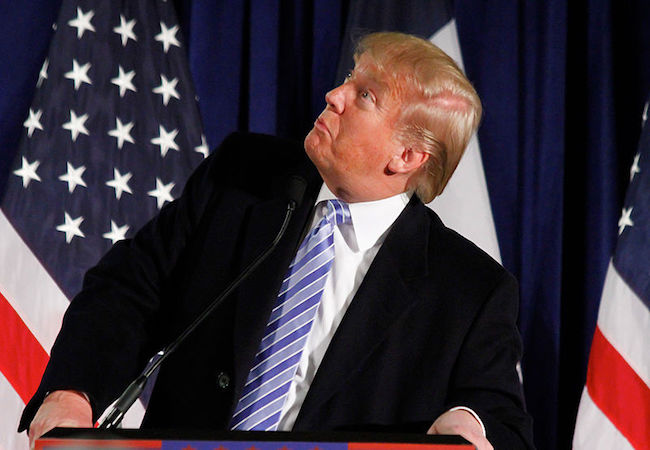 By Arthur S. Guarino
The Republican Party is experiencing the most decisive time in its long existence.  The presidential election of 2016 could be seen as the most divisive period in the Republican Party's history since the 1860 presidential election. 
Abraham Lincoln's presidential election resulted in a divided country and it took the blood of thousands of men dying on farm lands turned into battle fields to make the nation whole once more.  Could it happen again?  Maybe, maybe not.  But the 2016 election, on a national and local scale, should be regarded as a period when the Republican Party is being torn apart and the Democratic Party and the nation should be very worried about the implications.
The Democratic Party should not gloat, but be very concerned and keep a wary eye on what is happening across the aisle.  Republicans are either very angry at President Trump or consider him a savior.  Republicans either feel that Trump is the future of the party who dares to stand up to long-held convictions or the destroyer of the place they have called home for their values and ideology for generations.  As a result of the 2016 election, the Republican Party was changed and became a shell of its former self.  For Democrats, this is a deep concern that could be a forewarning as to the future of its existence.
Democracy needs at least a two-party system.  Political domination by one party could be a severe problem for the entire nation.  As a life-long Democrat, even I realize that, in being fair and broad minded, some Republican ideas should be considered and weighed carefully.  A problem quite often needs an input of solutions from many sides, not just a single source.  Abraham Lincoln, John Kennedy, and Barack Obama had cabinet members from their opposing party and listened to their input in times of crisis.  Democracy needs balance by having at least two parties, but this is extremely hard to achieve on any level or for any situation.
What will come of the split?
If the Republican Party splits into multiple parts with vastly diverse philosophies, how will national and local politics be affected?  This is difficult to predict since each part of the nation could have its own dominant ideology and world view.  Each section of the split party would have its own set of priorities and push its own agenda, rather than being unified behind a few key ideas.  The danger in this case is that nothing is accomplished and frustration amongst voters and backers of these new parties only worsens.  Whoever ends up leading these vastly divided parties must be an expert in forming coalitions and be all things to everyone.  Will this mean that a charismatic leader will arise and make promises that cannot be met once in office?  Perhaps one part of the country will become a stronger political entity than another and end up dominating the splintered Republican Party under a new guise.  The possibilities are endless but the results could be quite frightening.
It almost happened to the Democrats
Bernie Sanders could have been the Democrats version of Donald Trump and have given party leaders their own set of headaches and sleepless nights if he was elected president in 2016.  For Democrats, Bernie Sanders is the key to millennium voters and the far left.  A Bernie Sanders carbon copy could have occurred if Hillary Clinton was elected and she did not have a good term as president or that there was still an underlying current of deep frustration from the electorate with their lives and little hope for the future.  If Hillary Clinton was elected, she had to hold the Democratic Party together and give millennials, women, blacks, Latinos, college educated and non-college educated white males and others what they are looking for in order to be re-elected in 2020 or else become a one-term president.  And what if a Trump-like persona emerges from the woodwork, then the Democratic Party will be polarized like the present and possibly future Republican Party.
An alternative history for the United States
Imagine an alternative future in which the Republican Party had lost the presidency on November 8th, 2016 by a nineteen-point margin, 55% for Hillary, 36% for Trump, 5% for the Libertarian candidate and 3% for the Green Party. By winning key states such as Florida, Pennsylvania, Michigan, Ohio, and Wisconsin, Hillary won the electoral college by a comfortable margin. The House of Representatives flips to Democratic control with Nancy Pelosi as Speaker, while the Senate also goes Democrat with Chuck Schumer of New York the majority leader.  The race for governor in certain states also goes to the Democrats and state legislatures likewise see a change.  Before the swearing in of the new Senate in January 2017, Merrick Garland is confirmed to the United States Supreme Court.
The Republicans not only start finger pointing, but there is major turnover in party leadership virtually overnight.  To make matters worse, Trump makes charges of a rigged election, starting a new party and a cable channel as its sounding board.  Steve Bannon and a crew from Breitbart run the cable network.  The Republican Party splits into moderate, liberal, conservative, and ultra-conservative divisions.  Each division has their own leadership, fundraisers, agenda, and predominates diverse sections of the United States.
Within the next four years, there is extensive fighting between these splintered groups and each seeks to dominate the airwaves of cable news television.  These parties fight exhaustively to have members elected to the House and Senate and in some cases, succeed.  This causes further division in Congress and nothing gets accomplished unless Democrats as well as moderate and liberal Republicans unite to defeat the conservative and ultra-conservative Trump led divisions.  To compound matters, what if the Democratic Party starts to fracture after two years of Hillary Clinton in office, forming their own deep left-wing party with its own cable television network?
The result of this political doomsday scenario: Government grinds to a halt, nothing is accomplished and the American people will suffer the consequences and actions of a few self-centered individuals.