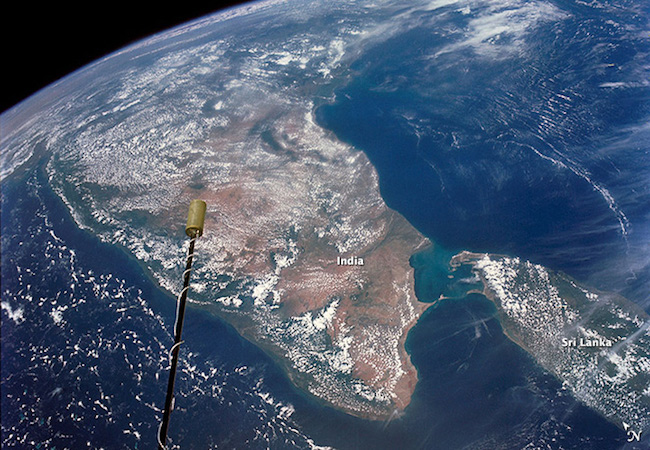 By Srimal Fernando and Megha Gupta
India, Nepal, Bhutan and Sri Lanka have always been the topmost priority for one another, because of their geographical proximity, cultural similarities and economic interdependence. It becomes very important for these countries to keep this alliance together to overcome the growing tensions in this region. The significance of this alliance is not just limited to South Asia but rather goes beyond and has an important footing in the global platform. For the West, India is a vital strategic partner in the Indo-Pacific to maintain a strong balance of power in this region. Furthermore, for India, Sri Lanka an island nation positioned to its South, links West Asia to East Asia through important sea-lanes. Towards the North of the Indian subcontinent the two Himalayan landlocked nations Nepal and Bhutan act as important buffer zones to protect the territorial integrity of India.
Historically, howeverHinduismand Buddhismoriginating in India has been the binding factor for these four nations and can act as a transformation in India's neighborhood first policy.  Hence, out of the eight South Asian neighbors there is a prospective for Nepal Bhutan and Sri Lanka to be India's closest and long term partners.
India's foreign policy and diplomacy in the contemporary days is on a crossroad with Nepal, Bhutan and Sri Lanka as their policies towards India is in a constant shift between China and India and Pakistan. The foreign policy paradigm of these four nations also from time to time get influenced from their domestic political arenas. The most favorable situation from the standpoint of stability for this region can only appear to occur when there is a positive correlation of interest between these four nations. The Indian Ocean and the South Asia region currently is in a mild balance of power but this balance of power in future could tilt towards Pakistan and China if these three countries continue to act as hedging power with their alliance with China slowly getting strengthened. Indeed, one interesting question to consider is how India should respond favorably towards the foreign policies of these countries to together curb the steady spread of the overwhelming presence of Pakistan and China in the South Asian region.
For India, diplomacy is the best means for preserving peace and stability within the South Asian nations. For small nation like Nepal, Sri Lanka and Bhutan it is risky for them to distance themselves from the nearest and the most reliable neighbor, India. Nepal being a landlocked country their over 60% of the trade depends on India. The current Nepal Prime Minister, KP Oli heading the Communist Party-Unified Marxist/Leninist (CPUML), has a strong foreign policy inclination towards China, and also is determined on changing Nepal's attitude towards India. The economic slowdown in the 1990's and the recent earthquake has had a severe impact on Nepal's economy which to a large extent has influenced its foreign policy on favoring China. Also, Nepal's support on One Belt One Road initiative has made India apprehensive about Nepal's future strategy. Some scholars have argued that Indo-Nepal relations have been rather one sided favoring India. In Nepal, the political environment is polarized between The Nepali Congress being pro India and the other parties have a moderate position between India and china. In 2015, when Nepal was adopting the post monarchical constitution there were controversies with regards to the Madhesi party demanding a redraw of federal boundaries. National identity, sense of belonging to a particular national community and sharing a common physical community-language, cultural values have been present with the Nepalesefor a long time. The demands for self-determination by the Madhesi'scontradicts the majority opinion. This ethnic divide in Nepal has created an uneasy atmosphere where Madhesi'shave close cultural ties with India whereas the Paharidominated political parties are susceptible to inclining towards China for the reasons of self-determination by Madhesi's. For India to strengthen its neighborhood first policy it should take a close consideration into these domestic matters when framing its foreign policy agenda on Nepal.
Out of the eight South Asian nations Bhutan has always been India's closest ally. It was clear in the year 2017, where the Doklam issue had displayed the longstanding dependable relationship between India and Bhutan. During this crisis the Indian troops had come into a direct confrontation with the Chinese troops as China was trying to construct a road along Bhutan's internal border and an integral part of Bhutan's territory was being infringed upon by China. Even though it is a monarchical structure their democratic set up is in place. India also provides military training, arms supply and air defense to Bhutan to ensure Bhutan's security and stability which shows the strength of alliance between these two countries among the other South Asian neighbors. This year India-Bhutan relations will pass a significant milestone in their diplomatic relations. The past and present Kings of Bhutan have an important role to play in the growing relationship between these two countries and the HM King Kigme Khesar Namgyal Wangchuk has had a close and a cordial relationship with Prime Minister Modi which shows the cohesiveness of this relationship and their future prospects in this region.
At a time when Maldives is distancing itself from India, Sri Lanka will be a vital island partner that India can easily develop its relationship with which will be based on two major historical and cultural factors – One being, majority of the Sinhalesepopulation in Sri Lanka being Buddhistsand the other being a significant Hindupopulation. Looking at the domestic political scenario of Sri Lanka there is no doubt that the contribution of Sri Lankan President Maithripala Sirisena who heads the Sri Lanka Freedom Party (SLFP) and the Prime Minister Ranil Wickremesinghe the leader of the United National Party (UNP) towards India has been enough. This relationship has been by their close personal relationship with the Indian Prime Minister Modi. At the cabinet level, the National Unity Government (NUG) which comprises of SLFP and UNP, one may get a sense of a political outlook that it is pro Indian. However, on the aftermath of the council elections the former president Rajapaksa's newly formed political party Sri Lanka Podujana Peramuna (SLPP) victory is clearly indicating signs of an inclination towards China in the near future. China is also willing to give Sri Lanka $ 24 billion in addition to the existing $ 8 billion port projects. Hence, it is important for India to counterbalance this approach and solidify its diplomatic, cultural and economic engagements with all the stakeholders in Sri Lanka.
Hence, it is strategically important for India to maintain its close relations with Bhutan, Nepal and Sri Lanka based on political, cultural and diplomatic reasons as it beneficial for India to move forward and maintain its stance and influence in this region. This alliance in future can be a diplomatic turning point for India to go beyond these four nations in strengthening India's foreign policy towards its extended neighbors thereby raising its prominence in the global arena.
Srimal Fernando a research scholar at Jindal School of International Affairs, India and an editor of Diplomatic Society for South Africa; Megha Gupta is a scholar with Master's in Diplomacy, Law, Business at Jindal School of International Affairs, India.