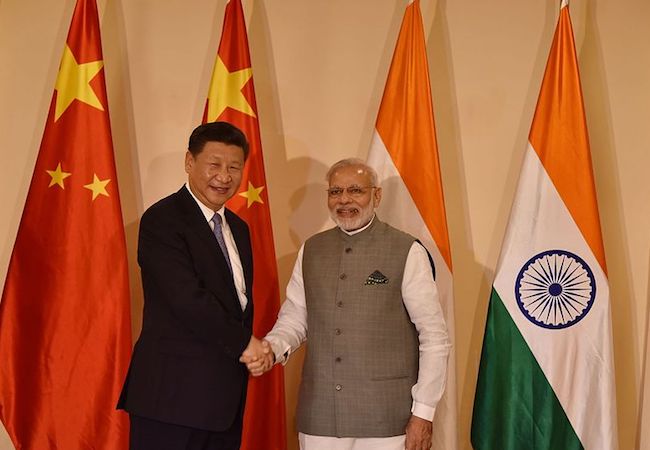 By Opangmeren Jamir
Under the aegis of institutional mechanism, Expert Level Mechanism (ELM), established in 2006, the 11thmeeting of Indo-Sino ELM on Trans-border Rivers was held in Hangzhou, China on 26-27 March, 2018. Reviewing the data utilization report of hydrological information shared by China to India was one key important aspect in the latest round of meeting. It also reiterated "continued cooperation on provision of hydrological information and emergency management in respect pf trans-border rivers.[1] This latest meeting holds a significance as in the ongoing Indian Parliament session, Minister of External Affairs (MEA), Mrs. Sushma Swaraj stated that "due to technical reasons", the Chinese official failed to share with the Indian official, hydrological information related to the Brahmaputra and Sutlej Rivers in 2017.[2] This positive political development in the bilateral relation between India and China comes as no surprise after a months of impasse over Doklam issue when diplomatic relations between India and China were strained.
In the Indo-Sino bilateral relationship, the sharing of river-water resources has increasingly become decisive factor particularly in recent years. In spite of a series of Memoranda of Understanding (MoU) signed between the two countries beginning in 2002, the discourse of river-water sharing between the two riparian states is marked by a 'deficit in trust' or 'suspicion.' To this effect, experts and media have constructed the narrative of Indo-Sino river-water dispute largely in terms of: 'water wars', 'China water hegemon' etc.[3,4,5,6] Several observations outlined by experts and media about the understanding of the Indo-Sino water dispute substantially hold merit, although some remain debatable. Nevertheless, in order to maintain cooperation on water sharing, policy makers on both sides need to ameliorate the right policies, not be being carried away by the pessimistic picture painted by some experts. Also, the recently concluded 'diplomatic consultation' in Beijing with several Chinese officials and led by Indian Foreign Secretary, Mr Vijay Gokhale provide ample opportunity to craft a way forward. One important outcome from this particular meeting was that both India and China agreed to "expedite various dialogue mechanisms in order to promote multifaceted cooperation across diverse fields of India-China engagement."[7]
Certainly the unparalleled construction of hydropower dams in upstream China in recent years, to meet the growing demand for energy has generated concern and fear in the downstream states. Many of the MoUs emphasis only detail the sharing of hydrological resources for a specific period of time. Broader aspects, however, need to be taken into account while undertaking any water related projects along the river basin. The construction of hydropower positively enhances energy security on one hand. On the other, it can negatively impact indigenous communities living around the basin area that depend on water resources for their livelihood. Henceforth, both sides need to ensure that the MoU signed in October 2013, genuinely addresses the rights of the indigenous communities. If it does not do so, both sides need to revisit the agreement. Secondly, in recent past years, several research papers has identified the effects of climate change on water resources and the subsequent impact on hydropower dams. In the prevailing scenario of climate change, both sides need to assess the economic investment that will likely be incurred before undertaking any projects, as well as the resulting environmental impact. The eminent role of two-track diplomacy in several successful conflict-resolutions is incontrovertible. In undertaking the task, stakeholders should demonstrate evidence in coherent logical text, rather than resort to 'hyper-nationalism.' In the wake of turning the Siang River in Arunachal Pradesh black in November 2017, several experts, including government officials rushed in blame China whereas the cause was something different.[8] Presenting a case without concrete evidence, one should aware that it only contributes to weakening the bilateral relationship and furthering the deficit in trust and increasing suspicion.
Finding an amicable solution remains challenging, given the fact that both countries need energy to sustain the growth of economic development. However, addressing the issue "on basis of mutual respect and sensitivity of each other's concern interests and aspiration" remains probably the most conceivable means, where in fact both India and China officials have conceded aptly.[9]
References
Embassy of India (2018). Press Release: 11thmeeting of India-China Expert Level mechanism (ELM) on Trans-border Rivers. 27 March, Beijing. http://indianembassybeijing.in/trans-border-river.php
Ministry of External Affairs (2018). Question No. 278 Hydrological Data of Brahmaputra and Satluj Rivers. 14 March, New Delhi. http://www.mea.gov.in/lok-sabha.htm?dtl/29613/question+no278+hydrological+data+of+brahmaputra+and+satluj+rivers
Joel Wuthnow (2016). Water Wars: This River could sink China-India Relations. The National Interest,19 April.
Minister of External Affairs (2018). Press Release on visit of the Foreign Secretary to Beijing. 24 February. http://www.mea.gov.in/press-releases.htm?dtl/29517/Press_release_on_visit_of_the_Foreign_Secretary_to_Beijing
Arunabh Saikia (2017). As the Siang River in Arunachal turns black, China is the usual suspect. But is it really to blame. Scroll.in, 7 December.
Opangmeren Jamir is researcher at the Institute for Defence Studies and Analysis (IDSA), New Delhi. His research interests include international relations theory, international political economy, water governance, natural resources and armed conflict, and indigenous rights. Previously, he worked with the Ladakh  Ecological Development Group (LEDeG), Leh, Jammu &Kashmir.