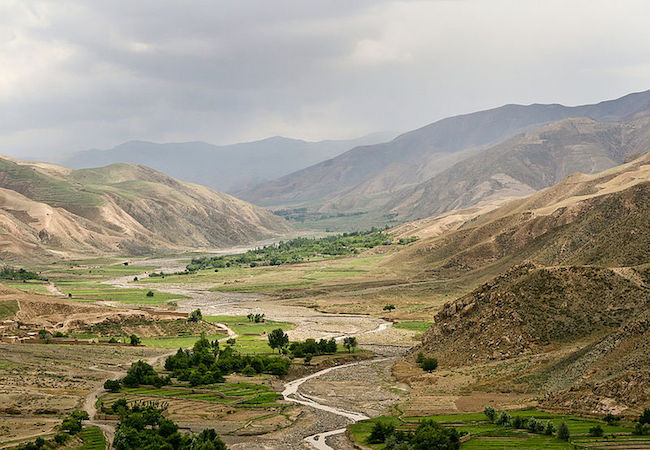 By Megha Gupta and Vijeth Kanahalli
Afghanistan, known as the "Graveyard of Empires", is located Northwest of the Indian subcontinent and is geo-strategically important to India as it acts as a gateway to its 'Connect Central Asia' policy. With the current escalation in the violence by the Taliban, the Afghanistan government's control over the territory has reduced from 72% in November 2015 to 56% in February 2018 and continues to slide with the latest attacks on Ghazni which is located around 140kms away from the capital.
This instability in the security situation poses a huge problem for India as Afghanistan is the key to its trade route plans to Central Asia, Eurasia and beyond. With the International North-South Transport Corridor (INSTC) looking to develop the Trans-Afghan rail line, and India already having invested about US$ 100 million in the Delaram to Zaranj highway project connecting the Chabahar port, the stability of Afghanistan becomes very important for India to continue its trade expansion with the Central Asian and the European countries.
Furthermore, the Turkmenistan-Afghanistan-Pakistan-India (TAPI) pipeline nearing completion in 2018 and with India being a beneficiary to around 40 million standard cubic meters of gas per day, it is important for India and Pakistan to avert any major crisis in Afghanistan. Also, the situation should be closely monitored by both these countries for their own national interests as the Indian government is looking to have a stable backyard free from terrorism and the new government in Pakistan is looking for a steady economic growth.
Keeping in consonance with the India Afghanistan Strategic Partnership Agreement 2011 which aims to improve trade, political, security, economic, education and people to people relations, India, over time has taken up various peacebuilding initiatives to improve the situation in Afghanistan.
In the aspect of defense, since 2004, India has trained 5000 soldiers and officers of the Afghan National army. In 2017, to help with the capacity building of Afghan Police, an MoU has been signed for a period of five years for technical cooperation for police training and development. Also, recently India has delivered Russian made Mi-25 attack helicopters to Afghanistan.
Further, examining India's commitment towards the infrastructural development in Afghanistan, in 2016 the Salma Dam which is a multipurpose project to irrigate land, water supply and other benefits to the people of Afghanistan was inaugurated along with the Afghan Parliament building. A total of infrastructural projects worth US$ 2 billion is also in the stage of implementation by India.
The bilateral trade between India and Afghanistan stands at US$ 700 million and in order to enhance this to its full potential, a direct air cargo link has been established between Kabul and Kandahar to New Delhi. This link has facilitated the provision of pharmaceutical products and medical equipment by India to Afghanistan at affordable prices.
Despite the goodwill exhibited by India through its various initiatives, there is a huge potential for India to augment its role in rebuilding Afghanistan. India has been involved in strengthening the Afghan military, as mentioned above, but it needs to increase the capacity of training provided to the Afghan forces to reiterate the policy of an 'Afghan led and Afghan owned' peace process.
The problem lies not with the lack of initiation but with the slow pace in which the various MoU's get implemented. Initiatives such as training the Women Police of Afghanistan, providing the remaining attack helicopters as well as completion of the 116 high impact community development projects that India had agreed upon has not yet been fulfilled even in the most critical stage of the Afghanistan war. For a country that is ravaged in war and hence its economy in shambles, India must extend a generous aid in the form of medical, food grains and monetary.
With Afghanistan as the hub for various transnational and transcontinental projects for India such as Asia-Africa growth corridor project and INSTC, it becomes important for India as the regional hegemon of South Asia to resolve its differences with Pakistan such that the South Asian Association of Regional Cooperation (SAARC) can play an eminent role in restructuring the declining security climate of Afghanistan. Another underutilized dynamic mechanism is the Heart of Asia conference using which its member states should engage more in a result oriented cooperation to see peace in Afghanistan, and by extension a secure and prosperous region as a whole.
However, with the Taliban gaining a greater control to the Afghanistan territory over time, India should carefully run micro projects instead of taking up largescale projects which could lead to conflict with the Taliban and the other non-state actors. With the war worsening by the day, Afghanistan's demand for military and economic aid is only going to increase further. India must extend well informed support while keeping its strategic interest in mind.
Furthermore, if India's short term and long term projects are implemented in the stipulated timeline, then both India and Afghanistan could benefit from reduced cross border terrorism and an increase in bilateral trade relations.
Megha Gupta and Vijeth Kanahalli are scholars of Masters in Diplomacy, Law, Business at Jindal School of International Affairs, India.