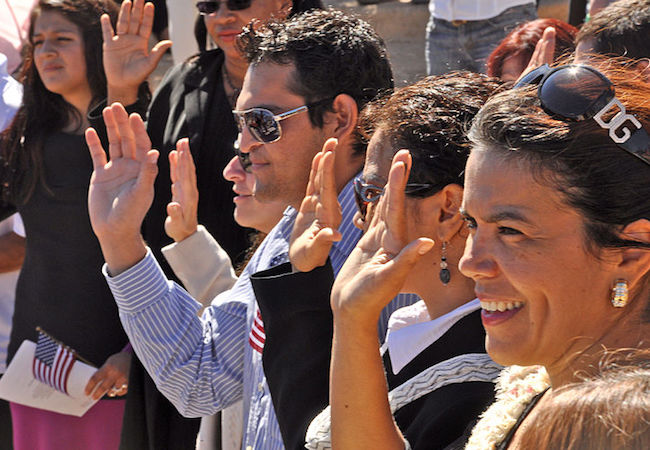 By Arthur S. Guarino
The Trump Administration is making every effort to curb immigration into the United States, whether legal or illegal. The problem is that curbing legal immigration has serious ramifications for the country that will affect its long-term economic growth.
Immigration has been an important facet of the economic growth of the United States since before its founding over 240 years ago. Immigrants have come to the United States at their own peril and have made great economic and financial contributions helping it get to where it is today. From working long hours in the fields in the Midwest to laboring in sweatshops in the Northeast, immigrants have contributed to America's gross domestic product in substantial ways. But the Trump Administration has instituted policies to stem the number of legal immigrants coming into the United States, without realizing the economic and financial harm it will cause.
History of Immigration into the United States
Immigration into the United States has had, throughout its history, mixed feelings. On one hand, the United States has wanted immigrants because they represented cheap, plentiful labor since many came with skills that were deeply needed but would work for next to nothing. For example, the immigrants that worked in the silk mill factories in Paterson, New Jersey knew how to make silk into fine cloth as well as how to color the material using various dyes. Other workers in New York City worked in the garment factories off Sixth Avenue sewing together coats and dresses for stores such as Saks Fifth Avenue or Bergdorf Goodman that sold at very high prices. But because the prices for silk and coats and dresses were so high, the workers who made these products could not purchase them for their families. Yet, they had the skills to make these products using high quality craftsmanship.
In the Colonial Era, Jamestown, Virginia was established to grow and harvest the very profitable cash crop of tobacco that the English could not get enough of. This started the first wave of immigrants from Britain, Germany, and the Netherlands who were able to work on farms and provide not only tobacco but other crops that fed England and Europe. More than 90 percent of the early immigrants that came to the New World became famers. And those who did not become famers provided ancillary services such as blacksmiths or shipbuilders and other trades and craftsmen.
When the American colonies formed their own country, immigration grew. In 1790, there were 60,000 immigrants settling in the young United States, but as its economy grew so did its immigrant population to over 1.7 million in 1850. And while there were periods when immigration into the United States was down, the overall trend was that America was a land that needed workers since its economy was growing by leaps and bounds. The period between 1880 and 1920 was an era of speedy industrialization along with growing urban centers such as Chicago, New York, Boston, and Baltimore. Each city had factories that needed workers, skilled and unskilled, since their economies were growing and demand for different products was huge. Between 1880 and 1920, the United States saw 20 million immigrants come into the country from Central, Eastern, and Southern Europe. More specifically, in the 1890's approximately 600,000 Italians came to the United States and this amount would increase to 4 million by 1920. Between 1880 and 1920, there were over 2 million Jews from Eastern Europe entering into the United States in order to escape religious persecution from Eastern Europe and seek a new life in a new land. According to immigration records, 1907 was the peak year for admitting new immigrants into the United States legally at 1.3 million.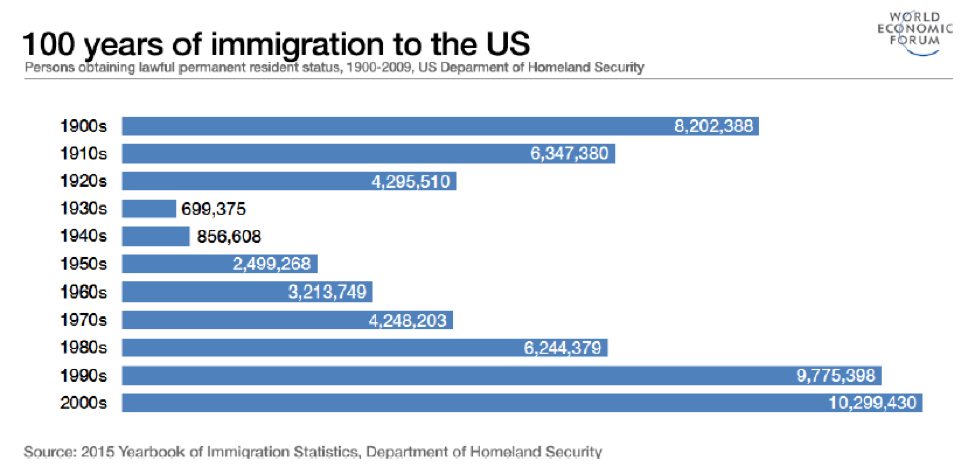 As stated, there were mixed feelings about the wave of immigration into the United States. While there was a need for workers, there existed a deep resentment against immigrants. For example, President Calvin Coolidge signed the Johnson-Reed Act which Congress passed in 1924 that closed the doors to many immigrants coming from Southern and Eastern Europe. This act also created an "Asia-Pacific Triangle" barring immigrants from all Asian nations. Ten years after this law, the Tydings-McDuffie Act was passed in 1934. While the act granted independence to the Philippines in the next decade, it changed Filipinos status from nationals to aliens and significantly reduced Filipino immigration to only 50 annually. Prior to these laws, the Chinese Exclusion Acts was passed in 1882 that effectively did not allow Chinese laborers from coming into the United States for a period of 61 years. Yes, the United States' economy desperately needed workers at cheap wages, but there was also deep resentment against their influx in American society.
U.S. Labor Shortage
Curbing immigration at this point in the American economy would be a very dangerous and harmful policy for a number of reasons. First, there is a labor shortage in the United States. There are industries and companies that cannot find skilled or unskilled workers to fill numerous employment opportunities across the United States. For example, due to the shrinking labor market there are landscaping companies across the country that are either turning away new business or face the possibility of shutting down. Landscaping is an $82 billion per year industry which desperately needs workers but cannot find any even if offered higher wages and a sign-on bonus. Small farms are declining in number because they cannot find workers willing to pick their crops.
Both of these industries are hurt because potential employees are going into higher paying jobs and that the flow of foreign migrants has slowed to a trickle. Employers in the United States have looked to federal programs such as the H-2A guest worker visa that helps farmers and business owners who are expecting shortages of American laborers in order to hire immigrant workers and not hurt American jobs. But there have been restrictions set by Congress on the H-2A and H-2B visa programs that have limited the number of workers that can enter into the United States to work even temporary jobs.
The labor shortage is only getting worse. According to monthly jobs report by the National Federation of Independent Business (NFIB), while there are more job openings by companies, there are not enough workers to fill them. The NFIB reported that while there is a high demand for workers in the home building industry, there is a severe labor shortage that is limiting construction of new apartments and housing. The NFIB reported in 2018 that "labor shortages are clearly restricting the construction of new homes and apartments as demand remains strong. The limited supply is resulting in strong house price appreciation." Tech companies in Boston are reporting that it is becoming more difficult to find software engineers while on the West Coast commercial banks are have protracted job openings and searches for qualified candidates.

This labor shortage could be readily fixed if immigrants were allowed to enter more easily into the United States. The Trump Administration has plans in limiting the number of refugees resettling in the United States in 2019 to 30,000 which will further reduce a program that is already suffering severe reductions. This will reduce the number set in 2018 of 45,000 refugees. Under President George W. Bush the cap was raised to 80,000 in his last year in office. These refugees could help fill jobs since many bring needed skills with them. The Trump Administration has also proposed granting 1.8 million young undocumented immigrants a way to attain citizenship but wants this amount balanced by a reduction in legal immigration levels. The Trump Administration is actually hurting the American economy by restricting the number of workers from abroad at a time when domestic companies need more human resources in order to solve the acute labor shortage.
Shrinking U.S. Population
The population of the United States is shrinking and not enough babies are being born to replenish it. In 2017, the Center for Disease Control (CDC) released a 2016 provisional population report stating that the number of babies being born fell 1 percent from 2015 which brought the American general fertility rate to 62 births per 1,000 women who are in the 15 to 44 age group. In 2017, the United States Census Bureau reported that the population growth in the United States has been at just over 0.7 percent since 2010 and the trend is expected to continue. The problem here is that this is falling below the "replacement level" necessary to keep a nation's population stable so that it neither grows nor shrinks. A population level that is too low is dangerous because a nation will not be able to replace the workers in an aging workforce while also lacking enough tax revenues to maintain a stable macro-economy. Nations such as Italy, France, and Japan have low birthrates that could severely endanger future long-term economic growth.
In order to deal with this problem of a shrinking national population, there are two possibilities: encourage policies that will increase the nation's birthrate or allow more immigration. Ideally, the goal is to have both. A short-term solution would be to encourage more immigration into the United States. More immigrants would mean people who could step into the nation's workforce immediately and solve the nation's labor shortage. In the long run, these immigrants would bring their families or start families in the United States and there would be an uptick in the number of babies being born. But because the Baby Boomer generation is getting older and fewer babies are born, the population of the United States will continue a shrinking trend that could reach crisis levels in a relatively short time.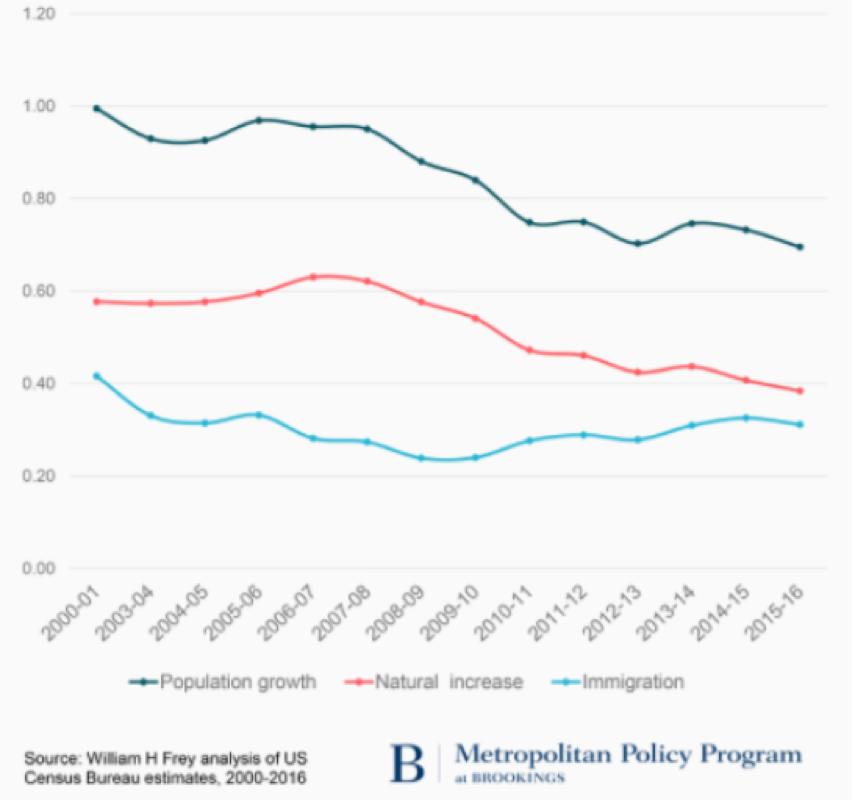 Wanted: More Immigrants
In order for a nation to grow from an economic perspective, human resources are vital. This means having more people coming into a nation by encouraging immigration for both skilled and unskilled workers. If the United States wants to maintain its level of gross domestic product as the world's top economy, building a wall keeping out immigrants will mean long-term damage. The Trump Administration is pursuing the wrong policies in keeping out immigrants and discouraging workers, students, and people from coming across America's borders in order to seek a new life and contribute to the growth of the economy of the United States.