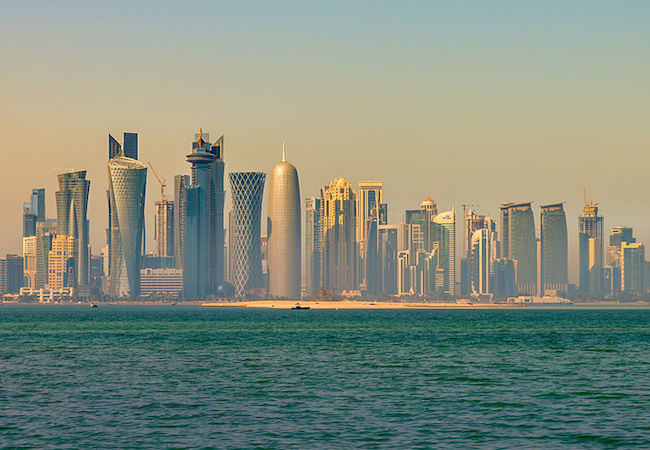 By Ammar Younas
Qatar, a tiny gulf country won the Asian Cup for the first time and It was not an easy win. Besides, a game on football field, Qatar had to play even more interesting matches with its rival UAE on different other fields. This Story began in June 2017, when Qatari citizens were given 14 days to leave the UAE, alongside Saudi Arabia and Bahrain, which also banned their citizens from entering Qatar. A travel ban is still in effect which seriously effect the Qataris to go to UAE to support their team.
Football is a sensitive issue and Sheikhs from UAE couldn't afford Qataris to have upper hand. So, an Emirati prince bought up all the tickets for the politically-charged Asian Cup semi-final against Qatar – a move that was designed to prevent Qatari fans from attending the game. The Abu Dhabi Sports Council announced that its head, Prince Nahyan bin Zayed, had ordered that tickets for the match be distributed for free to "loyal Emirati fans".
The move was also an attempt to effectively block any international fans of the Qatari team from cheering on the side at the highly-anticipated showdown on Tuesday in Abu Dhabi last week. Interestingly, Qatar won the match by beating the UAE by 4- 0.
UAE didn't give up. They made a protest to the Asian Football Confederation( AFC) about the eligibility of two of Qatari players. Sudan-born forward Almoez Ali, one of the players in question, opened the scoring in the Gulf state's 3-1 final win over Japan as he finished the competition as top scorer with a record nine goals. The UAE protest also involved defender Bassam Al Rawi. Al Rawi, who was born in Iraq, and Ali each played in today's final at the Zayed Sports City Stadium in Abu Dhabi. According to documents that have been published on websites in the UAE and elsewhere, the mothers of Ali and Al Rawi were not born in Qatar, as has been claimed by the Qatari federation, so neither player is eligible for selection.
But ahead of the meeting with four-time winners Japan, the AFC issued a short statement to say the matter had been reviewed and closed.
One may think that why Qataris and Emiratis are behaving like children? To better understand this, we can have a look on some similar scenarios of powerplay between Qatar and Saudi Arabia.
Recently, Saudi Arabia claimed that they have recovered more than 100 billion dollars as a result of crackdown which the Saudi Crown Prince had started against corruption and locked up his close relatives and one of the wealthiest people of the country. During those days when MBS started this crackdown, he announced the 500 billion dollars project of building a mega economic zone named as NEOM in the border region of Saudi Arabia, Jordan, and Egypt.
It is the part of Muhammad Bin Salam's "Saudi Vision 2030". He wants to decrease the Kingdom's dependence on oil, diversify its economy, and develop public service sectors. In 2016, he bought a $500 million yacht of a Russian tycoon while holidaying in the south of France.  Besides this, the young prince has done two more luxury deals in upcoming year.
In 2017, Salvator Mundi, a painting of Christ by Leonardo da Vinci was sold for a record-breaking price of $450 million. The New York Times reported that the Prince Bader bin Abdullah bin Mohammed bin Farhan al-Saud, member of the Saudi royal family placed the final bid. According to U.S. intelligence officials who keep a close eye on the kingdom's young and powerful crown prince told the Wall Street Journal that Bader was just a proxy for crown prince Mohammed.
In 2017 as well, Prince bought "the world's most expensive home", The Chateau Louis XIV, a 50,000 sq ft palace near Versailles that Kim Kardashian once considered as a potential wedding location for around $400 million.
People around the Middle East found this luxurious shopping of Prince MBS very astonishing especially when whole Muslim world is talking about Palestinian people and Jerusalem. Tweets from Qataris suggested that MBS could spend this money on his own people by offering them tax cuts and by providing better housings for ordinary Saudis. Popole from other Muslim majority countries had also raised their eyebrows on the spending of the MBS. Many people consider Saudi Arabia as leader of Muslim world and expect reasonable action by its side especially at the time when whole Muslim World was worried about future of Palestine. It was the time when US was moving its embassy to Jerusalem.
Tweets from Qataris and others were suggesting that the money could have been spent better on housing ordinary Saudis, or offering them tax cuts. Same reaction was coming from Muslims outside of the Gulf.
If we look at Saudi rival Qatar, Qatar is one of the rising powers in the Middle East and beyond, a prominent figure of century world politics. Qatar is much smaller than Saudi Arabia and has a population of 250,000. Although, It has comparatively weaker army or limited military capabilities, but it has been very successful in demonstrating its Soft Power. It has proved that if Saudi Arabia can do its boycott, they can still beat Saudis in other spheres. Qatar has applied intensively active diplomacy in regional conflicts, invests strategically in shares of international companies, controls the most influential Arab news channel – Al-Jazeera– and succeeded to be awarded hosting rights to the International Federation of Association Football (FIFA) World Cup 2022.
Soon after the Saudi – Qatar diplomatic crisis, Qatari owned French football club Paris St-Germain signed Brazilian superstar Neymar by paying $330 million. Then there is the player contract itself. Several media outlets are reporting that Neymar is expected to sign a five-year deal worth more than $818,000 a week. That's over $42m a year just in wages. It was a message for Saudis that no matter you are trying your best to isolate us, but we have money and we can buy anything. Previously, Qatar Royals had paid £158.4m for Paul Cezanne painting just like MBS. Besides President Donald Trump accusations of terrorism Qatar was able to lighting up the Empire State building in its national colors to celebrate 10 years of flights into the United States.
Similar powerplays describe that Saudis and Qataris splash more money than each other just to demonstrate their international influence. But even more than international influence, both of these countries try to dodge each other in every possible field. Both of these countries are providing empirical evidences for the IR theories that the role of the usage of military power in wars has become secondary.