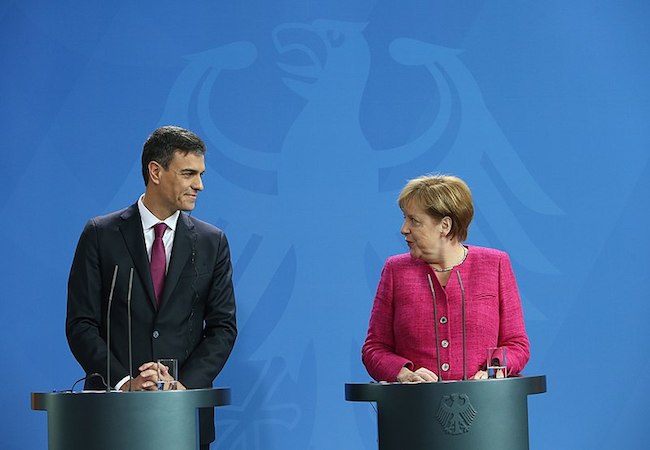 By Samuel Denney
For Europeans, the three years of the Trump administration have been an illustration of their own powerlessness. The combination of tariffs, a steady drumbeat of pressure about European defense spending, and increasing economic and military brinksmanship against Iran have revealed that Europeans cannot conduct an effective foreign and security policy independent of the United States. On top of that, Brexit has made relations between the European Union (EU) and one of its most competent militaries, the United Kingdom, uncertain. But what Europe lacks in military might, it makes up for in economic power. With a new Commission in office and changing political winds among its citizens, Europe looks more set than ever to test this power.
Since January 2017, the European Union has largely been a spectator as a new era of great power competition has drastically changed the geopolitical landscape. The European foreign policy outlook has adapted with difficulty to this change. The European Union has contested the Trump administration's willingness to wage economic warfare in the form of tariffs and sanctions to accomplish political and military goals, but with little success. European threats to respond to Iran sanctions via its blocking statute or through alternative trade mechanisms have gone unheeded.
But the EU's approach to the Trump administration's use of sanctions and tariffs to weaponize economic and trade relationships for political gain may soon change. While Europeans have supported some US sanctions, they have long regarded US secondary sanctions – those on third party entities doing business with a sanctioned country – as extraterritorial applications of US law. With the Trump administration often taking stances on foreign policy that undermine European security interests, such as with Iran or in Syria, Europeans are waking up to the fact that greater foreign policy autonomy may require a more aggressive economic approach in transatlantic relations. With sanctions having become the American foreign policy tool of first resort, a more independent European foreign policy must begin with a greater European willingness – and ability – to bare its economic teeth, if not bite.
In a speech at the Atlantic Council, Dutch Prime Minister Mark Rutte previewed this potential development, saying that Europe needed to become more "streetwise and proactive." For Rutte, Europe's economic power could – and should – be used as leverage for political power. Similarly, a report from the European Council on Foreign Relations framed the Trump administration's use of sanctions as creating "unprecedented problems for Europe" and envisioned the EU responding by creating alternative financial channels with limited exposure to the US market and by expanding the role of the euro in global trade. Manuel Lafont Rapnouil, one of the report's authors, has since become the head of the Centre for Analysis, Planning and Strategy, the office at the French Ministry of Foreign Affairs tasked with long-term policy planning. Finally, new European Commission President Ursula von der Leyen has emphasized the need for a more assertive Europe that makes full use of its economic strength and specifically tasked Commission Vice President Valdis Dombrovskis with upholding Europe's "economic sovereignty."  
Recent polling of European citizens also suggests there is great support for an independent European foreign policy. This presents an opportunity for the new European Commission to expand the EU's role in foreign affairs and carve out a foreign policy path independent from the US, Russia, and China. While some areas like foreign policy toward Russia might not change – sanctions toward Russia are viewed by most as either being sufficient or not harsh enough – a majority of Europeans in all countries polled would see the EU take no side in a confrontation between the US and China.  
At the same time, the EU must be careful in creating an independent foreign policy to meet the security challenges it faces. The need to survive in an ever more competitive global environment could lead to a more protectionist EU as stronger trade defensive and offensive measures are adopted. Greater economic and political distance between the United States and EU could also be exploited by revisionist actors like Russia, which has shown great interest in joining the new EU payments channel designed to maintain trade with Iran and allowed India to pay for its new S400 missile system in euros to avoid US sanctions.
And yet the current status quo approach appears increasingly untenable for the EU, as the long-simmering tensions between the United States, Europe, and Iran show. Even before the U.S. strike killing Iranian General Qassem Soleimani, a unilateral US sanctions regime had contributed to heightened instability and violence in Europe's immediate neighborhood through Iran's resumption of uranium enrichment at its Fordow facility and its alleged strike on Saudi oil processing facilities. Facing popular unrest following the accidental downing of a Ukrainian airliner and with November's gas price protests barely in the rearview mirror, Iran may grow increasingly hardline and its regional activity potentially more rash.
Combined with a U.S. administration prone to impulsive decisions and seemingly ideologically opposed to the European Union, European passivity may no longer be an option. 
Samuel Denney is a Research Assistant in European affairs at a DC think tank. Prior to Brookings, he worked as an intern for the Europe Practice at the Albright Stonebridge Group in Washington, DC, for the European Union Affairs unit at the State Chancellery of North Rhine-Westphalia in Düsseldorf, and for the Committee on Affairs of the European Union in the German Bundestag in Berlin. He received an MA in German and European Studies from Georgetown University's School of Foreign Service in 2018 and a BA in German and European Studies from Vanderbilt University in 2014.