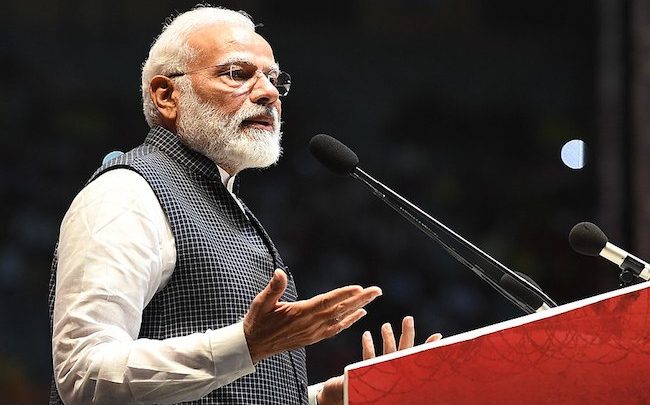 By Rajesh Kumar Sinha
In a significant development that is likely to have ramifications beyond the Indian shores, the last general elections in India in 2014 saw the emergence of a majority government after almost three decades, under Narendra Modi. And the last five and a half years under his stewardship, India has witnessed a whiff of fresh air in the realm of foreign policy and diplomacy. Giving a much needed attention to the neighbourhood, he started with inviting all the seven heads of government of SAARC to his swearing-in ceremony. Visits to Nepal and Bhutan as his first foreign visits, signalled his intent clearly.
Bangladesh too, got his attention with the Indian government getting into a very close relationship with it at both political and military levels. A thrust on removing contentious political and economic issues with the eastern neighbour, including exchange of disputed enclaves, sharing of river waters and border demarcation along with showering of so far unheard of Indian financial aid in billions of dollars, proved to be very astute strategy forcing the Chinese to get into this game more explicitly.
Myanmar under Aung San Suu Kyi, trying a balancing act between India and China also got more attention than ever before. Greater political interaction, liberal financial and technical aid, military to military co-operation at the highest levels along with joint exercises have changed the entire gamut of bilateral relationship between the two. A cross-border anti-terrorist operation against insurgents inside the Mynamarese border by the Indian Army and the curious silence by their government indicated a higher level of mutual trust and cooperation between the two countries.
Afghanistan witnessed a much greater Indian involvement with millions of dollars in financial, technological and human resources aid flowing through New Delhi to Kabul. This has been acknowledged by the international community in general and the US, in particular. That has resulted in India being allowed, a role, albeit a marginal one, while dealing with peace talks with Taliban.
The building up of Chabahar port in Iran by India and using that as a transit route to reach Kabul's market bypassing Pakistan and enhancing economic and strategic cooperation with Iran and Afghanistan, countering Gwadar port of Pakistan built by China, could well turn out to be masterstroke for Indian foreign and strategic policy establishment in a future conflict with China, may be a few years down the line.
Sri Lanka too, has acquired a greater attention of Indian foreign policy makers. To counter the likely Chinese threat in through the lease of Hambantota port, India is working overtime to get the nearby MRIA airport on a lease. Greater political and economic interaction with Iran, a major source of Indian oil imports, in spite of US sanctions while keeping Uncle Tom in good humour, has been another big challenge that has been finely handled by the tip echelons in the Indian foreign policy establishment.
Dealing with the Organisation of Islamic Countries (OIC), especially those from the middle east, has always been a challenge for any Indian government, more of due to the dynamics of Kashmir issue, The current government however, has handled it quite deftly with the indomitable Jaishankar, the Indian foreign minister and the hyper active, behind the scene player, Ajit Doval, the NSA providing all the right inputs at the right time to PM Modi who has further developed his rapport with rulers of Saudi Arabia, UAE, Bahrain and Iran to isolate Pakistan substantailly.
Modi's energy diplomacy has also injected a new sense of pragmatic assertiveness to foreign policy. The building up of three strategic oil reserves and big investments into it by oil biggies has been quite successfully maneuvered by Modi to further Indian interests. The selection of far off USA as another supplier of oil and petroleum to India has even broadened its choices, reducing its dependence and vulnerability on a select few nations.
Of late, Africa has seen much greater thrust from India. With the help of Japanese financial muscle, India is trying to create a new found sense of confidence there that can counter the prevailing Chinese dominance of the continent. Central Asia and South America has witnessed selective Indian attention that has been unheard of for the last many decades.
South East Asia has seen unusual Indian interest in recent times. With Chinese problems against Japan, Vietnam, Philippines, Taiwan at its peak in the South China Sea, India has shown assertiveness, never shown vis-à-vis China in the last five decades. Indian stand has subtly changed the game the Chinese were quietly playing in the last few years with Obama-led US watching the other way round. The sudden emergence of an informal quad comprising the US, Japan, India and Australia could well alter the game of maritime movement and security in the Indian Ocean and nearby regions.
The leapfrogging of Indo-Japanese relationship under Modi and Abe has seen phenomenal bilateral economic growth and strategic relationship. This is also evident in the growing commonality of interests being played out by the two countries in the global arena. The joint naval exercise called Malabar, has started getting global attention and some unusual panic reactions from the Chinese.
Modi has also succeeded in securing a personal rapport with the unpredictable Trump. With sharp business acumen, he has ensured greater US incentives for India in terms of defence deals and technology transfers, besides continually booming economic and political relations.
The incumbent Indian government seems also well poised to succeed in two of the big challenges that it faces in the neighborhood. With Pakistan, the major issue remains 'Kashmir' and by stabilizing the internal terror threats in the Indian state and stopping all kind of formal communication with it, India has succeeded in putting it in a quandary. The ongoing political instability and military-executive tensions has further helped India while dealing with this troublesome neighbor.
The biggest challenge Indian foreign policy currently seems to be relishing is in dealing with a globally assertive China. With an open and outright rejection of ambitious One Belt One Road (OBOR) and initiating work on regional connectivity corridors in South Asia and Africa (in collaboration with Japan and the US), India finally seems to be one nation that has shown the guts internationally to stand against China. Standing for its tiny neighbor Bhutan in protecting Doklam, India has taken China off guard who has been forced to rethink and restrategise its policy against India.
It has started paying dividends too. The smaller nations in Asia and Africa have started counting India, besides the US and China as a major economic, political and military partner. The Indo-Pakistan hyphenation that had been part of the global strategic discussions for decades has now moved on to a new dimension of future Indo-Chinese rivalry. China which so far had been successful in limiting India's role to South Asia, is finding it impossible to define and dictate that any further. And that has been evident in its repeated calls to India to better bilateral relations, Doklam notwithstanding, and to join OBOR in future.
Indian foreign policy does face further challenges too. Internally, recent conflicts emerging in Kashmir over abolition of Article 370 (an Indian Constitutional provision), the implementation of much debatable and criticized Citizenship Amendment Act (CAA) and limited riots in parts of Delhi, even when Trump was in New Delhi, have put the government on the defensive. Though on Kashmir, the government was able to secure widespread national and global support, on the other two issues, India is being put under scanner, domestically and internationally. Even smaller nations like Turkey and Malaysia with extremely limited political and military prowess have castigated India on global forums. India thus has been in limelight recently for all the wrong reasons and needs to put its house in order soon to maintain dynamism and pursue its national interests.
On the external front, growing proximity with the US needs to be delicately balanced with maintaining traditionally close relations with Russia. Western Europe, especially post-Brexit UK and a Chinese tilted Angela Merkel-led Germany are the other challenges that India face in the realm of foreign policy. Taking the proposed quad of US, Japan, India and Australia to a logical conclusion without formally using it as an anti-China grouping, is another important challenge that Modi will have to counter soon. And managing both Israel and Iran and other Islamic countries, on the other hand that he has so far handled quite adroitly is another big challenge that will shape the contours of Indian foreign policy in near future.
Rajesh Kumar Sinha is a Librarian, Indian Railways. He holds a MA, MPhil (Library & Information Sc), PG Diploma in Journalism (Asansol, West Bengal, INDIA).