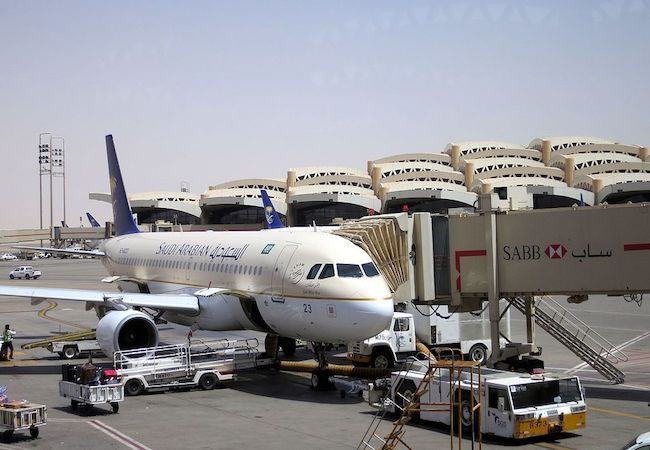 The U.S. Mission in Riyadh has announced the repatriation of American nationals and it has arranged with Saudi authorities for a commercial repatriation flight from Dammam, in Saudi Arabia's Eastern Province, to Washington-Dulles International Airport, on April 6, 2020.  The Saudi Arabian Airlines flight will depart from Dammam's King Fahd International Airport at 10 AM on April 6, and arrive at Washington Dulles International Airport (IAD) in Dulles, VA at 5:15 PM on April 6.
"The U.S. Mission expects to announce additional flights, including one from Jeddah, soon. All flights will be announced via the STEP system and through the Mission's website and American Citizens Services Twitter account", said a statement posted at the website of the Riyadh-based American embassy. Booking will be conducted exclusively through a process.  The statement said that the intending travelers should not contact Saudia about this flight.
Tickets on the April 6 flight will be available to U.S. citizens and Lawful Permanent Residents (LPRs) of the United States and their spouses and minor children; U.S. citizen minors may be accompanied by one non-U.S. citizen guardian.  All travelers must be located in the Eastern Province and able to reach the airport without violating current Saudi curfew restrictions.  U.S. citizens and LPRs who wish to travel on this flight and who reside in the Eastern Province should complete the online survey at https://bit.ly/3bLcxAQ.
A form should be completed for each traveler. Everyone should include a Saudi phone number for contact if at all possible, not the U.S. or other foreign numbers.  The forms are automatically returned to the U.S. Consulate General in Dhahran, which will review the information and pass it to Saudia; a representative of Saudia will then call the passenger to arrange the purchase of tickets.  If someone is unable to complete the form, then he/she should send an e-mail to [email protected].
While pricing is being finalized, Saudia advises that economy class tickets will cost approximately Saudi riyals 6,000 and business class tickets approximately SR16,000 and will be non-refundable.  Saudia is also finalizing luggage and pet polices for this flight and will discuss these with passengers as they are called. All potential travelers should review the new "Tips for Repatriation Flights" section of the Embassy's COVID-19 information page.
When the flight is fully booked an announcement will be made on the ACS Twitter account.  If you have not been booked on the April 6 flight, you should continue to monitor the U.S. Mission's media accounts for announcements of additional flights.All travelers must be properly documented to enter the United States.  Travelers are responsible for completing the required Saudi exit/reentry permit procedures before travel (please see the March 30 Health Alert); it will not be possible to complete these procedures at the airport.
As noted in the Alert, prospective passengers should consider CDC guidance on international travel during the COVID-19 pandemic, review health conditions at their final destination, and bear in mind that a return to Saudia Arabia will not be possible until full commercial service has been restored.  Health screening will be conducted before embarkation and anyone with flu-like symptoms or fever will not be allowed to board a flight and should not come to the airport. The CDC advises travelers arriving from Saudi Arabia to stay home, monitor their health, and practice social distancing for 14 days after they arrive in the United States.
Information regarding screening upon arrival at Dulles International Airport can be found at   https://www.flydulles.com/iad/dulles-international-airport-traveler-update-covid-19-coronavirus-0. Passengers on this flight continuing to a final destination outside the Washington D.C. area should book onward flights before leaving Saudi Arabia.  To this end, it is important to mention that the U.S. Mission to the Kingdom has arranged with Saudi authorities and Saudia Airlines to offer limited commercial flights from the Kingdom to the United States during the period that regular commercial service is suspended to help contain the COVID-19 virus.
The first Saudia flight departed Riyadh's King Khalid International Airport (RUH) at 9:30 AM on April 3.  It was scheduled to arrive at Washington-Dulles International Airport (IAD), in Dulles, Virginia, at approximately 4:20 PM EST on April 3. The U.S. Mission continues to work with Saudi authorities to arrange repatriation flights to the United States from various Saudi cities on a commercial airline.   Persons interested in departing Saudi Arabia are responsible for completing all Saudi exit/entry procedures in advance; it will not be possible to do so at the airport.
U.S. citizens with residence permits (iqamas) will in most cases be able to obtain exit/reentry permits on-line either independently (if they have an Absher account) or with the assistance of their sponsor.  Persons with visas who have overstayed their authorized period of admission must resolve the matter in person at an office of the General Directorate of Passports (Jawazat).  Saudi authorities advise that Passport offices are functioning on regular hours (7:30 AM – 2:30 PM in most cases) but with reduced staffing.