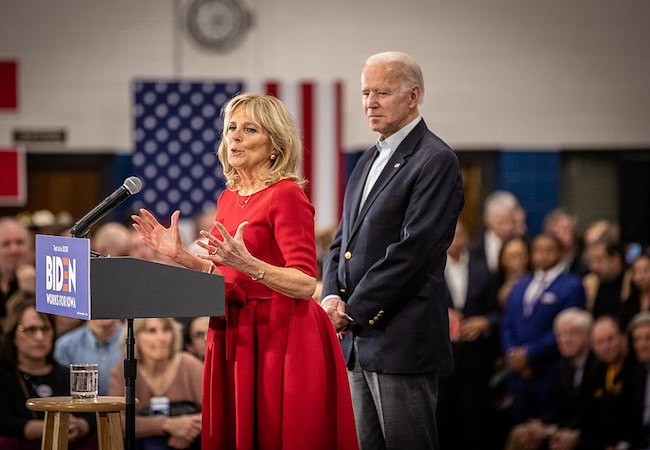 By Suraj Rajan K
India's outlook on Western Asian affairs could witness distinct changes due to the geopolitical developments in 2021, marking a new era in global politics. It includes the United States under President-elect Joe Biden, return to the Iran Nuclear Deal politics and a burgeoning China. Anticipated events that may have a discernible effect in the region include the Israeli Legislative and Iranian Presidential Elections this year.
The US's return to the Joint Comprehensive Plan of Action (JCPOA), informally known as the Iran Nuclear Agreement, is a subject of reasonable concern for the incoming Democratic Party-led government. On the President-elect's official campaign website's foreign policy segment, Biden dedicates a section to 'Restore American Leadership Abroad' with a significant focus on the Nuclear Deal with Iran. Likewise, under the 'Restore and Reimagine Partnerships' section, the website states that it will sustain "an ironclad commitment to Israel's security".
 A return to the JCPOA era
The return to JCPOA has implications for the Western and Southern Asia, albeit in divergent ways. Biden's presidency will be perceived encouragingly in India since, besides having close ties with Israel, it will enable them to resume trade with Iran. However, the Israeli elections are also likely to have an impact on its diplomatic relations with India. In essence, Israel itself, amid the influence of President Biden, may encounter fundamental shifts.
Upcoming Israeli Legislative Elections
Following the dissolution of the incumbent Blue & White and Likud led- government, the Israeli legislative elections for the 24th Knesset will take place on 23rd March 2021. Presently, most polls indicate that Prime Minister Benjamin Netanyahu's Likud led-coalition is in the lead. Nevertheless, other contenders are gaining ground. The anti-Netanyahu opposition camp expects former Likud-Minister of Knesset (MK) Gideon Sa'ar's party Tikva Hadasha to be a formidable force. Other parties opposing the Likud include Yesh Atid, the Joint Litz, Meretz, Yisrael Beiteinu and Kahol Lavan while the potential coalition partners for Likud include Shas and United Torah Judaism. Naftali Bennett's party Yamina is another major player in the elections. Reports suggest that Blue and White's Benny Gantz, the leading contestant against Netanyahu in the previous election, may witness a withdrawal of support. The argument behind this is his willingness to ally with Netanyahu previously.
Rather than an election about ideology, it is about Nethanyahu's continuation in power after a lengthy 14-years. The 'anyone but bibi' movement led by Gideon Sa'ar to prevent Netanyahu from coming back to power, by forming possible coalitions with right-wing parties including Naftali Bennet of Yamina points right at this ambition. The result may favour the opposing factions given that Bennett supports the annexation of the West Bank while Sa'ar opposes the two-state solution.
Biden's presence has political implications for Israel concerning its West Bank policy and its views on Iran. Netanyahu is a staunch opponent of the JCPOA as he claims that the pact will lead to nuclear proliferation rather than deterrence.  Additionally, Donald Trump's withdrawal from the Iran Deal in 2018, as well as his role in facilitating normalization of relations between Israel and the UAE, Morocco and Bahrain, proved to be a major victory for Netanyahu as a leader. Nevertheless, the President-elect is unlikely to challenge Israel's legitimacy over Jerusalem as its capital. Additionally, Biden's appointee for the Secretary of State Anthony Blinken is a staunch supporter of Israel and JCPOA. At the time of its announcement, Israeli leaders across the political spectrum condemned the JCPOA. It included Netanyahu and Naftali Bennett. An exception to this was Benny Gantz who had a lukewarm response.
The primary challenge Netanyahu faces is from the new Right-wing challengers. Criticism against him includes the handling of COVID-19, economic instability in 2020, corruption charges are among other areas of concern. While anti-incumbency sentiment has not affected Netanyahu in the previous years, its potential impact cannot be ruled out. Nonetheless, Netanyahu remains the longest-serving Israeli Prime Minister. In recent years, he received significant support for his opposition to the Oslo accords. Furthermore, he has substantial support from the Israeli Youth and ultra-Orthodox populations. Sources indicate that two-thirds of young voters from ages 18 to 34 supported Likud in the 2019 Legislative Elections.
The Conundrum for India in West Asia
The biggest beneficiaries of the JCPOA are India and China, being Iran's largest importers of oil. India's Petroleum Minister Dharmendra Pradhan was also quoted saying that the country would like to see an easing of White House restrictions on Iran to resume import of crude oil.  Despite Netanyahu's optimistic stance towards India, JCPOA remains an impediment that divides India and Israel.
Although India's role in pursuing mutual goals in counterterrorism and active trade remain core concerns for Israel, Iran is an increasingly essential stakeholder for India due to the port of Chabahar and as a deterrent to Chinese expansion into the Persian Gulf and Afghanistan. Neither Iran nor Israel views China's economic ascendancy as an imminent threat the way India does.
India's approach could theoretically entail three components. The first is to accept a President Biden led- world by willing to negotiate through constructive diplomatic channels. The second is to have a malleable response to electoral activities in West Asia. Lastly, the ability to convey the imminent Chinese threat to West Asian nations.  The third component is likely to remain a challenge for India, given bolstered Chinese influence in the region.
Sources:
https://joebiden.com/americanleadership/
https://www.dw.com/en/can-benjamin-netanyahu-survive-israels-next-election/a-56151107
https://www.haaretz.com/israel-news/anti-netanyahu-bloc-gains-steam-in-latest-israeli-election-poll-as-likud-drops-1.9403599
https://www.timesofisrael.com/as-biden-inauguration-nears-netanyahu-warns-us-against-rejoining-iran-nuke-deal/
https://www.aei.org/china-global-investment-tracker/
https://www.timesofisrael.com/as-biden-inauguration-nears-netanyahu-warns-us-against-rejoining-iran-nuke-deal/
https://news.cgtn.com/news/2020-12-24/Netanyahu-and-the-2021-Israeli-elections-WsG83rpT7G/index.html
https://www.timesofisrael.com/former-idf-chief-says-hysteria-over-iran-deal-is-unwarranted/
https://www.washingtonpost.com/world/israel-blasts-iran-deal-as-dark-day-in-history/2015/07/14/feba23ae-0018-403f-82f3-3cd54e87a23b_story.html
Suraj Rajan K is a Research Fellow and Coordinator for the Jindal Center of Israel Studies at the Jindal School of International Affairs, O.P. Jindal Global University, Sonipat, Haryana.