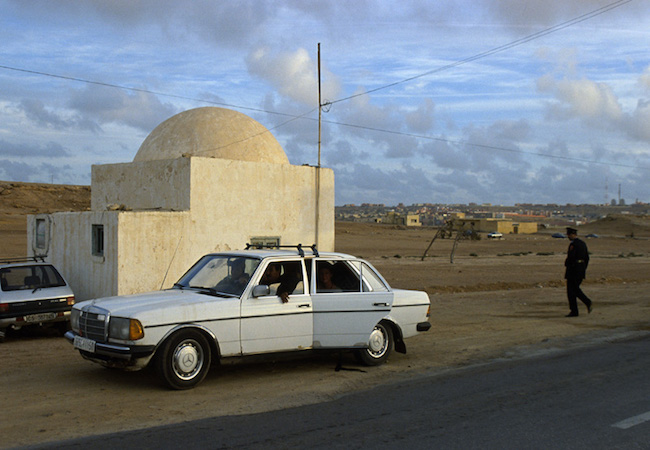 By Mehdi Megzari
Thousands of families trapped in the moving sands of a cold war residue in the Algerian Sahara. Their future is what matters most when considering the latent conflict in the so-called Western Sahara in North Africa.
To understand this geopolitical issue, in a region plagued by the threat of terrorism and human trafficking, one should first admit its complexity. Unfortunately, it is too often analysed through the lens of binary-minded "experts" and lobbyists. One of these complexities lies in the fact that the Kingdom of Morocco, formerly a millennial Empire, experienced a unique multi-step decolonization process to regain parts of its historical territories from two different colonizers. A process that began in 1956 and ended in 1975.
The reasons leading to the Western Sahara dead end conflict are at least one thing clear to understand. It is all about the Algerian military regime, still frozen in the Eastern Block and landlocked in the "Mediterranean lake", competing for leadership in the Maghreb region and coveting an access to the Atlantic.
U.S. President Donald Trump's Dec. 11 proclamation to recognize Moroccan sovereignty over Western Sahara has put a first stitch on a profound colonial wound. It augurs a life-saving outcome for an entire region that will enhance America's strategic interests and the security of the American people.
Those who call for President Biden to reverse this historical and coherent decision, misleading him with fake facts, not only encourage the status quo, deny the suffering of thousands of people in the Algerian camps, but also jeopardize American interests. Here is why the US chose to stand by the Emperor and not by the Sandman.
A coherent decision in line with US interests in the region
The US decision is coherent with America's long-standing position in the conflict, all administrations alike. The United States, which have always supported Morocco's autonomy plan, merely followed-through the logic; autonomy will necessarily be deployed under Moroccan sovereignty.
The US decision is in line with its strategic interests. An Algerian sponsored entity in the Western Sahara would be a Sino-Russian window on the Atlantic, allied to John Bolton's infamous "troika of tyranny" (Cuba, Venezuela and Nicaragua) who happen to be the strongest allies of the self-proclaimed Sahrawi Arab Democratic Republic, recognized only by some 25 states among which a minority of African countries.
In addition, the US decision reinforces America's credibility with its allies, by upholding a consistent position, independently of the President or administration in charge. Morocco was a US ally long before the world needed oil and gas and will remain so once oil and gas have vanished.
A lawful decision
Contrary to false allegations, the US decision complies with international positive law, namely UN Security Council's decisions and the UN Charter. Since 2007, all UN Security Council resolutions on Western Sahara have called for a "realistic, pragmatic and lasting political solution, based on compromise" while referring to the Moroccan autonomy plan proposal and welcoming Morocco's serious and credible efforts to resolve the conflict. The idealistic referendum option was rightfully abandoned because it was impossible to set a list of voters, for distinguishing individuals belonging to the same people would be quite challenging, to put it mildly.
Self-determination does not mean referendum and referendum never meant independence, as established by the "Act of Free Choice" precedent, held on August 2, 1969 where 1,025 men and women selected by the Indonesian military in Western New Guinea voted unanimously in favor of Indonesian control, under the blessing of the UN General Assembly. One may also recall that the 1975 decolonization treaty between Spain, Morocco and Mauritania, known as the Madrid Agreement, was validated by the Jemaa (the Sahraouis tribes Council) and the Spanish Parliament.
Self-determination is abusively confused with decolonization. Spain had an obligation to decolonize Western Sahara, and if not for the geopolitical context that prevailed then, it would have never led to consider its population as a distinct people from the Moroccans. Indeed, how can a Sahraoui from Tan Tan or Guelmim living in the non-contested borders of Morocco "occupy" a fellow Sahraoui from Smara, in what is still wrongfully considered a non-self-governing territory?
Chapter XI of the UN Charter refers to non-self-governing territories as "territories whose people have not yet attained a full measure of self-government". From a legal standpoint, Western Sahara must no longer be considered as a non-self-governing territory, not since the 1975 Madrid Agreement. Moreover, the UN General Assembly 1541 XV resolution specifies that such territories are geographically separate and distinct ethnically and/or culturally from the country administering them. That was clearly the case for Western Sahara under the Spanish occupation. But is Western Sahara geographically separate and ethnically and/or culturally distinct from Morocco? A look at a map of other UN listed non-self-governing territories sheds some light.
Self-governing and self-determination principles are based on elections. The UN, U.S and EU regularly attest that Moroccan elections (that also take place on the Western Sahara territory) are free and transparent. In fact, participation rates of Western Sahara populations in Moroccan elections are among the highest, as evidence that they freely determine their fate every four years. Their elected officials are therefore the only true representatives of Western Sahara populations, while the separatists' officials are appointed by Algeria.
With President Trump's decision, the United States support durable peace in the region and reinforce the capacity of the southern Mediterranean region to resolve greater security challenges. Above all, it is a key step in ending the suffering of thousands of Sahraouis, paving the way for a stronger Maghreb Union that is owed to all North-Africans.
Mehdi Megzari is a Moroccan lawyer, partner at Dentons Moroccan office and graduate of the Paris Institute of Political Sciences (Sciences Po Paris).