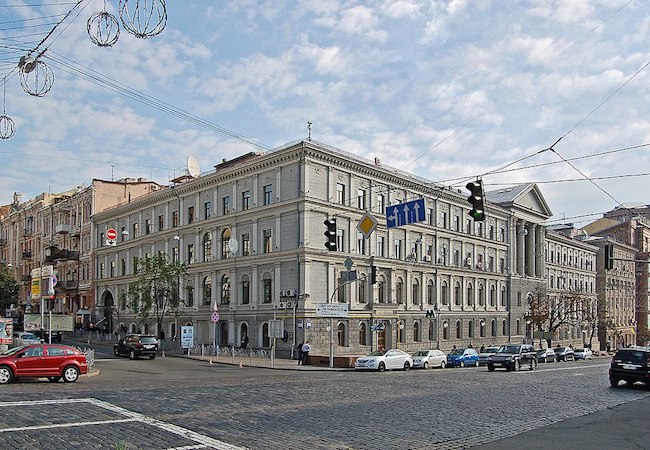 By Suriya Evans-Pritchard Jayanti
Naftogaz, Ukraine's second largest and arguably most important company, was decapitated this week by short-sighted politics. The consequences could be dire for the country.
On April 28, Ukraine's Cabinet of Ministers fired Naftogaz CEO Andriy Kobolyev with no warning, one year into his new four-year contract.  The nominal reason was the announcement the day before of Naftogaz's $685 million losses in 2020, a year when all petroleum companies suffered.
Speculations are rife as to what the real motivations were, however, especially given Kobolyev's replacement with acting Energy Minister Yuriy Vitrenko, who was formerly the number two at Naftogaz.  Vitrenko was fired from Naftogaz in May 2020 after waging something of a civil war internally following a September 2018 falling out with Kobolyev.  His firing was after many years at Naftogaz and despite marked success negotiating the Stockholm Arbitration against Russia's Gazprom, which secured a $2.9 billion payment in December 2019 from Gazprom, and hefty bonuses for both Kobolyev and Vitrenko.  Vitrenko's merits or demerits aside, the Supervisory Board privately expressed concerns about working with him given his recent history at the company.
For his part, Kobolyev as CEO transformed Naftogaz from being a substantial loss-making company in 2015 to contributing by 2020 up to 20% annually of Ukraine's budget.  While rubbing many the wrong way in the process, Kobolyev also achieved this, we now know from investigative media reports, despite pressure from U.S. Secretary of Energy Rick Perry, and corruption schemes by Lev Parnas and Igor Fruman predicated on Kobolyev's ouster, among other efforts.  On top of those were periodic efforts by then Prime Minister Volodymyr Groysman to fire him from the 100% state-owned gas monopoly.
In his apparent quest to fire Kobolyev, Groysman unilaterally rewrote the Naftogaz corporate charter in 2019 to strip the company's international and independent Supervisory Board — in favor of the Government — of sole authority over hiring and firing top executives.  The move, which was decried by the international community for reversing hard fought corporate governance and anticorruption reforms, left the company in legal limbo for a year while Kobolyev and the Supervisory Board, supported by the international community, worked to keep their jobs and their autonomy in them.  Kobolyev, whom many in Ukraine view as an adversarial CEO because of his support for raising gas prices — an IMF requirement for macro assistance to Ukraine — and frequent skirmishes with the Government, ultimately secured a new contract.
But the persistent government meddling, corporate governance rollbacks, and political tussles eventually resulted in the resignation from the Naftogaz Supervisory Board of former U.S. Presidential Envoy and Deputy Assistant Secretary of State Amos Hochstein.  Hochstein wrote in an open letter in October 2020 that he was resigning due to the Ukrainian Government's refusal to let the company operate unmolested.
And now the Ukrainian Government has done it again.  To fire Kobolyev, the Cabinet had to twist itself in legal knots by suspending the company's Supervisory Board for 48 hours.  Once suspended, the Cabinet fired Kobolyev, without telling him.  Two days later, the Supervisory Board, now re-vested with its authority, met with Vitrenko in an extraordinary meeting to negotiate a path forward.  The result of that meeting was the resignation of the entire Supervisory Board on April 30, effective May 14, 2021.  The Board felt it had no choice given, according to one member of the Board, the Government's "cynicism regarding governance."
It is unclear what the Government hoped to achieve, but it is very clear that the only beneficiary is Russia.  Russia has long used "Ukraine's unreliability" as a propaganda point as it seeks to marginalize the smaller country.  During the game of geopolitical chicken that led up to the December 20, 2019 conclusion of a five-year gas transit contract between Gazprom and Naftogaz, Russian officials repeatedly proclaimed that Ukraine was not a reliable gas transit partner.  Its evidence was, among others, the as yet incomplete unbundling of Naftogaz, a process that de-monopolized the gas monopoly in keeping with European Union law by spinning off the gas transit functions into a new entity on January 1, 2020.  Russia used Ukraine's then non-compliance with that law to argue Ukraine was unreliable as an excuse to avoid signing the contract until mere hours before the expiration of the prior transit contract.
More importantly, Russia has been using the complaint that Ukraine is unstable and unreliable to manufacture a justification for its Nord Stream 2 natural gas pipeline project with Germany.  In other words, in the midst of the likely final push to stop Nord Stream 2, a national priority for Ukraine because of the at least $2 billion per year it stands to lose in transit fees, the Government of Ukraine has demonstrated to the world that, at least as to natural gas, it is in fact unstable, unreliable, and does not respect the rule of law.  Germany cannot rely on Ukrainian gas to keep German citizens warm, the argument goes, so it needs a new gas pipeline to bypass Ukraine and bring gas directly from Russia.  Nevermind that Ukraine only ever suffers disrupted supply when Russia cuts off gas transit through Ukraine as political coercion, like in 2009, or that existing pipeline capacity has ample room to satisfy Europe's declining gas consumption without Nord Stream 2.  Nonetheless, protections are needed against Ukraine's "unreliability" the story goes.  False as this is, Ukraine cannot afford to strengthen Russia's position on Nord Stream 2.
So what on earth is the Ukrainian Government thinking?  Of course, most observers of politics in Ukraine consider President Zelensky's key source of information to be his Chief of Staff, Andriy Yermak.  Yermak, we learned from the press in late 2020, has reportedly been identified by the United Kingdom's MI-6 intelligence service as a Russian agent, which it allegedly told Zelensky in October 2020.  Assuming Yermak had a hand in suspending the Naftogaz Supervisory Board and firing Kobolyev, a very reasonable assumption, it may not be a coincidence that the move benefits Russia.
Or maybe Kobolyev was again proving too protective of Naftogaz, something he has been accused of in the past, at the perceived expense of Ukraine — i.e., not opening the company coffers to government (and other) demands outside the tax and dividend schedule.  It is perhaps understandable that the Government, as 100% shareholder, may feel it can take a more casual approach to its gas company.  But the very protections Naftogaz is supposed to enjoy against the Government are those it needs to protect against corruption and ensure future profitability.  It must be noted that with up to 20% of the state budget reliant on Naftogaz's success, it should hardly be controversial that what is good for Naftogaz is good for Ukraine, and what is bad for Naftogaz is thus good for Russia.
* The contents and opinions expressed in this article are the author's own and do not necessarily reflect the position of the U.S. government or its agencies.
Suriya Evans-Pritchard Jayanti is a U.S. international energy policy expert with a focus on Eastern Europe.  She served in the U.S. Diplomatic Corps from 2012-2020, most recently as the Energy Chief at the U.S. Embassy in Kyiv, Ukraine from 2018-2020.  She holds a BA from Claremont McKenna College, a JD from American University, and an LLM Katholieke Universiteit Leuven, where she is reading a PhD.  She has co-authored two textbooks; and published with CERES, INECE, and Foreign Policy News, as well as with the Law Reviews at Georgetown, Rutgers, and American Universities, among others.