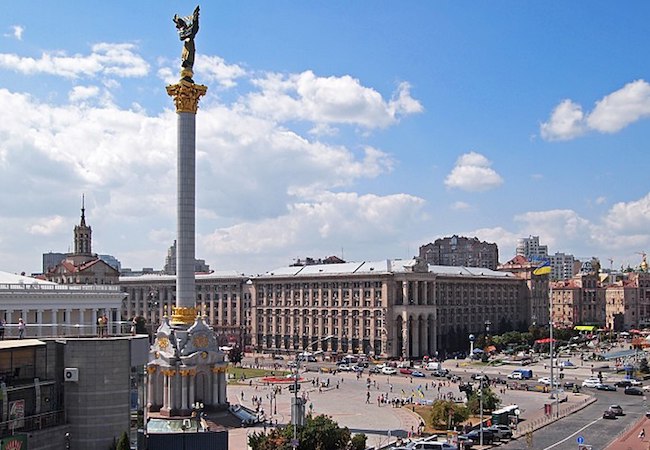 By Jonathan Wilson
As White House press secretary Jen Psaki stated, "The visit will affirm the United States' unwavering support for Ukraine's sovereignty and territorial integrity in the face of Russia's ongoing aggression in the Donbas and Crimea, our close cooperation on energy security, and our backing for President Zelenskyy's efforts to tackle corruption and implement a reform agenda based on our shared democratic values." 
As Ukraine's lockdown-ravaged economy begins its recovery, Kyiv must avoid pitfalls which could hinder international support from the United States and Europe or derail the fragile economy after a 4 percent decline in GDP last year. Washington, as a key donor for helping Ukraine's economic recovery, is certain to urge President Zelenskyy and other Ukrainian officials to focus on advancing a reform agenda, rather than policies which could worsen Ukraine's already large shadow economy.
There is unquestionable bipartisan U.S. support for strengthening Ukraine's democratic institutions and economy.  As U.S. Secretary of State Antony Blinkenremarked following a meeting with Ukrainian President Zelenskyy, "the Biden-Harris administration [is committed] to supporting the vital work that Ukraine is undertaking to advance reforms, to tackle corruption, to implement a strong reform agenda based on the shared democratic values we have."  Washington officials are frustrated that Kyiv has not prioritized the elimination of Ukraine's large shadow economy. There is one of the greatest root causes of ongoing corruption.  As U.S. Senators Rob Portman (R-OH), Jeanne Shaheen (D-NH), and Chris Murphy (D-CT) recently stated, "the United States remains a committed partner to encourage work to root out corruption… so Ukraine can realize its goal in becoming a member of NATO and the EU."Will the economy of Ukraine be focused on improving oligarchy or supporting small businesses? The answer will depend on Ukraine's economic policy, which should be changed, especially during pandemic times.  It is therefore likely quite puzzling to many U.S. policymakers why the Ukrainian Parliament has passed a series of laws which drive medium and small businesses into the shadows, worsening Ukraine's corruption when economic recovery following the pandemic is most needed.
All sectors of the Ukraine's reliable tax-generating economy, from agriculture and construction to metallurgy and industrial production, have faced a sharp increase in taxes due to the recently introduced tax bill. The tax hikes push up to 50 percent of small and medium sized businesses into the shadow. Large businesses hit by these tax increases will not only face dwindling profitability but will lose export potential as well due to a loss in competitive advantage compared to exports from lower taxed countries. The profits once taxed to fill Ukraine's state coffers will be markedly lower and remaining businesses pushed to the "shadows" of Ukraine's economy due to these tax increases, will not contribute to the Ukrainian tax base. Ukraine should take into account this important aspect, otherwise the situation caused by pro monopolistic tax system can promote oligarchy in Ukraine. It is very common situation in former USSR countries, which have not cut ties with the Soviet рast.
Restrictive taxation on the industries driving Ukraine's economy will likely spook foreign investors as well. It can become a threat for foreign investors and Ukrainian small enterprises. As political expert Peter Okhotinnoted, "businesses that have been paying taxes diligently despite the pandemic and crisis, will have to pay even more, which will be a very bad sign for all potential investors."  The European Business Association has also voiced concern about the impact of Zelenskiy's proposed policy and its impact on investment into Ukraine's economy, stating "fiscal pressure on transparent business is unlikely to stimulate economic recovery."
Ignoring Ukraine's shadow economy has been a strategic mistake throughout Ukraine's nearly 30 years of independence.  It encourages widespread levels of corruption amongst those Ukrainians avoiding taxes for the estimated 31 percent of Ukraine's GDP in the "shadows."  It is estimated that only 37 percent of those 30 million Ukrainians considered "economically active" pay any taxes at all.  This tax avoidance promotes a nihilistic disrespect for the rule of law amongst these Ukrainians, which negatively impacts all aspects of rule of law.
While Ukraine's economic prosperity clearly depends on the will of Post-Soviet Russia to end the stalemate in the ongoing search for peace and the wisdom of Ukraine's partner countries – primarily the United States as well as Germany and France – domestic pitfalls can only be remedied by Ukraine's policymakers.  Ukraine and only Ukraine has the power to clean up corruption amongst officials; to ease tax pressure on small, medium, and large businesses; and to initiate other reforms to end corruption in Ukrainian government institutions.  This should be done swiftly, to ensure U.S.-Ukraine bilateral relations remain on track following President Zelenskyy's visit to Washington.
Jonathan Wilson is a political strategist, and the senior analyst of the Institute for Strategic Development. He writes on foreign policy and international affairs.