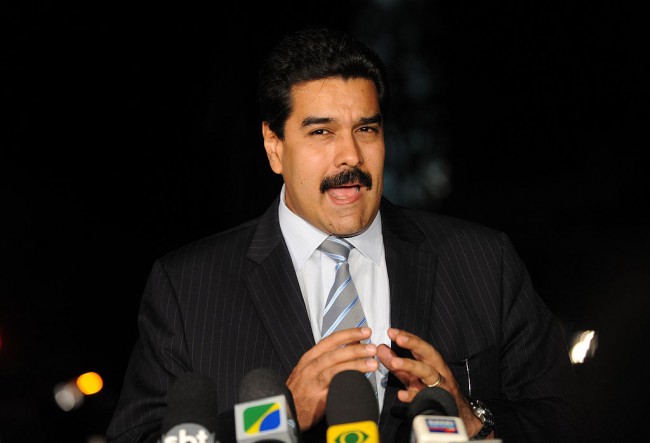 By Kristina Foltz
When the Biden Administration last week officially eased sanctions on Venezuelan president Nicolas Maduro in exchange for oil, the optics reinforced for Venezuelans a common feeling about America- that the US is the modern version of 19th century England, self-interested and imperialistic.
The agreement allows Chevron to resume oil production in Venezuela, in the wake of a world-wide oil supply shortage resulting from the Russia- Ukraine war sanctions.  The price was another round of talks between the Maduro administration and the opposition, which began last Saturday in Mexico.
There are at least three reasons Biden's deal with Venezuela is misguided and will hurt the US and its allies in the long run.
First, there's no real opposition to Maduro.  Juan Guaidó, whom the Trump administration recognized as the legitimate Venezuelan president after the fraudulent 2018 Maduro election, is no longer leader of the National Assembly and has no political position.  According to the Venezuelan historian Juan José Pineda, the National Assembly has been co-opted into Maduro's political party, the United Socialist Party of Venezuela.
Even if Guaidó had any political leverage, it's hard to determine who he's faithful to. There have been extensive corruption investigations into Monomoros, the Venezuelan company of which Guaidó served as CEO during the pandemic.  Like most Venezuelan politicians, Guiadó has been "bought" (comprado), Pineda told me.  Without a reliable alternative, the likelihood of talks leading to democratic elections in Venezuela are nil.
There's a double standard in isolating one world pariah (Putin) while making deals with another. Venezuela is Russia's client state. Instead of helping the Venezuelan people who suffer a profound hunger and humanitarian crisis, any economic deals with Venezuela will indirectly benefit Russia.
There's also the ethics to consider -of normalizing Maduro, who has been accused by Human Rights Watch of hundreds of extra-judicial killings, imprisonment of opposition and harboring the illegal drug and gold industry.  Former Colombian president Ivan Duque recently wrote  "Maduro and Putin are the same…..The world would not understand sanctions for Putin and respect for Maduro, when the latter has done to the Venezuelan people what Putin has done to the Ukrainians."
To be sure, the Biden Administration conditioned the agreement so that no cash from the operations will go directly to Maduro, but instead directly pay down debt owed Chevron by PDVSA (Venezuela's state-owned oil company).  But the implication is the possibility of further concessions in the future, granting Maduro the tolerance and legitimacy he craves.
The optics do matter if we're playing a long game. Anti-Americanism has a long history dating from the early 20th century.  It's not always warranted;  it's at least a reminder that our actions have wide-reaching consequences.   There's no denying our history- we've installed dictators, orchestrated bloody coups, ousted effective presidents-  in the interests of the American economic bottom line.
Now foreign adversaries like China and Russia take advantage of and reinvent anti-Americanism with sophisticated cyber-warfare tools to change the narrative and rewrite geopolitical lines.  Building on preexisting anti-American sentiment, they target vulnerable populations with half-truths, portraying the US and its allies as materialistic, soulless enemies.
Russia, China, and Iran have launched cyber-messaging campaigns in South America over the double encrypted social media app, Whatsapp, according to Pablo Rios, former vice Minister of Internal Security of Paraguay.  "Disinformation in the form of anti-establishment propaganda is the gravest danger to democracy in South America", he told me.  Indeed, foreign actors have manipulated entire elections with online propaganda. New anti-capitalist narratives with little relationship to the truth sway public opinion towards succumbing to authoritarian regimes, like Maduro's Chavism, disguised as socialism.
Russia and China are gaining a foothold in South America (China economically and Russia ideologically).  Popular opinion in the volatile region is therefore more important than ever if we care about its stability, our geopolitical relationships and the future loyalty of our allies.
The US must continue to be a stabilizing influence in Latin America and support transparency and democracy in the region. "The educational support of the US and its institutions, its system of democracy, and US security aid are the model for and life blood of our fragile institutions", Rios told me.
But America's influence is waning.  Wavering in our values for economic gain,  by first implementing, and then dropping sanctions on Maduro, are watched with great interest by South America's well-educated populace.  To them these types of deals seem self-interested and imperialistic.
It bears considering more deeply what sort of message we are sending out.  The world is paying attention.
Kristina is a former Rotary Cultural Ambassadorial Scholar dividing her time between  Bogotá and San Francisco.  She writes about Latin American affairs.