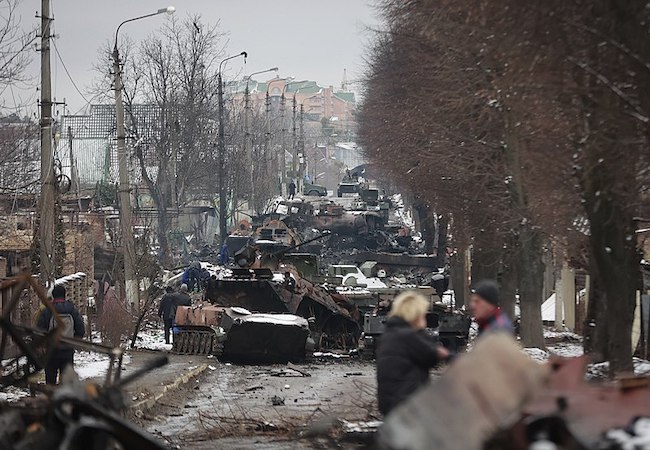 By Antonio Graceffo
"I think this is a tool for realizing national interests without the direct participation of the state," is how on Nov. 4, 2012 Vladimir Putin described the deployment of Russian private military companies (PMC), rather than Russia's army, to trouble zones.
Russians are currently fighting in numerous conflicts around the globe, but not all those troops are in the regular military. Russian soldiers fighting in Ukraine can be divided into three broad categories: the Russian Armed Forces; Ramzan Kadyrov's Chechen fighters; and the Wagner Group, a PMC with close ties to the Kremlin. Ironically, Wagner is incorporated in Russia as a management consulting service company, although, under international law, its members qualify as mercenaries.
According to Article 47 of Additional Protocol I to the Geneva Conventions, a mercenary is defined as any person, not a member of the armed forces, recruited to fight in an armed conflict and is motivated by private gain, "compensation substantially in excess" of the pay given to an official soldier of similar rank and function. It is widely accepted that this definition applies to members of the Wagner Group. It does not, however, apply to the International Legion of Territorial Defense of Ukraine because those soldiers wear a Ukrainian uniform and are not paid in excess of equivalent Ukrainian regular army troops.
The Wagner Group first appeared during Russia's 2014 annexation of Crimea from Ukraine. Rather than a full-scale invasion, Crimea was captured by men in civilian clothes, referred to as "little green men," allowing Moscow to not only deny that the men worked on the Kremlin's behalf but that they even existed. In 2015, Wagner mercenaries turned up in Syria supporting Russian-backed Syrian leader Bashar al-Assad. Wagnerites performed special operations, such as sabotage and fighting U.S.-backed rebels. Additionally, they carried out acts of terrorism against political opponents and critics of the al-Assad regime. Since then, Wagner has fought in the Central African Republic, Mali, Libya, Chad, Sudan, Mozambique, Venezuela, and Ukraine. And the group has been accused of war crimes or human rights abuses in each of these conflicts.
Wagner has been under U.S. sanctions since 2017. Charges have been brought against Wagner for torturing civilians in Syria. Wagner stands accused of extortion, murdering journalists, kidnapping children, using nerve agents against civilians, and sex trafficking of women and children. In January, the United Nations called for an independent investigation into human rights abuses and possible war crimes and crimes against humanity committed by the Wagner Group in Mali. Allegations range from horrific executions, mass graves, torture, rape, and pillaging, to arbitrary detentions and disappearances.
The group has a reputation for doing Putin's dirty work. In Africa, they destabilized governments and committed widespread human rights abuses, including forced displacement and attacks on schools. According to African Defense Force News, the Wagner Group have been accused of killing civilians in the Central African Republic. The U.S. Treasury Department has also determined that Wagner is guilty of targeting of civilians including women and children.
As proof of the group's brutality, a Wagner video which made the rounds on social media showed the brutal execution of a Wagner prison-recruit who deserted in Ukraine but was later returned to Russian forces in a prisoner swap. The video showed the man being repeatedly struck on the head with a sledgehammer. In response to the video, Wagner issued a statement, saying: "A dog's death for a dog."
For their ongoing role in the Ukraine War, Wagner has been charged with threatening the peace, security, stability, sovereignty, or territorial integrity of Ukraine. Ukraine's prosecutor general, Andriy Kostin, says Kyiv has recorded approximately 68,000 crimes committed by Russia, which he believes constitute crimes against humanity. These range from intentional killings of civilians to indiscriminate shelling of residential buildings, torture, and rape, leading to sanctions by Australia, Canada, Japan, the United Kingdom, and the European Union, in addition to the U.S.
On December 29, a panel of judges at the Organized Crime and Corruption Reporting Project (OCCRP) named Wagner's leader, Yevgeny Prigozhin, as its infamous "Person of the Year." OCCRP referred to him as a "a soldier of corruption,"awarding him this dubious distinction for extending "Russia's vicious and corrupt reach, to steal for Vladimir Putin, and to punish those who resist."
Prigozhin, a close Putin ally, is often referred to as Putin's chef, because he owned a company that often catered events for the Russian government. As a young man, he spent time in jail for robbery. It is suspected that he was a member of the KGB and/or that he has ties to the Russian military and intelligence agency, the GRU. In the mid-2010s, he operated an "Internet Research Agency," a troll factory which spread disinformation and propaganda on the Kremlin's behalf, and which attempted to interfere in U.S. elections. Since then, Wagner has become an important tool of Putin's ambition to restore the greatness of the Russian Empire. Utilizing Wagner to do the dirty work, rather than the Russian Armed Forces, the Kremlin can maintain plausible deniability. Meanwhile the group acts with brutality and impunity. Last September, Prigozhin finally admitted that Wagner was recruiting hardened criminals from prisons.
In April last year, the EU imposed sanctions against Prigozhin because he personally benefited from the illegal annexation of Crimea in 2014 and, along with Vladimir Putin, for violating the territorial of Ukraine in 2022. On Jan. 26, the U.S. Treasury Department expanded sanctions against the Wagner Group, designating the PMC as a "significant transnational criminal organization."
Last December, a bill was introduced in the U.S. Congress to recognize the Wagner Group as a terrorist organization. The Holding Accountable Russian Mercenaries (HARM) Act is bipartisan legislation that would require the secretary of state to designate Wagner as a foreign terrorist organization (FTO). A Feb. 15 press release from Sen. Roger Wicker states: "The Wagner Group is not just a private mercenary group, they are an extension of the Russian military and security apparatus." Ukraine's prosecutor general has said that Wagner's violations have been on such a broad scale that he believes they must have been ordered by the Kremlin. This seems likely, given the Wagner Group's links to the GRU, Russia's military intelligence agency. Moscow's continued support of the Wagner Group is increasingly making Russia a state sponsor of terrorism in the eyes of the international community. If legislation passes in the U.S. Congress, designating Wagner as a terrorist organization, then Russia could officially be identified as a state sponsor of terrorism.