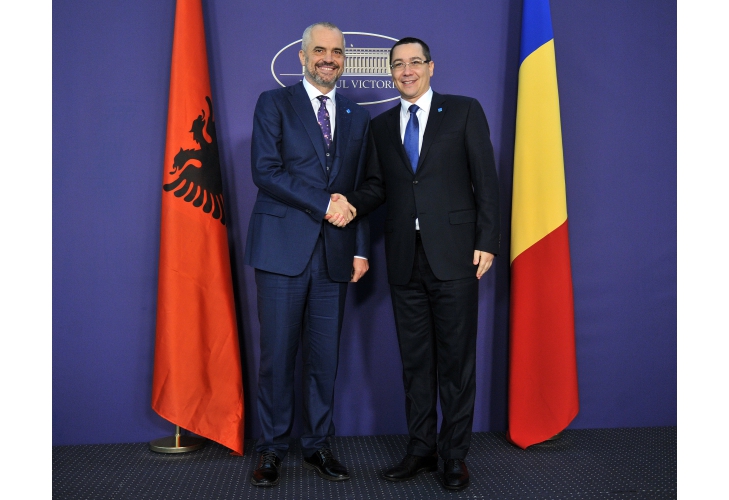 By Peter Tase
In March 18th, 2014, Edi Rama, the Prime Minister of Albania, welcomed Romania's Prime Minister Victor Ponta, in his first official visit to Tirana.  During their meeting, both leaders discussed the potential bilateral cooperation in the areas of commerce, the fight against organized crime, further development of cultural and educational ties, professional training to Albanian police officers provided by Romanian police officers, as well as sharing Romania's experience in the European Union Accession process.
For Prime Minister Edi Rama, bilateral relations between Albania and Romania are very special and tremendously important, "Romania is a country that is linked to Albania and influenced its culture for a long time, and such relations are rooted in a historical context as well as in significant cultural ties. Bilateral relations between Albania and Romania have earned a particular place in Albania's foreign policy." Over the years there have been many Albanian writers who have studied and lived in Romania; even today there are hundreds of Albanian students who continue their studies in Bucharest.  Indeed, Romania has had a great influence in some of the most distinguished Albanian writers such as Aleksandër Stavre Drenova, Lasgush Poradeci and Dora D'istria.
The recent Romanian – Albanian Economic Forum had a great impact towards strengthening bilateral cooperation in many areas of mutual interest. However bilateral trade relations are not at the desired levels and both Prime Ministers showed a commitment to intensify their dialogue and strengthen commercial ties between both countries, a first step in this new beginning would be the opening of new Romanian businesses in Tirana, and their substantial participation in strategic infrastructure projects in the country.
Romanian government has offered its experience and a group of experts to help Albanian government representatives in its road to the European Union Integration.  Bucharest's experience has proved to be very valuable since Prime Minister Ponta has been successful towards acquiring many financial resources and funds from the EU institutions in a very prompt manner; this has been one of his government's major successes.
Another important area, in which Romania has recently been successful is the fight against the organized crime; Albania's national police officers are eager to learn more from Romania's experiences in dealing with organized crime and trans-border criminal groups.  Albanian government will very soon welcome a team of police officers from Bucharest who will conduct training programs in the national police headquarters in Tirana.
Romania has been a staunch advocate for Albania to join the European Union and continues to support Tirana's long lasting EU integration process and its democratic processes. With Mr. Ponta's recent visit, bilateral cooperation is expected to reach new heights and Romanian businesses are actively looking at Albania as a possible destination to establish their regional offices as well as diversify their investment portfolio in another neighboring Balkan country.