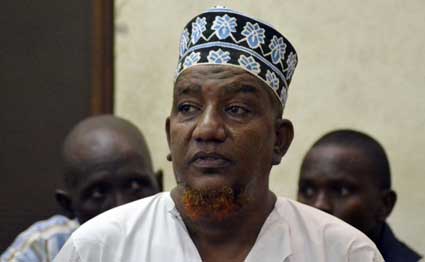 By Jason Patrick
The fight against al-Shabaab progressed in Kenya when unknown assailants shot radical Muslim cleric Sheikh Abubakar Shariff today in the port city of Mombasa. Also known as "Makaburi", Shariff was assassinated as he exited the Shanzu Court at the gate of a maximum security prison in the city. It is widely believed in the local Muslim community that Kenyan authorities were behind the killing. Makaburi is the third high-profile Muslim cleric killed in Mombasa since August 2012.
According to an interview with BBC in 2013, the controversial cleric denied directly funding al-Shabaab; however, he openly supported their use of violence in the insurgency in Somalia. The United Nations Security Council (UNSC) placed a travel ban on Makaburi and froze his assets in August of 2012, for the active recruitment of Kenyan Muslims to join al-Shabaab and for acting as a lead facilitator for the group.
The indictment included Makaburi's close associate, Aboud Rogo, who was similarly gunned down just days after the UNSC's statement was released. Aboud Rogo's death sparked protests among his supporters in Mombasa. Two weeks after the Westgate Mall terror attack in September of 2013, unidentified gunmen assassinated radical cleric Ibrahim Rogo in Mombasa. Like Aboud Rogo and Makaburi, Ibrahim Rogo had allegedly maintained strong links to al-Shabaab.
Despite public denials, Kenyan security forces are likely directly involved in all three assassinations. Today's incident comes amidst high inter-ethnic tensions, as Kenyan authorities have escalated security measures following a spate of terrorist activity suspected to emanate from the Somali community in Kenya. Police thwarted a terror plot in Mombasa on 17 March when they interdicted an explosives-laden vehicle en route to the city. According to police statements, the two men transporting the explosives were ethnic Somalis. Kenyan authorities also arrested 650 Somali refugees in the Eastleigh neighborhood of Nairobi following yesterday's grenade attack that killed six and wounded at least 20.
President Kenyatta's threat of additional arrests coupled with Makaburi's assassination will likely inflame tensions among nearly half-million Somali refugees in Kenya. Recent activity aimed at countering extremist threats has also placed Ugandan authorities on high alert. Security forces in Kampala were on guard today after receiving intelligence that al-Shabaab was planning to conduct a possible twin bombing in the the Ugandan capital. Similarly, the day after the 17 March interdiction operation in Mombasa, Ugandan authorities issued warnings that al-Shabaab intended to carry out a large-scale attack using explosive-laden fuel tankers, according to regional press reports.
Both Kenya and Uganda are major contributors to the African Union forces fighting against al-Shabaab in Somalia under AMISOM. The terror group has repeatedly threatened to carry out reprisal attacks in both countries unless they withdraw their forces. The Westgate Mall attack in Nairobi and the 2010 bombing that killed 74 during a soccer match in Kampala demonstrated that the Somali militant group is capable of exporting violence beyond its borders.