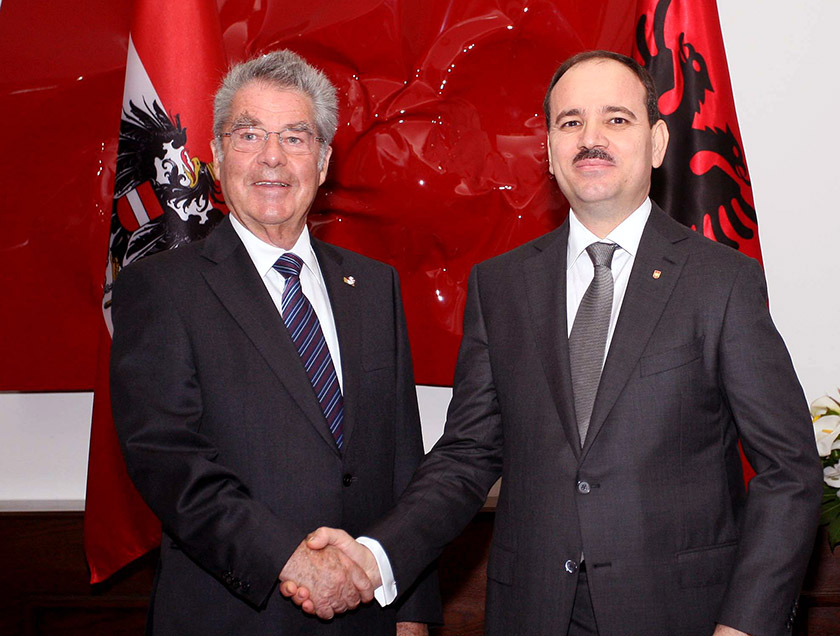 By Peter Tase
On May 20th, Mr. Bujar Nishani, the President of the Republic of Albania welcomed in Tirana, with an official ceremony Mr. Heinz Fischer, the Federal President of Austria and members of his official delegation. After conducting a review of the honor guard, both heads of state had a closed doors meeting and subsequently had a fruitful official meeting among the two delegations.
At the end of the official meetings, the Albanian head of state and Austrian President gave a press conference and answered many questions from the local and international journalists.
In his press statement president Nishani stated:  "We had a friendly and productive meeting with the President of Austria, Heinz Fischer, who is a dear friend of Albania and Albanians. We discussed a broad range of issues in relation to our bilateral and multilateral relations, European integration, the recent situation in the region and current international developments."
President Fischer reiterated again his country's support for Albania to gain the status of a candidate country in the European Union and in bilateral economic cooperation.
The Austrian President added that "Albania is trying to play a moderate role in the region in making various decisions and negotiations on the path to integration. It was very important for Albania to improve investment climate, the fight against corruption and establish the rule of law." [1]
In his public statement, H. E. President Bujar Nishani, emphasized that "the relations between Albania and Austria have traditionally been excellent and date back in early in the history of both countries. Austria has been a firm supporter of Albania's independence and today is an advocate of our strategic interests." [2]
Over the last two decades, the Government of Austria and its largest corporations have provided substantial assistance and large investments in the Republic of Albania.  Vienna remains an important supporter for Albania's historic aspirations to join the European Union Community.  Vienna has constantly advocated Tirana's efforts to building a stable and functional democracy, consolidating the rule of law and makes progress towards the European Integration Process.
Both countries aim to further enhance the extensive bilateral cooperation, intensify the political dialogue by actively engaging in high level meetings and reciprocal visits in both nations.
According to official sources, both countries have nineteen bilateral agreements; the first one was signed in July, 1973.
Austria is considered to be one of the three most important nations based on the level of foreign direct investments in Tirana. Austrian capital is focused mainly on the following sectors: insurance companies, banking, hydroelectric power plants, mining, food processing industry, public relations and legal offices, hotels and resorts.
President Fischer was accompanied by a powerful group of business leaders and the participation of the Austria-Albania Business Forum leaders, in this visit is an expression of faith and growing interest of Austrian entrepreneurs to Albania, in the pursuit of successful business stories.  Additionally, the ongoing Trans Adriatic Pipeline project is a great opportunity for Austrian Business leaders to expand their business ventures in Albania.
In his official meeting with President Fischer, President Nishani stated that "the Austrian businesses will continue to find a friendly environment and that the government and Albanian institutions will be on their side by providing a favorable legal infrastructure, administrative reforms, fight against informality and corruption, strengthen capacity building of the work force according to EU standards."
In his press conference, President Nishani added that "receiving the candidate status of Albania this June, based on merit, is the next stop on our country's European path. It is the recognition of the achievements [accomplished] so far and a very encouraging incentive for the future.   I expressed our determination for continuing general reforms, with special focus on the fight against crime and corruption and complete the reforms of the justice system through a transparent process, based on professionalism, merit, protecting it from political influence and interest groups."
On the current situation in Ukraine, President Nishani reiterated that "[Albania will continue] to be in line with our NATO allies, Albania firmly supports, the unity, independence, sovereignty and territorial integrity of Ukraine and has condemned the annexation of Crimea and Sevastopol, as a violation of international law, and a threatening precedent for the long-term stability in the European space and its surroundings. The only elections [in Ukraine] recognized by us will be the May 25th Presidential elections, the free and successful conduct of this process is very important for the future of Ukraine."
President Fischer's visit to Tirana comes eight days after the official visit of Mr. Edi Rama, the Prime Minister of Albania, to Vienna where he had successful meetings with the leaders of the Austrian Federal Economic Chamber. [3]
On this occasion, Prime Minister Edi Rama addressed the forum entitled "Meet Albania in Vienna", organized from the Economic Forum of Vienna in cooperation with Advantage Austria, and the Austrian Federal Economic Chamber.
During his speech, Prime Minister Rama stated that "[his government] has taken the first steps and are encouraged from the international feedback that we have received – from Chancellor Merkel when I recently visited Berlin – but also from the International Monetary Fund, World Bank, governments and other institutions, who envision our aspirations and are willing to support us." [4]
For Prime Minister Rama, foreign direct investments are of vital interest to Albania's economy.  For this reason, his government is highly committed to create an attractive environment to foreign investments and eliminate every barrier that has hindered foreign investors from investing to Albania.
Very soon, with the support of European Bank for Reconstruction and Development, Albanian Government will establish the Council of Investments, an entity that will assure an institutionalized platform that will assure a sustainable way of cooperation with foreign investors in Albania and in the region.
On his closing remarks before the participants of "Meet Albania in Vienna", Prime Minister Rama stated to the audience: "you are welcome to come and test our determination and explore business opportunities in Albania. I am fully confident that Austria can play an important role, but I am also conscientious that the Austrian companies are not the ones to make the first step, but it is our job to initiate our needed reforms as well as understand that Albania's needs coincide with the interests of Austrian investors."  On his visit to Tirana, President Heinz Fischer, had official meetings with the Speaker of Albanian Parliament, Mr. Ilir Meta and Prime Minister Edi Rama.
Sources:
[1] 
http://www.neurope.eu/article/austria-supports-albanias-efforts-join-eu
[2] 
http://president.al/?p=17901&lang=en
[3] 
http://www.wifi-al.al/EN/Activities/Prime%20Minister%20Rama%20in%20the7660/%E2%80%9CMeet_Albania_in_Vienna%E2%80%9D_organized_from_the_Econom.aspx
[4] http://www.kryeministria.al/al/newsroom/lajme/forumi-ekonomik-i-vjenes-rama-ndertoni-suksesin-ne-shqiperi-qeveria-partnere&page=2