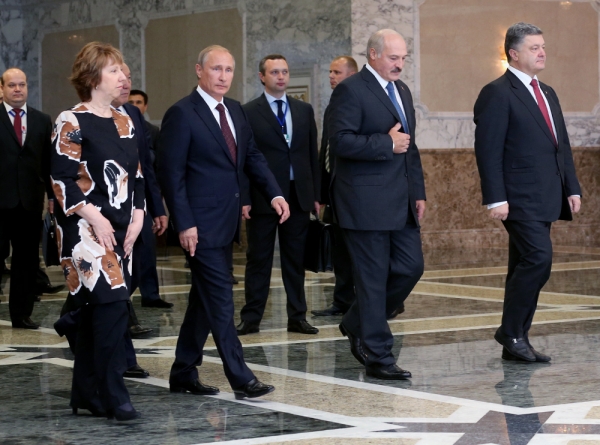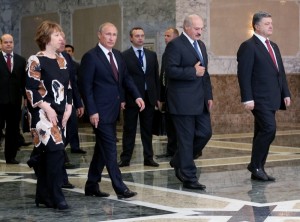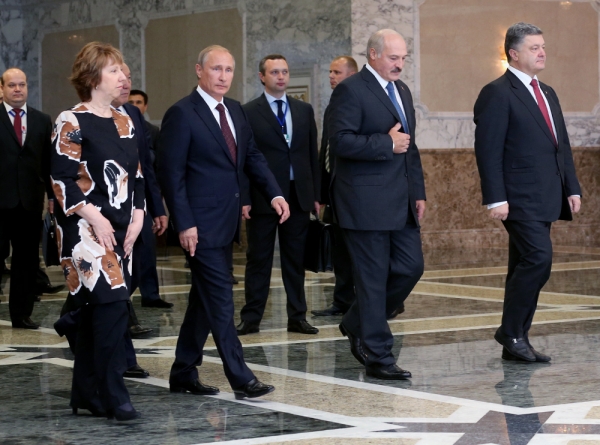 Although all sides at the Minsk summit have agreed to a peace plan for Ukraine, the first meeting between Russian and Ukraine leaders did not produce a breakthrough in efforts to end the months-long unrest.

While describing the talks as "positive," Russian President Vladimir Putin said the details of truce terms are the internal matter for Kiev.

"Russia can't substantively discuss conditions of a ceasefire…That is not our business, it's up to Ukraine itself," Putin told reporters in Minsk, Belarus early on Wednesday.

"We can only contribute to creating a situation of trust for a possible, and in my view, extremely necessary, negotiation process," he added.

The peace plan, prepared in June by Ukrainian President Petro Poroshenko, was presented at the summit of the Customs Union (CU), which groups Belarus, Kazakhstan and Russia.

Leaders of the three CU states and Ukraine as well as representatives from the European Union (EU) met here Tuesday to discuss the Ukraine crisis and economic cooperation.

The five-month-old conflict between government troops and pro-independence militia has killed more than 2,000 people in eastern and southeastern Ukraine, with hundreds of thousands of others displaced.

Conflict of Interest

The disagreement between Russia and Ukraine over the settlement of the crisis lies in their competition of power in the region which has fundamental interests for both countries.

For Ukraine, the largely Russian-speaking region is where the country's economic foundation lies.

Rich in deposits of coal and iron ore, the eastern part of Ukraine holds almost the entire industry of Ukraine, making the cession of this region unacceptable for Kiev.

Kiev now urgently wants the rebels to hand back the territory they have captured in eastern Ukraine and demands a halt to what it says "arms shipments" from Russia to the fighters, a charge that the Kremlin denies.

Meanwhile Russia also wants to retain some sort of leverage over the region so Ukraine does not join NATO or the European Union.

Moscow has frequently called upon Ukraine to become a loose federation with greater regional autonomy, an idea that Kiev repeatedly rejected.

The issue as whether or not to federalize Ukraine has become the key disagreement between Kiev and Moscow over the Ukraine crisis. But such conflicts that involve fundamental interests of both countries could hardly get concessions from either side.

Continued fighting 

Just hours before the Putin-Poroshenko meeting in Minsk, Ukraine said it had captured 10 "Russian soldiers" in the eastern Donetsk region

On Monday, the Ukrainian State Security Service claimed to have seized servicemen from Russia's regular army and published a video footage on its Facebook page, showing people dressed in military camouflage.

Moscow has not commented on the case, while Russia's RIA Novosti news agency cited a source in the Russian Defense Ministry as saying that those captured servicemen were involved in patrolling the Russian-Ukrainian border area and "most likely crossed border by accident."

In addition, Ukrainian authorities said Russian helicopters attacked a border post in Lugansk region in eastern Ukraine on Monday, killing four border guards.

"Two combat helicopters Mi-24 of Russian Armed Forces fired unguided rockets against Ukrainian border guards. The attack left four border guards dead and three wounded," Andrei Lysenko, spokesman for Ukraine's National Security and Defense Council, told reporters.

After the attack, fierce fighting erupted on the Ukrainian-Russian border, Lysenko said, adding that government forces have managed to prevent "saboteurs" from crossing into Ukraine from Russia.

Ukraine has recently accused the separatists and Russia of trying to expand the conflict to a new front. Heavy artillery attacks have been reported in Novoazovsk, which previously saw little fighting.
Source: Xinhua
Photo Courtesy: RG