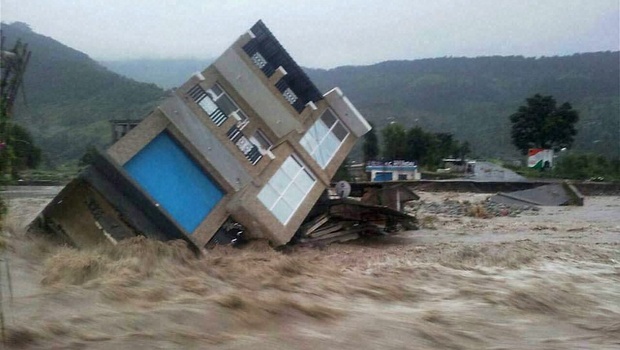 By Adfar Shah
Ferocious Floods that recently hit Kashmir through continuous rains spread over a period of seven days sequentially inundating South, Central and North Kashmir. Fourteen breaches on the bunds of Jhelum River filled the areas starting from Pantha Chowk to Bemina with areas such as Batwara, Indra Nagar, Sanwar, Rajbag, Jawahar Nagar, Dalgate, Lal Chowk, Press Colony, Gogji Bag and so on. Civil administration was so foxed and paralyzed that except for holding meetings, the Chief Minister and his government handed over the situation to Army and other rescue agencies while the CM personally acted as a brave volunteer and worked day and night for rescue of masses. His personal efforts despite the tragic communication breakdown is worthy of a salute. His Excellency Shri N.N.Vohra, the Governor of the State too worked hard for mass rescue and even turned his residence into a full-fledged rescue camp besides taking care of food items to be made available to community kitchens and other camps. The opposition brigade had not much role to play except creating space for themselves. Also every one especially J&K students In Delhi, Aligrah, Bangalore and other parts of the country were in constant touch and making their all out efforts for rescue and relief in Kashmir. I saw students fundraising and collecting clothes, baby food, medicines, etc, to be supplied to badly hit areas. I salute them all.
Having said that, Kashmir Floods became a perfect narrative for a typical television story. Visuals to drive anyone in pain and dismay were shown continuously. So literally September 4, onwards here it was – Kashmir Floods becoming the Play Ground for Delhi Breed of Journalists. The who's Who of all Television Channels was desperate to be seen in Srinagar at least.
Unfortunately, the local media was itself submerged under the deluge – some had printing press under water, some had lost entire office set up, while others had their houses washed away. This vacuum was filled but so brutally by a large number of media representatives from Delhi. From non-entities to most prominent, from raw reporters to absolute professionals, from interest groups to unbiased,  there were all shades of reporters and journalists in the play field of Kashmir floods, some lived up to the expectations of the name (individual or channel identity) while some got exposed. While most played dirty and maverick, there were few who came to excel in their field and do a little good to the people. These few were daring, wide spread, deep penetration, extensive outreach and beyond doubts the news breakers.
As against the usual, some famous channels were missing the scene where the action was. Few reporters of such channels, who rushed in, remained confined to the airport, like most others, seeing what Air Force or Army wanted them to see. They were either too scared to venture out or they thought that Kashmir is all about that part of Srinagar where they could get some guest rooms and park their OB Vans and get phone connectivity. Even the reporters had ventured in who had no knowledge of geography and demography of Kashmir, what to talk of sensitivities of the people. I remembered a beautiful article 'How Green is the Valley' by my revered friend and noted journalist Shujaat Bukhari two years ago that appeared in the prestigious Newslaundry where he talks about that the valley though saw a brutal bloodshed and devastation since the turmoil set in (1989) but remained evergreen for just one community and that is so called journalists. And this time the floods provided a great opportunity to every Tom, Dick and Harry of media world to have yet another professional or I would say sensational adventure in flood ridden Kashmir.
A Journalist friend from a prestigious channel did some professional pieces and survived the intra-organizational chaos that was pervading in the others besides doing what his channel expected of him "Fancy Chopper Reporting" with a perfect sense of adventurism like his other peers. A famous channel had flooded Srinagar with numerous reporters, with their group editor holding the fort for almost three days. Did those extensive discussions do any good to the despair and deluge, I am unsure? Only they know the best.
Whether it was the top brass journalists or others, they all remained airport bound, enjoying the hospitality of Army and Air Force. Loyal to the core, they played to the gallery and reported as if they were on the pay role of Army, Air Force and NDRF. Alone a journalist's platoon needed eleven guest rooms, leaving others out in the open. This did cause a bad blood among others. There is no doubt that Army and Air Force worked wonderfully well, but had these reporters de-planed for a while, taken the cameras to the scenes other than the fancy food droppings and tried to go where the real pain lied, they would have helped Kashmir manifold. But most of them restricted themselves to portraying fake or otherwise true heroism of rescue agencies especially the army. Even their discussions in the evening could have been centered on where the angels needed to tread, co-opted participants who had penetrated the unreachable areas and informed the doers about what they didn't know. Seeing the popularity of their channels, biggest contribution could have been by bringing out the efforts of volunteers, improvisations made for evacuation from narrow lanes, and so on.
Contrary to its reputation, Door Darshan (DD News) did well to launch reporters in Jammu as well as Kashmir. Some of them were Neeraj Singh, Dipanshu Goel, Nandita Dagar and Channels popular face Sakal Bhatt. Ones in Kashmir were Dipanshu Goel, Nandita Dagar and Sakal Bhatt. One that seemed promising, professional and daring was Sakal Bhatt. She was where the action was and would daily trek to the Shankaracharya Hill to promptly uplink her report that kept DD Kashir going. By then DD Srinagar was all submerged and what remained were two DSNG Vans stationed at Shankaryacharya hill. The First to get CM and Mehbooba Mufti as well as Army Chief on board answerable on issues what mattered the most by then Was DD NEWS. Also the first channel to get access to the most inundated North and South Kashmir like Anantnag and Manasbal was DD News for a change.
Did anyone talk about the entire team including ten brave hearts, the Engineers of Doordarshan which included two women manning the uplink station at Shankaracharya in the most difficult situations, mental and physical? How they  were deftly trying to savior the image of DD Kashir under extremely trying conditions (no guest rooms like others, no toilets, and so on but just a dingy CRPF make shift camp meant for few shared by at least 25).
The   attack on DD News team on Gupkar Road became an ugly incident which by then turned into a volatile den with simmering anger amongst locals for Media and state government and there were equally disturbing reports coming from in around Airport area where Private Media was parked.
Another class of journalists was visible as per their channel's needs but not as per what Kashmir needed or deserved. It was a unique opportunity to leave behind the legacies of reporting for young journalists of Kashmir and the re-start point for the flood battered media houses. When some day, professionals with greater caliber than me will sit to analyze the role played by electronic media during floods in Kashmir, many more coffins in the closets of journalists who played in this arena, will come out. However, more than the individuals, it was the media houses themselves who should have chosen well to play. Disaster in Kashmir was different in many ways from the rest of the country and it deserved to be treated better but unfortunately it was not.
Reading the reports in newspapers, a few more men who served their organizations with their conscience and commonly faced the dangers of tempers for their uncompromising and committed journalistic behavior were  Pranav Kulkarni and Bashrat from Indian Express, Zia Haq from Hindustan Times and Shujaat Bukhari from Rising Kashmir. While Basharat was locally based and despite himself facing the wrath of floods, never stopped reporting, the other three worked day and night to bring the truths and emotions from the core of the hearts and minds. Shujaat Bukhari beyond his profession engaged in full time rescue operation. Number of stories that these gentlemen and promising journalists wrote is unimaginable. Though what they wrote was just five percent of the total research material created by them, it was a treat to see the future of print media journalism shaping amid the floods of Kashmir. Yes it is true that Media was attacked and bad mouthed and there were some unreported incidents which could have had spiraling repercussions. Even I heard a Press TV reporter was abused as well.
While everything may be fair in love and war, journalism covering a disaster has different paradigms and different set of rules. Besides Media being a significant institution too has a social and ethical responsibility and it must never look for luxury comforts at such critical moments or take sides or represent agencies or manipulate the truth or create fake heroism. The fact remains that while army and its work was highly glorified, other agencies too did well especially local volunteers but most of the media reflected a clear bias in showing the reality on the ground and hardly portrayed local youth as saviours which was the actual reality. I believe by such professional unprofessionalism we may achieve a glory or bliss for a day or a month, but through unfair means, we may be buying sadness for the journalistic world.
The real pain still lies untouched as proper rehabilitation amid the fast approaching winters seems a distant dream. Let us all Join Hands to rebuild the paradise again and hope our government allows foreign aid to flow to the valley so that rehabilitation process can be expedited.