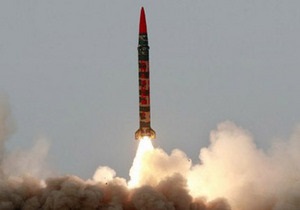 By Ali Raza and Beenish Altaf
New Delhi's immense investment in the conventional arms, upgrading of its anti-missile program (Ballistic Missile Defense) and its latest doctrinal transformation have indulged Pakistan to respond in form of TNWs in one or the other way, which is necessary for restoration and maintaining the credibility of its nuclear deterrence. The recent successful launches of November 13th and 17th Intermediate and Medium Range Ballistic Missiles is a timely and needy response to the recent lunch of Delhi's Medium Range Ballistic Missiles Agni II and its long range, subsonic cruise missile Nirbhay on November  9 and 17 respectively. The nuclear-capable cruise missile, Nirbhay has a range of over 700 kilometers that was announced to be test-fired from Balasore in Odisha state. And the test-launch of long-range nuclear-capable strategic ballistic missile, Agni-II has a strike range of 2,000 km that was fired from the Wheeler Island off the Odisha Coast.
Evidently, the main purpose of Islamabad is to ensure that Pakistan has that counter strike capability that limits the threat of India's conventional limited war. For that reason Pakistan successfully tested Shaheen-II (Hatf-VI) Ballistic Missile on November 13 that is capable of carrying nuclear and conventional warheads to a range of 1500 kilometers. The other recent successful test launch was of Intermediate Range Shaheen 1A (Hatf IV) Ballistic Missile. It was aimed at re-validating various design and technical parameters of the weapon system. Shaheen1A Missile is capable of carrying nuclear and conventional warheads to a range of 900 Kms whose impact point as declared, was in Arabian Sea.
Both were observed and valued by the prominent officers of the strategic organizations including Chief of Naval Staff Admiral Muhammad Zakaullah, Director General Strategic Plans Division, Lieutenant General Zubair Mahmood Hayat, Commander Army Strategic Forces Command, Lieutenant General Obaid Ullah Khan,Vice Admiral Zafar Mehmood Abbasi, Commander Pakistan Fleet, Chairman NESCOM, Mr Muhammad Irfan Burney and other senior officers from the strategic forces, scientists and engineers of strategic organizations.
Shaheen I-A with its highly accurate and indigenously developed guidance system is amongst the most accurate missile systems. The Chief of Naval Staff Admiral Muhammad Zakaullah naval therefore, reiterated Pakistan's desire for peaceful co-existence in the region. Similarly showed his confidence over the armed forces' capability to safeguard the country against any aggression and congratulated the scientists and engineers for their dedication, professionalism and commitment towards achieving Pakistan's full spectrum credible minimum deterrence capability. He also appreciated the operational preparedness and readiness of Army Strategic Forces Command, which made the successful launch of Shaheen-II Weapon System possible. He showed his full confidence in the existing robust Strategic Command and Control System. The successful test launch has also been warmly appreciated by the President and Prime Minister of Pakistan who congratulated the participating troops, the scientists and engineers on their outstanding achievement.
Pakistan has tested a wide range of missiles, including nuclear-capable, ranging from the Hatf-IX tactical missile with a range of 60 kilometres to Hatf-IV, in recent months as part of efforts to strengthen its nuclear arsenal to counter India's conventional superiority. The latest Pakistani test was the 5th in 2014 and was part of Pakistan's efforts to maintain a 'minimum credible deterrence.' On November 17, intermediate range Shaheen 1A (Hatf IV) ballistic missile (900km) was test-fired; on November 13, intermediate range Shaheen-II (Hatf-VI) (1500km) was tested; On September 26, short range surface-to-surface missile Hatf IX (NASR) (60km) was test-launched; On May 8, short range surface-to-surface ballistic missile Hatf III (Ghaznavi) (290km) was test-fired, while on April 22, short range surface-to-surface ballistic missile Hatf III (Ghaznavi) (290km) was tested.

Primarily, the ongoing race between India and Pakistan at tactical level is to show each other capabilities as well as abilities but in this particular tactical level race Pakistan is not acting actually it is reacting. But, this ongoing race is becoming the burning point of concern not only for the whole region but also for the whole globe. Pakistan doesn't want to involve itself in dire and unending race but behavior of Indian strategists, government and decision makers is compelling Pakistan with full force to react accordingly.
However, these successful tests clearly show the capabilities as well as abilities of Pakistan. At each and every level whether it is technological, tactical or strategic the readiness and robustness of Pakistan cannot be challenged. All efforts, which are being done by India to gain conventional military superiority, are in vain. Therefore, it is not easy task to counter Pakistan's military abilities especially nuclear capabilities. These all aggressive moves which are being made by India have big potential to bring South Asia at the verge of instability that would result in destruction.
Both Ali Raza and Beenish Altaf are researchers working for Strategic Vision Institute (SVI)