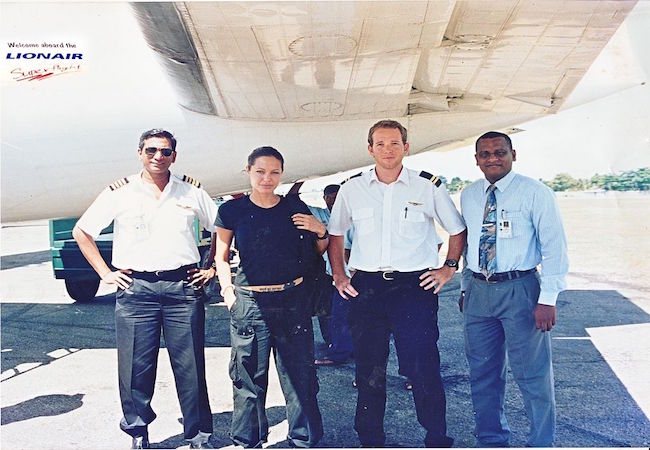 A celebrity icon and promoter of humanism; Aphrodite's child, but this time not Irena Papas, but Angelina Jolie…
Ever since experts acknowledged the presence of celebrity personas in the field of politics, different theories on how to classify their role in international relations appeared. In the last few decades numerous, mostly western celebrities began taking part in various development and humanitarian campaigns, focusing on eradication of poverty, expanding knowledge of such subjects and spreading awareness of the global issues. These positive effects are the reason celebrity diplomacy is getting increasingly more attention from the experts, as well as from the general public.
Despite the apparent positive role, there is always a certain amount of doubt amongst people: Whether celebrities are qualified political characters or not; are their campaigns doing more harm than good; are celebrities getting involved in diplomatic activities because of their ethical principles, to contribute in solving a particular issue, or solely in an attempt to self-promote? However, there is no doubt. Whether or not we like seeing celebrities in such positions, their endeavours are visible to everyone, as the role and the influence of the entertainment business, advertising, media and people in designing and organising society, its values and meanings play a huge part in today's changing democracy and citizenship.
A whole number of reasons regarding the emergence of celebrity diplomacy exists. The world's politicians, the media and the public see the existence of numerous places or even entire countries struck with poverty, famine, bloody wars and other global problems, as something self-evident and common. And because of the silent and numb political elite, a demand for an additional, different kind of approach in dealing with global and moral issues emerged.
It is worth asking ourselves, how we see the whole process of solving certain serious global problems, due to celebrities getting involved with their actions. Politicians do of course discuss these global issues and inequality. They talk of an ideal world, which needs to be created. But no one asks, what hides behind the mask of all this charity of ours? Are the words of the international community just an imaginary plaster, whilst the real medicine is the philanthropy from celebrities? All of us show a certain amount of solidarity when it comes to global issues, poverty and disease. We all discuss the rights and the injustice happening to people all around the globe. We all support fighting poverty. But who are the ones who are truly ready to switch from words only, to actions? Who actually helps with donations? Today, actions speak louder than words. Celebrities getting involved with tackling the world's problems face issues of famine, disease, poverty, violence, war and concentration camps. They are not the ones looking away from the problems and are not just initiating humanitarianism, but they become fully involved with their actions. That is where their added value lies. They become some sort of diplomats, helping the international community in solving those matters. They themselves know best what humanitarian work really means, furthermore, they get an overview of how countries' political leaderships function which makes their words worth considering.
It is because of that, many of us have recognised celebrities as a new type of means for resounding activism and intervention. Public's addiction to celebrity world, the famous individuals and their behaviour, all play a factor here. This became even more evident with the appearance of smart phones and technology advancements in recent years. It allows celebrities a lot greater interaction with the public, with more ways of creating public discourse than before, when that happened through literature, civil society and social groups. We praise celebrities as a much needed "tool" carrying enormous potential to alarm us all of the biggest global issues and show us their genuine desire for a change. That in a way is a vision on how to tackle the unjust forces of the world and trigger the sense of kindness and a wish for world peace throughout the mankind. To achieve that, the celebrities rely on their power of persuasion, influence and publishing, as they wish to bring order and righteousness to international relations. Their goal is humanitarian protection, including tracking and reporting on how countries deal with issues of human rights, pressuring the offenders, legal assistance and cooperation in creating the mechanisms to prevent people's rights to be violated in the first place. In that sense, it is mostly about ethical and moral actions involving support of all kinds of values.
In order to get rid of the scepticism around the celebrity diplomacy completely, we need to specifically define and understand the activities of celebrity diplomats. Current definitions of these are out-dated, leaving out (perhaps intentionally) certain key elements. Celebrity diplomats pursue their political and humanitarian causes. Because of their recognition and status, they happen to have an excellent chance at addressing the major issues in the world, in a global information environment. Due to an unprofessional means of dealing with global issues, they appear as informal diplomats. Their involvement in the process of cooperation within the international community helps in developing and changing of that fact.
The Phenomenon of Angelina Jolie
One of the world's most renowned celebrity diplomats is Angelina Jolie. In the past years an increasing number of celebrities are getting involved in politics and with that, their relations have progressively become more formal, intense and nevertheless more significant. But what makes Angelina Jolie stand out?
It is clear that her looks are what predominantly gets a huge deal of attention – her exotic beauty combined with specific elegance and femininity she radiates are the reason why she has been chosen multiple times by the media as the most attractive woman in the world. But is it her beauty, or in fact only her beauty, becoming exposed in her work? The luscious figure and full lips charm most people and get the media attention. But for a permanent attention of the public, the media and nevertheless the politicians, more is required. You need to be charismatic and have grace, things you either have, or you don't. Angeline has both. The charisma and boldness, adventurous mischievousness and her self-sacrificing humanitarian work are something to admire. She has certainly shown she understands and is aware of her own fame, looks and how extremely photogenic she is. She has made good use and took advantages with these attributes, which helped her get the world's media attention for global causes she stands for. Nevertheless, it is not all about being a pretty icon, it's the substance that matters just as much. The beauty attracts and appeals, but still, it is transient. You get an initial interest and if the substance is good, success is assured.
Angeline, the Aphrodite of our time, a Greek goddess of femininity, beauty and love, first showed her concern with the issues of global development before the filming of the movie Lara Croft – Tomb Raider in Cambodia, back in 2000. Soon after, she became an ambassador, travelling in the name of the United Nations High Commissioner for Refugees (UNHCR) to various crisis areas. Her concern, interest and determination to help refugees, bring awareness to the global public of their struggle, whilst also lobbying for international aid, have become her passion and she has set herself very high standards of operation.  Since 2001, when she was declared a Goodwill ambassador she has been on over 40 different field missions in some of the world's most remote regions of the planet, all with the intention of bringing awareness of the refugee status and their protection. In large part those consisted of visits of the refugee centres across the globe, in particular the ones in Sierra Leone, Tanzania, Cambodia, Haiti, Namibia, Congo, Russia, Jordan, Egypt, United States of America, Darfur, Lebanon, Pakistan, New Delhi, San Jose, Chad, Syria, Iraq, Kabul, Sri Lanka and Thailand; and many others UNHCR visits, in places like Kosovo, Kenya and Lebanon. It is assumed many were left wondering at the beginning of her humanitarian activities about how much luggage she was going to bring on her missions to the endangered zones, whether she would ask for special treatment, expensive hotels etc. But it was nothing like that at all – on these missions she covered her own expenses and lived in the same basic working and living conditions as the rest of the UNHCR workers. This shows her in an entirely different light and exposes the quality and greatness she has, which are so rare to find in people. And if someone like Angelina Jolie possesses those, then the response to her activities and the mission she is on becomes very significant and noble.
In 2012, the UN High Commissioner for Refugees, Antonio Guterres appointed Angelina Jolie as Special Envoy, for her years long cooperation with the UNHCR, and sacrificing her time trying to solve the refugee issue. In her newly assigned and extended role, Angelina Jolie focuses on the worst of crisis, which cause massive emigration. She became a proponent and a representative of the UNHCR and Guterres in diplomatic circles, whilst also debating the topics with people who have the most power to change things regarding world's emigration problems. With such activities, she gets involved in the processes of finding solutions for people, who were forced to emigrate because of conflicts.
Amongst her UNHCR missions, her goal is to defend the rights of refugees and emigrants and prompt the political elite worldwide to play a bigger, more active role. Since 2001, she has donated more than 5 million dollars to these causes, using some of the funds to build schools in locations like Kenya and Afghanistan, whilst also using money to raise the quality of living for people who have been forced to flee. Furthermore she continues to visit places around the globe, to fight for people's rights and to ensure people receive aid in case of natural disasters, in vulnerable communities where predominately children live, and in environment protection. In 2003 she launched the Maddox project called "Jolie – Pitt Foundation, focusing on agriculture, education, healthcare, profession training, infrastructure and rural planning in Cambodia. She has also opened a National centre for refugees and their children, which provides free legal aid to young asylum seekers. In a partnership with Microsoft, she founded an organisation Kids in Need of Defence, which also provides free legal aid to children who came to the United States of America without their parents or legal representatives. In its first two years, the organisation itself donated 500 000 USD, apart from also paying numerous expenses created to help the refugees and children in the third world countries.
She continued with her humanitarian work by joining Council on Foreign Relations, where she took part in creation of different kinds of reports, as well as taking the initiative to increase actions leading to prevent genocide from occurring amongst other mass atrocities. After visiting Haiti a number of times in 2010, she then founded the Jolie Legal Fellows Program, to enhance government capacity around the rule of law. The programme places young lawyers within the existing structures in Haiti to support the government's child protection efforts. The foundation Jolie-Pitt has meanwhile provided funding for juvenile centres in Cambodia and Ethiopia, where they use innovative and thorough treatments on children infected with the HIV virus and tuberculosis. It is evident Angelina donated large sums of money. But does money truly rule the world? It definitely is life saving in some hardships life throws at people worldwide, however it does not solve the world's issues completely. It contributes to small and subtle changes through daring and active celebrities. Kind deeds and values are things that mean something. Maybe today, money's importance is being undermined by time or even knowledge – we could even say that knowledge rules the world, and that money is just another product of knowledge.
Humanitarian work as a moral obligation
At this point, it is clear that the humanitarian work and activities have become somewhat of a moral obligation, and an indicator of how important solidarity between people all around the world is. This is widely being used by numerous international organizations, which challenge traditional discourse of power in ways that encourage the power of moral awareness, something often not present in politics. Angelina Jolie has moral and ethical values, which she believes in and fights for, separating her from other politicians and giving her an extra amount of credibility worldwide. If avoiding taboo subjects is common among politicians, Angelina Jolie daringly exposes those, even in her movies. In her movie "In the Land of Blood and Honey«, she focused on the events in the Balkans, systematic rape, concentration camps and the question of a possibility of an romance between the victim and the officer. With it, she wanted to point out the crimes against women worldwide, not just in Bosnia and Herzegovina, and the mistakes of the international community, which failed to react just when they were supposed and expected to. It is also about a reflection of the horrid and brutal way of living in that period. For those reasons, she was made an honorary citizen of Sarajevo in 2012, whilst also receiving the Heart of Sarajevo, a special award in 2011 at the Sarajevo Film Festival, for her active engagement in the complexities of the real world. These days, the most recent of her movies "Unbroken" has caught public attention, which she directed herself and describes a story of Louis Zamperini. Zamperini was a participant of the 5000m race, at the Berlin Olympic Games in 1936, a mid-distance runner, who as an American WWII soldier in the Pacific, got captured by the Japanese. It is an adventure that goes from the highs of Olympic glory to the lows of life in a prisoner of war camp. The movie describes the athlete's fate, his every day struggle of living in Japanese concentration camps, where he was put through some truly difficult situations. The Japanese authorities have already protested against it, claiming the movie is full of exaggeration.
Many of us have probably thought that the celebrities are too pretty, too "perfect", famous and rich for anyone to take them seriously – but looking at Angelina Jolie negates all of that. Wherever she appears, she gets the attention of the entire world, being it Afghanistan, Iraq, America or Bosnia and Herzegovina. Because of her influence and recognisability she has access to world leaders and other significant and influential people, whilst at the same time having an important effect on the development of politics and founding programs for different global issues. In 2005, she travelled to Pakistan where she met up with refugees from Afghanistan. She also met the Pakistani president Pervez Musharraf and the country's Prime Minister, Shaukat Aziz. When she was in Syria for the first time, she also went to visit the American troops located there. The most resounding of her visits, as far as visits in our region go, was the one in Bosnia and Herzegovina in year 2010, when she wanted to meet the victims of the war who were forced to emigrate. Four months later, she returned and met with two members of the federal Bosnian presidency, Haris Silajdžić and Željko Komšić. It is definitely worth mentioning that she regularly attends events at the World Refugee Day, taking place in Washington; in 2005 and 2006 she also made public speeches at the World Economic Forum in Davos. She started lobbying for humanitarian work in Washington, where she, in year 2003 met with the members of the Congress. Universal values, ethics and morality are things celebrities have and which get built through dialog. Therefore, cooperation with the world's leaders is extremely significant in order to make changes in the international community.
"Aphrodite's Child" – living up to the fame of Irena Papas
Her dedication to humanitarianism has not gone unnoticed. In 2003, she became the first person to be awarded the Citizen of the World Award, by the United Nations Correspondents Association and in year 2005, she received the Global Humanitarian Award by the UNA-USA Organisation. The Cambodian king, Norodom Sihamoni awarded her with Cambodian citizenship on the 12th August 2005, for her conservative work in the country. Later, in 2007 she was awarded a Freedom Award from the International Rescue Committee. All of these prizes, awards and exceptional popularity scores, are a definite indicator of how significant, important and sophisticated her work really is. Diplomatic celebrity actions, which in Angelina's case are long-term, influential and successful, are therefore gaining importance, by filling the gaps created by some of the weaknesses of traditional diplomacy.
It is time for different players of the international community to unite and act together in a fight with global issues and react in a unified spirit of a renewed multilateralism.
It is necessary to trigger conscience and a sense of joint responsibility when confronting problems, striving for universal ethics and moral beliefs as our guidance and a measurement of our political functioning regarding human rights as being our most fundamental matters.
There is something about celebrity diplomacy that makes it provocative and allows it to support aforementioned subjects. Through social networks, a simple celebrity tweet affects the global public far more, than a well-planned campaign.
Do we really need the celebrities to face global issues, which nevertheless appear far from the field of their primary work? We could say that we do. People with influence and power, who get worldwide attention, are in a unique position to affect the world's issues themselves and the ways, in which they get solved. It is also true that celebrities, in the same way as politicians, get their power from the public. With the difference here being, that celebrities already have an established name, a recognisable and attractive face, and experience in public performance. Most importantly, the public trusts them more than they trust the politicians.
Could we say that the celebrities compromise their primary profession with their participation in politics and diplomacy? Most certainly not, in fact, it is quite the contrary. Angelina Jolie is not only the prettiest but also the best living proof of that not being the case at all.
First published by www.ifimes.org under the title: Angelina Jolie – a celebrity Aphrodite and a promoter of humanitarianism
Nina Matijašević, Master in International Relations and Diplomatic Studies is a junior expert on celebrity diplomacy and an associate of the International Institute IFIMES.