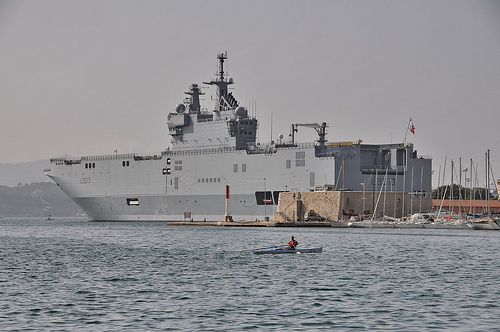 Russia may sue France for its failure to deliver the Mistral-class helicopter carriers within the next six months, Russian Defense Minister Sergei Shoigu said Thursday.
"All steps are being taken in accordance with the contract. Naturally, if the contract is not implemented, a lawsuit will be filed," Interfax news agency quoted Shoigu as saying.
The minister believes that the process may take six months.
Last month, Russian Deputy Prime Minister Dmitry Rogozin said his country will no longer order ready-made military equipment from abroad.
"Current situation with Mistral helicopter carriers demonstrates the malignance of technological dependence on a foreign country," Rogozin said.
France suspended indefinitely the delivery of the first of two Mistral helicopter carriers to Russia last November because of the continued Ukraine crisis and Russia's alleged role in supporting independence-seeking insurgents in eastern Ukraine.
France has been under pressure from its Western allies to scrap the 1.2-billion-euro (about 1.5 billion U.S. dollars) contract signed in 2011.