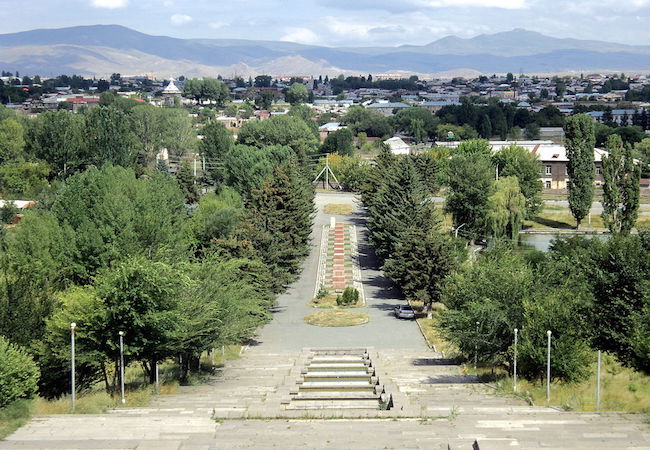 Gyumri, the second largest city of Armenia has become an epicenter of public riots since January 12, when a Russian soldier Valery Permyakov from the 102nd Russian military base massacred a family of 6.
According to the local law enforcement, Permyakov allegedly came to the home of Avetisian family on the morning of the massacre and shot all members of the family, killing 6, including Seryozha Avetisian, 53; Hasmiq Avetisian, 55; Aida Avetisian, 35; Armen Avetisian, 33; Araksiya Pogosian, 24 and a two-year-old toddler. The family is survived by a six-months-old who had been severely wounded during the shooting and remains in intensive care.
The hunt for the then unknown killer was started by the Armenian police in the immediate aftermath of the shootings. What surprised the residents of the town was the fact of presence of the Russian troops in the streets of Gyumri. When Permyakov was apprehended in the vicinity of the Armenian-Turkish border, his identity was announced in the media.
The public became outraged when they found out the Russian soldier was passed by the law enforcement to the Russian side. Furthermore, it became known shortly thereafter that it would be not the Armenian judicial system prosecuting the alleged criminal, but the Russian military court set up within the 102nd military base.
The 102 military base is located in Gyumri, a short drive away from Armenia's capital of Yerevan. Formerly known as the 127th Motor Rifle Division of the Soviet Union's Seveth Guards Army, it is now a part of the Transcaucasian Group of Russian Forces. The 102nd base is one of the only Russian bases in former Soviet republics, and in the recent past Kremlin signed a bilateral agreement with Yerevan to extend the presence of its forces on Armenian territory through 2044.
Since the January 15, thousands of people marched on the Russian consulate in Gyumri. They had reportedly also tried to stage a protest in front of the 102nd base, but were diverted by the local enforcement. The Russian base is heavily guarded due to the events.
The main demand of the protesters is for the Russian court to transfer the case of Permyakov to the investigation committee of Armenian court.
Armenian authorities have been reluctant to side with the demands of Gyumri's residents, primarily due to the national security concerns. Russia remains the chief guarantor of Armenia's security against its historical foe, Azerbaijan. Armenia and Azerbaijan had fought a brutal war over Nagorno Karabakh region of Azerbaijan in 1988-1994. Since the signing of the ceasefire agreement in May 1994, Armenian forces occupy close to 20 percent of Azerbaijani territory, having driven hundreds of thousands of Azeri civilians out. Armenians in Nagorno Karabakh claim their right for self-determination, Azerbaijani authorities vow to retake Nagorno Karabakh by force and restore its territorial integrity, should the peace talks fail.