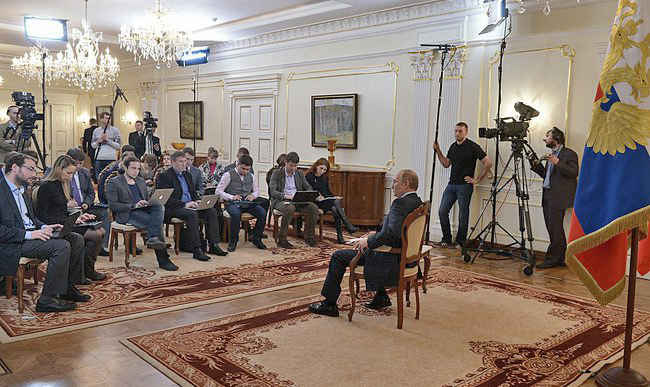 Russian President Vladimir Putin said Friday that Russia will never yield to any external pressure.
In a gala reception to mark the upcoming Defender of the Fatherland Day, the president delivered the speech showing his confidence in Russia's military might to protect the country from outside threats.
"No one should have any illusions that it could achieve military supremacy over Russia or to put pressure on us in any form," Putin said. "Russia will always have an adequate response to any such reckless actions."
Russian soldiers "are ready to act decisively, with precision, professionalism and courage, to carry out even the most difficult missions," said the president, adding that the country's armed forces have been upgrading with the highest modern standards.
His remarks came as Russia's relationship with the West seems to hit its lowest point since the end of the Cold War due to the ongoing crisis in eastern Ukraine.
The West has been criticizing Russia for its intervention in Ukraine and the threat it poses to the neighbor, the allegations Moscow has vehemently denied. The United States and the European Union have imposed several rounds of sanctions against Moscow, which has cost the Russian economy dearly.
Showing no signs of succumbing to the challenges, Putin said: " We will continue to carry out our military improvement plans under any circumstances … There is no doubt about that."
The Defender of the Fatherland Day is a national holiday celebrated on Feb. 23 in honor of the Russia's servicemen.