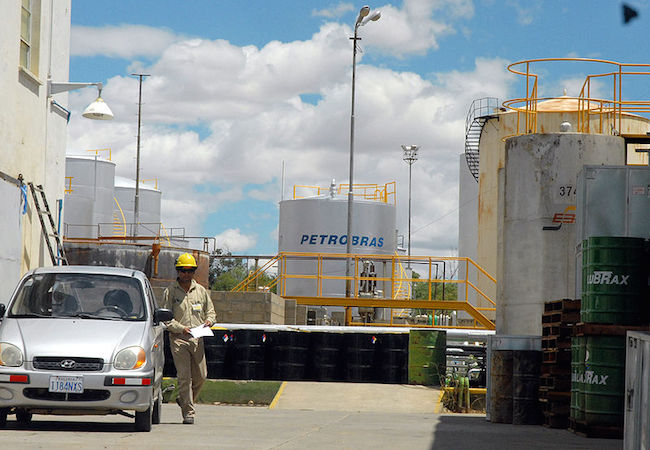 Supreme Court names 47 politicians, including 12 senators and a former president to be investigated for alleged involvement in a multi billion-dollar corruption scandal.
Brazil's Supreme Court on Friday released the names of senior politicians and executives authorized to be investigated for their roles in a multi-billion-dollar corruption scandal at state-run oil giant Petrobras.
Supreme Court minister Teori Zavascki granted investigations into 47 politicians, including 12 senators and 22 deputies, under Operation Lava Jato, or Car Wash, that is probing a vast kickback scheme.
Zavascki also authorized the publication of the 54 individuals for whom 28 investigations had been requested by Prosecutor General Rodrigo Janot on Tuesday.
Some of Brazil's top politicians — including current and former senators, deputies, ministers, governors, and even a former president — could now face prison sentences, if tried and convicted.
Among the most senior politicians are President of Chamber of Deputies, Eduardo Cunha; President of the Senate, Renan Calheiros; Senator and former Chief of Staff Gleisi Hoffmann; former Energy and Mines Minister Edison Lobão; and Sen. and former Brazilian President Fernando Collor.
The politicians set to be investigated are members of at least five political parties, including President Dilma Rousseff's Workers' Party (PT) and the giant kingmaker PMDB party — of which Cunha and Calheiros are members. Most of those to be investigated, however, are members of the Progressive Party (PP).
Under Brazilian law, only the Supreme Court can try senior politicians and Cabinet members, as they have parliamentary privilege.
Other requests have been dismissed for lack of evidence and archived, including requests to investigate Sen. Aécio Neves — Rousseff's main rival in the 2014 presidential elections — and former President of Chamber of Deputies Henrique Eduardo Alves.
Investigators now have access to bank and telephone records of those whose investigation has been authorized.
Many fear the process to bring those eventually accused to trial could drag on for several years, reminiscent  of the "mensalão" cash-for-votes scandal, which took seven years to come to court. It is hoped lessons learned during that scandal will help prosecutors avoid delays and expedite the process.
Rousseff, who chaired the board of directors at Petrobras while much of the wrongdoing allegedly took place, will not be investigated. She has repeatedly denied knowledge of the scheme and urged a thorough investigation.
Prosecutors allege construction and civil engineering companies signed deliberately bloated contracts with Petróleo Brasileiro SA, as the oil company is formally known, and those operating the cartel pocketed the difference and funneled proceeds to politicians and parties, including the Workers' Party and its allies.
Operation Car Wash began last March after investigators uncovered a vast money laundering scheme. The most significant arrests at that time were of Alberto Youssef, a black market money changer, and Petrobras director Paulo Roberto Costa, one of three Petrobras executives subsequently arrested.
Further arrests followed, and approximately a dozen executives remain under "preventive detention," after a different stage in the operation in November saw around 40 people from some of Brazil's biggest construction companies — including Odebrecht, OAS and Camargo Corrêa — accused of involvement in the scheme.
Much of the information that spawned the wider probe in the kickback scheme came from testimony given to investigators by Youssef and Costa, in exchange for plea bargains to secure lesser sentences.
The exact scale of the graft at Petrobras is not known, but one estimate puts it is as much as $30 billion.
As the country's biggest company, Petrobras has lost about $100 billion of value since September, putting pressure on the already sagging Brazilian economy and leading to Moody's credit rating agency to strip it of its investment grade — with fears other agencies could follow suit.
Uncertainty over Rousseff's government, already strained by rebellions within its ungainly multi-party system, has led to a further deterioration in the economy, with the Brazilian currency, the real, plunging to 10-year lows this week.