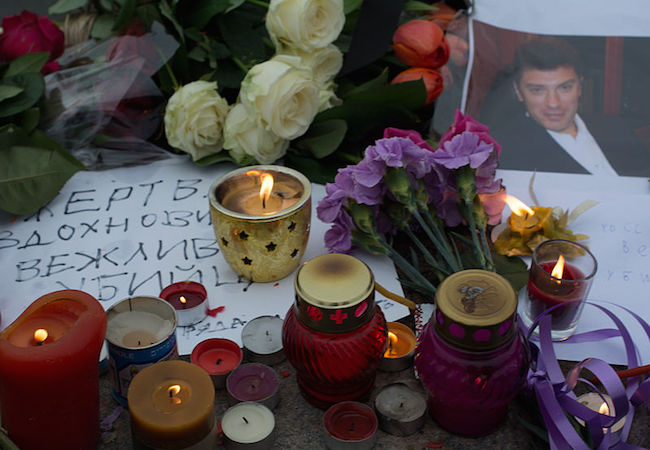 Two suspects have been detained for involvement in the murder of Russian opposition leader Boris Nemtsov, Russian Federal Security Service chief Alexander Bortnikov said Saturday.
"As a result of the investigation, we detained today two people suspected of committing this crime — Anzor Gubashev and Zaur Dadayev," Bortnikov was quoted by the Itar-Tass news agency as saying.
"We have reported the process to the president (Vladimir Putin), while necessary operative and investigative work will continue," he said.
According to Bortnikov, the suspects came from the Caucasus regions, a volatile region of southern Russia plagued by violence.
The Interfax news agency quoted a source as saying that Russian law enforcement agencies traced down the two suspects after examining biological evidence found inside the car used by them at the time of the murder.
Moreover, "quite clear" images of the two suspects were caught by surveillance cameras, according to the source.
The investigative group probably would later make a request to Moscow's Basmanny Court for the formal arrest of the two suspects.
"As usual, the examination of billings of telephone conversations would also help to solve the case," the source added.
Nemtsov, who was a former Russian deputy prime minister and an outspoken critic of Putin, was shot dead at about midnight of Feb. 27 near the Kremlin when he was strolling with Ukrainian model Anna Duritskaya.
As a key witness, Duritskaya might be summoned back to Moscow for further investigation, as she returned to Kiev on Monday after necessary inquiries, according to her lawyer Vadim Prokhorov.
Head of Russia's Human Rights Council Mikhail Fedotov on Saturday also called for finding out "who ordered the crime."
Putin on Wednesday blamed "extremists" for the murder of Nemtsov, saying that their purpose is to provoke unrest in Russia.