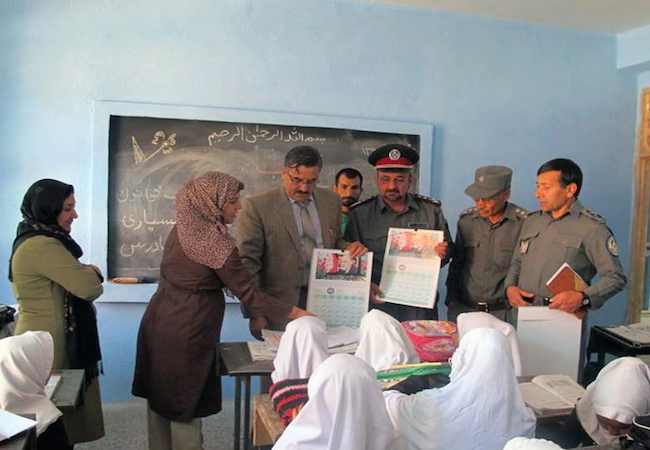 Herat, March 2015. To reduce traffic accidents and incidents of children's deaths and injuries, Herat Police-e Mardume Team (Community Policing Team) received stop signs, traffic paddles and reflective vests as part of a project focusing on introducing 'crosswalk safety training' to members of the Public School's Scouting programme in Herat City. The programme aims to raise safety awareness among the students which will be coordinated by Herat Police-e Mardume Unit, in close cooperation with the Department of Education and Afghanistan National Traffic Police.
The items were handed over by EUPOL to Colonel Noor Khan Nikzad, Head of Police-e Mardume in Herat with the financial support of GIZ (Deutsche Gesellschaft für Internationale Zusammenarbeit) in the presence of Provincial Chief of Police Major General Adullah Majid Roozi.
Herat Police-e Mardume (Community Policing), in close cooperation with EUPOL is currently finalising one of its projects which contribute to improving interaction between the public and the police. Last year Herat's Department of Education recorded the names of 12 students injured in motorbike accidents, three of whom lost their lives.
MG Roozi, said: "Community Policing principles are very important for the future success of the Afghan police. The community policing approach and cooperation with the community should be understood and implemented by every policeman, at all levels." He also added that the Police cannot overcome all the problems and challenges if they don't seek the help of the public.
Colonel Nikzad gave a presentation on the achievements of Police-e Mardume such as the establishment of eight Information Containers, staffed by officers and Complaint Boxes in Herat City, to build close relationships with the people. In addition to that, a Herat City Community Policing page has been created on Facebook to collect the opinions of people and lots of meetings have been conducted with consultative councils (Shuras) in Herat City for further cooperation.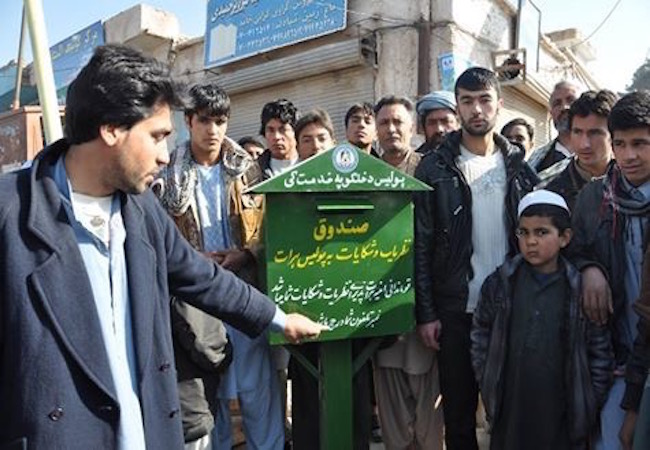 EUPOL's support to the Police-e Mardume in Herat started in 2012 as a pilot project. The Police-e Mardume Office is inside the Provincial Police HQ in Herat City and is now fully operational with six police officers who worked closely with EUPOL advisers to implement community policing programmes in Herat and deliver community police messages to the people.
In line with EUPOL's revised mandate, EUPOL's Professionalisation and Training Component is supporting the community policing concept. The new Minister of Interior Mr. Noor-ul Haq Ulumi has also prioritised strengthening police-community relations in his future plans and EUPOL will provide support in implementing it through a project named community policing strategic concept development and implementation.