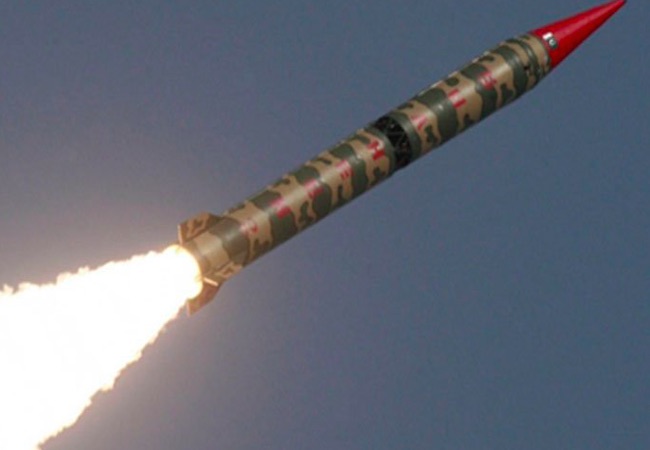 By Adeel Mukhtar Mirza
South Asia has been undergoing vehement Indo-Pak security competition owing to the rising Indian hegemonic aspirations. With the prevailing Action-Reaction Model in the region, the New Delhi's immense investment in nuclear arms has resulted in the similar response by Islamabad. Pakistan's response to India's growing military might is nothing but an endeavor to maintain deterrence equilibrium in South Asia, failure to which would result in India's revisionist policies again Pakistan. In this regard, the recent test of Shaheen-III with the range of 2750 km is a rational move by the Pakistan political and military establishment.
More precisely, according to the statements tested Shaheen-III on 9 March. Shaheen-III is surface-to-surface, nuclear capable missile which was launched from an unknown site and landed in the Arabian Sea. No doubt, the test corroborated technical parameters of Pakistan weapons system program. According to the official statements, Shaheen-III has also maximum range of 2,750 km, which now covers the whole part of India. The missile is an updated version of Shaheen I and Shaheen II, the maximum range of the earlier versions of Shaheen missiles was of about 2,500 km. In this regard,  Director General Strategic Plans Division, Lieutenant General Zubair Mahmood Hayat, warmly appreciated and congratulated the scientists and termed it a major milestone in strengthening Pakistan's deterrence capability. Moreover, this is not the first test of its kind as Pakistan, in the past, had also launched such test fires to maintain its indian-centric deterrence posture.
According to neorealist theory in political science, states exist in an anarchical international system and must therefore rely on self-help to protect their sovereignty and national security. To accomplish national security interests, states tend to acquire nuclear weapons owing to its deterrence utility. Similarly, according to Scott D. Sagan in his famous essay, "Why do states build nuclear weapons?" states will seek to develop nuclear weapons when they face a significant military threat to their security that cannot be met through alternative means. By remaining in the background, nuclear weapons augment conventional military capabilities and owing to existential deterrence limit military options in a crisis like situation among nuclear weapons states. By providing insurance to cope with unexpected contingencies, they reduce immediate anxieties over military imbalances and vulnerabilities. Hence, nuclear weapons are an important ingredient of power for countries that conduct themselves in a responsible manner and are experiencing rapid growth in other dimensions of power.
Evidently, the main purpose of Islamabad's move is to maintain the deterrence equilibrium in the region. This is because of the fact that the India's growing economy facilitates her to fatten her military arsenals both nuclear and conventional. Moreover, India-U.S nuclear deal, growing international cooperation with India and New Delhi's growing interest in the regional hegemony would enable India to launch aggression against Pakistan. In such a scenario, strategic vigilance of Pakistan is in accordance with the strategic calculations which propagate increase in the nuclear arsenals, qualitatively or quantitatively, by Pakistan in reponse to the India's growing arsenals. Despite of the requirement of gigantic economic investment by Pakistan and Pakistan's increasing economic fragility owing to the continuous war on terrorism, Pakistan is determined to respond to India's bloodletting strategies. No doubt, Pakistan has limited option but Pakistan is efficient in retaining ro bust nuclear deterrence in order to cope with any uncertainty.
In addition, the main reason of India's revisionist behavior and non-compliance with the norms of non-proliferation regime is the absence of regional arms control regime. In this situation, there is a dire need of attention by international community to develop institutional mechanism among South Asian rivals and to retain strategic equilibrium in the region.