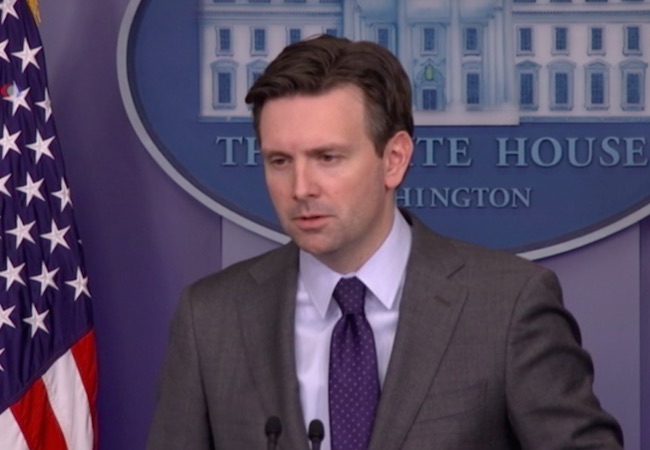 The White House on Wednesday slammed Israeli Prime Minister Benjamin Netanyahu for his campaign comments about Arab-Israeli voters after his win in parliamentary elections.
The U.S. is "deeply concerned about rhetoric that seeks to marginalize Arab-Israeli citizens," White House Press Secretary Josh Earnest told reporters aboard Air Force One.
"It undermines the values and democratic ideals that have been important to our democracy and an important part of what binds the United States and Israel together."
On a video posted on his Facebook page on Tuesday, Netanyahu told his supporters that big masses of Arab voters are going out to vote.
The only way to "save the right-wing rule" is going to the poll stations and narrowing the gap between his Likud party and the Zionist Union, he said.
Shelly Yachimovich, a lawmaker from the Zionist Union, denounced Netanyahu's statements as "racist."
On Wednesday, Earnest also reaffirmed the U.S. endorsement of the two-state solution in Israeli-Palestinian conflict.
"It has long been the policy of the United States and it continues to be the view of the President that a two-state solution is the best way to address those tensions and address that instability," Earnest said.
Trailing in the polls, Netanyahu told an Israeli news website on Monday, "I think that anyone who moves to establish a Palestinian state and evacuate territory, gives territory away to radical Islamist attacks against Israel."
Asked directly whether no Palestinian state would be created under his leadership, the prime minister answered "Indeed."
The statement contradicts his 2009 Bar-Ilan speech, in which he expressed his support to a two-state solution to end the conflict with the Palestinians.
"In the context of the recent election, Prime Minister Netanyahu indicated a change in his position," Earnest said. "And based on those comments, the United States will evaluate our approach to the situation moving forward."
Israel's ruling right-wing Likud party won 30 seats in the 120- member parliament and beat opposition leader Isaac Herzog's Zionist Union, which won only 24 seats.
Earnest told reporters that Secretary of State John Kerry telephoned Netanyahu earlier Wednesday to congratulate him on winning the election.
The White House spokesman added that he anticipated President Barack Obama will also call Netanyahu "in the coming days".
At a regular press briefing on Wednesday, State Department spokeswoman Jen Psaki said that Kerry's call was "brief".
"Given there is an ongoing government formation process, they did not discuss substantive issues," she said. "The purpose of the call was to congratulate him on the election."