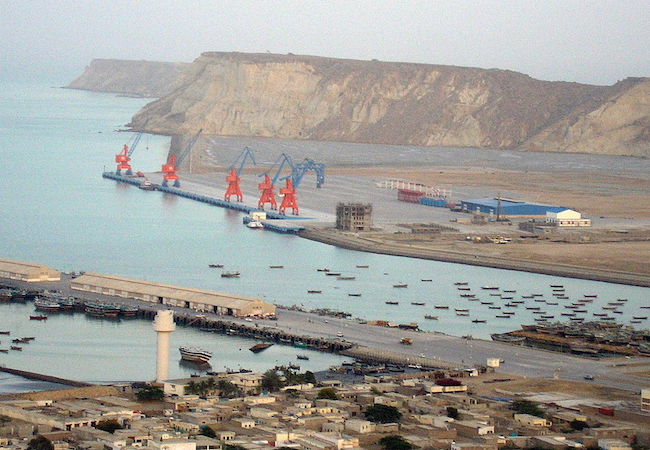 By Dr. Vinay Kaura
Pakistani Prime Minister Nawaz Sharif could not have been more correct when he said during Chinese President Xi's recent visit to Pakistan that "Friendship with China is the cornerstone of Pakistan's foreign policy". Pakistan-China 'Dosti' is not just a media-manufactured hyperbole. Undoubtedly, China has emerged as Pakistan's great economic hope, as is apparent from the triumphant declaration of energy and infrastructure projects worth $46 billion, which is being projected as China's biggest overseas investment. Pakistan hopes that the windfall investment will end its energy crisis and transform the country into a regional economic hub.
Pakistan may not be a major power in a global sense; it certainly plays a significant role in regional affairs. Whenever China's foreign policy achievements in South Asia are discussed, people tend to think of Pakistan first. China has always valued the geostrategic position of Pakistan and considers it useful in countering India. China, which helped Pakistan build its arsenal of nuclear weapons, is Pakistan's top arms supplier, a position until recently held by the US.
Pakistan is the most crucial link to China's grand designs for a new silk road connecting the energy fields of the Middle East and the markets of Europe to the East Asian region. The ambitious 3000 km-long China-Pakistan Economic Corridor will link northwestern Chinese province of Xinjiang to Pakistan's Gwadar port via Pakistan occupied Kashmir (PoK) through a massive network of roads, railways and pipelines. The proposed corridor will shorten the route for China's energy imports from the Middle East by about 12,000 kms.
Just after the India visit of the US President Barack Obama, his administration proposed an unprecedented six-fold increase in military assistance to Pakistan from $42 million in 2014 to $265 million in 2016. Why has the US again begun to build up the military prowess of a country whose sole objective has been to splinter India? One of the explanations may be the generous Chinese offers of tens of billions of dollars for various Pakistani projects. The US fears that the decline of American influence in Pakistan will further help China step in.
India seems to be resigned to the lethal intimacy of Sino-Pakistan relations. But this relationship is not with its underlying tensions. It must be recalled that President Xi had to cancel his scheduled tour in late 2014 due to security concerns arising out of political disturbance in Pakistan. He was invited to be the chief guest at this year's National Day military parade on March 23 in Islamabad, but is reported to have declined. Xi's first Pakistan visit is also the first visit of a Chinese head of state in a decade. Does a brother take a decade to visit the home of his "own brother"?
One should also be wary, if not skeptical, of the promised $46 billion investment as the devil lies in details. According to a report, during the decade between 2001 and 2011, China pledged $66 billion of assistance to Pakistan, but only 6% of which finally materialized. For sure, this is not what Pakistani leaders would like the world to know about their so-called relationship "higher than the Himalayas, deeper than the Indian Ocean, and sweeter than honey". In the euphoria of rhetorical flourish, both Sharif and Xi would like to forget that implementation of the multi-billion projects will be very challenging.
For one, the corridor will pass through politically volatile Baluchistan province of Pakistan, where a long-running separatist insurgency is raising important questions about the feasibility of the plan. Moreover, China is reported to be getting increasingly upset about the dangers of having Islamist extremists just across the border. Pakistan has always expressed its commitment in the fight against terrorism, but its hands seem to be tied to a great extent. Given Pakistan's ideology of Jihad and policy of asymmetric warfare against India, it cannot go all out against terrorist organizations in its territory. China cannot forget that Pakistan's relationship with the US started deteriorating just because of their different approaches to combat terrorism. If rooting out Uighur separatism and terrorism in Xinxiang is such a top-priority issue for China, then reassuring statements from Pakistani leadership may paper over Beijing's frustration for a while but will not help the latter in the longer run. But Beijing shares very complicated relationship with Islamabad in this respect for the simple reason that Pakistan's practice of state-sponsorship of terrorism has actually benefitted China in the first place.
There is no doubt that a hostile Pakistan would not represent an existential danger to India's political stability, let alone territorial integrity. But it would certainly represent an undesirable distraction from more significant business elsewhere. As China seeks to expand the horizon of its relationship with India, the anti-India rationale of Sino-Pak alliance is likely to be questioned more and more. Will Prime Minister Narendra Modi, in his forthcoming visit to China, persuade the communist leadership to change its perception of Pakistan? This may seem questionable but not impossible.