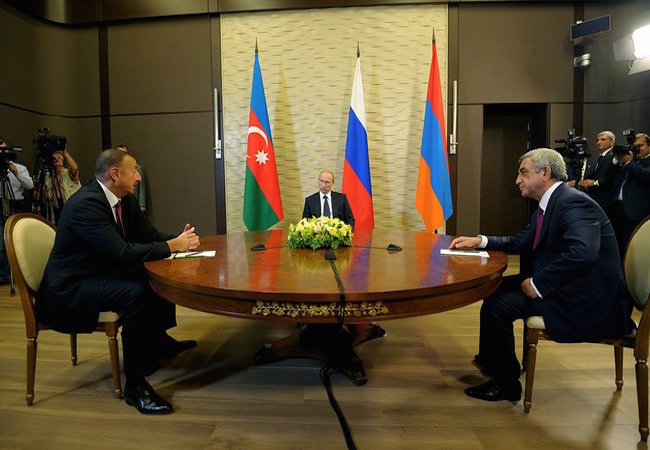 A new wave of deaths was reported in Nagorno Karabakh region of Azerbaijan this week, as Armenian and Azerbaijani forces clashed in Tartar district.
Tartar district of Azerbaijan lies along the line of contact between Azerbaijani and Armenian forces which occupy a big swath of Azeri territory called Karabakh. Started in 1988 with claims from Armenia to transfer Nagorno Karabakh Autonomous Oblast of Azerbaijan to Armenian SSR, the conflict lasted through late spring of 1994, when the sides signed the Russian-brokered ceasefire which effectively ended the hostilities. Sporadic clashes continued throughout the years but were limited to usage of light arms and snipers. Last few years, however, brought more instability as both Armenia and Azerbaijan armed themselves to the teeth and started using artillery and other forms of heavy weaponry.
On Tuesday, the sides reported a new clash, each providing conflicting information. Azerbaijan's Defense Ministry stated that five Armenian soldiers were killed and about 10 wounded in what it called a response to Armenian attempt of incursion. The Armenian side, in turn, refuted the declaration by Azeris, stating that one Azerbaijani soldier was killed while attempting to attack Armenian positions. Armenian officials also said there were no casualties among the Armenian servicemen.
Azerbaijan's Nagorno Karabakh region and surrounding 7 districts have been under military control of Armenian forces since early 1990s. The territory which was gained with backing of Armenia and reportedly with support from Russian troops, has since run its own affairs, but has not been recognized by any country or international organization as an independent state. Azerbaijan maintains Armenia annexed the region by force and was looking to enlarge its territory at the expense of Azerbaijani territories.
OSCE's Minsk Group was tasked to undertake a hard mission of bringing peaceful solution to the conflict since 1992. Despite the efforts of three co-chairs of the group (U.S., Russia and France), no proposal has so far been accepter by both parties. Baku which now spends more than $5 billion per year (as per 2015 budget) on its military, vows to retake the region by force, should all the peace efforts fail.
Armenia remains a close ally to Russia and host Russian military base on its soil. Azerbaijan has been named a strategic energy and security partner to the United States. Its oil and gas pipelines go eastward bypassing Russia and Armenia. A resumption of war would also generate new dangers for the vital pipelines for the energy-hungry West.