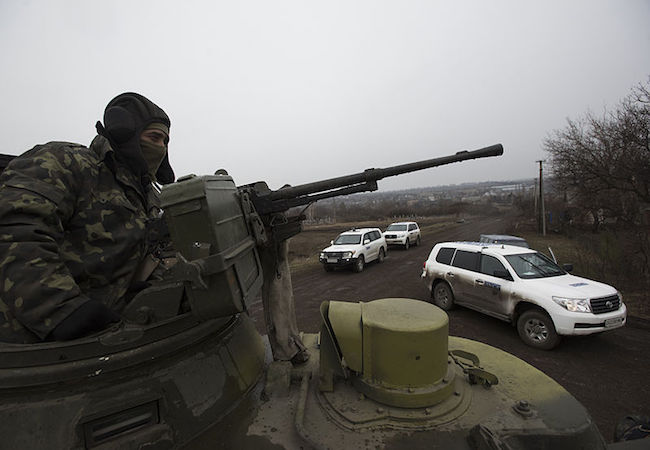 Ukrainian authorities said Thursday that dozens of people were killed in the east of the country over the past day as fighting flared up in the restive areas, putting additional strain to a four-month-old ceasefire.
In the past 24 hours, five Ukrainian soldiers were killed and 38 others injured in clashes with independence-seeking insurgents, said Andriy Lysenko, a government military spokesman.
The fighting, which concentrated near the Mariynka town in Donetsk region, has also claimed the lives of two civilians and wounded five others, Lysenko added.
The spokesman put the death toll among the insurgent forces at 80 people. However, that figure was not confirmed by the rebel leadership.
The self-styled defense ministry of the self-claimed Donetsk republic said that clashes near Mariynka have killed 16 rebel fighters and injured 86 others.
The government-controlled Mariynka town, which lies 30 kilometers west of the rebel stronghold of Donetsk, became the new hotspot of fighting in eastern Ukraine on Wednesday, after the warring sides exchanged artillery rounds into each other using heavy weapons, which is banned under the Minsk peace agreement.
Ukraine's army accused the rebels of launching a "major offensive" near Mariynka to push deeper into the government- controlled territory, while the insurgents denied the accusation, claiming that government forces committed a provocation against them.
The new round of violence added to worries about the shaky ceasefire reached in mid-February to end the deadly conflict, which has already killed 6,400 people, may collapse.
Earlier in the day, Ukrainian President Petro Poroshenko warned of a threat that full-scale hostilities may resume in eastern regions.