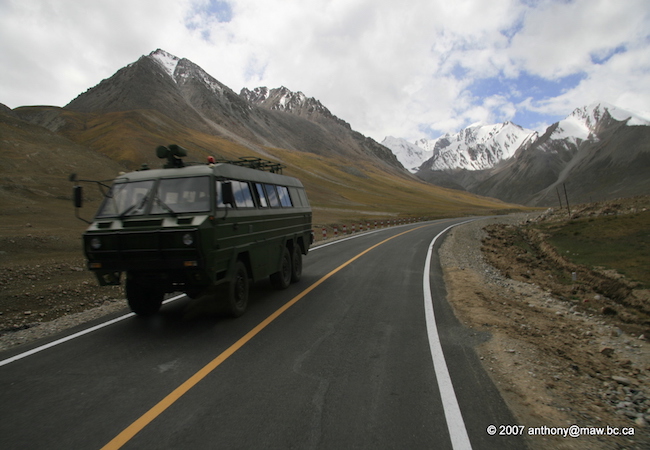 By Humayun Gondal
While the project is still in its incipient stage, India's strategic circles already seem to be obsessed with geopolitical ramifications of CPEC.
China-Pakistan Economic Corridor (CPEC), a $43 billion investment by China, is a crucial part of China-led 21st Century Maritime Silk Road Initiative through which China seeks greater connectivity with West Asia, Europe and Africa.  Through CPEC, China attempts to harness the potential of Pakistan's geopolitical location as an energy conduit between Central Asia,  China and Middle East. From a Pakistani perspective, India is using proxy warfare as well as aiding Pakistan's political dissidents in its attempt to subvert the Chinese project. While Pakistan has yet to bring evidence with regards to its allegations, there is no doubt that India is upset about Chinese investment.
Last month, leaders of Pakistan's major political parties gathered at Prime Minister's House to settle the controversy over the route proposed for China-Pakistan Economic Corridor.  The all-parties' conference remained day's top story on Pakistani media until a terrorist attack struck Karachi, the economic hub and largest city in Pakistan.  Armed motorists intercepted a public bus and killed as many as 43 people who belonged to the minority Ismaili community. Following preliminary examination, Pakistani state authorities rushed to blame India's premier secret agency, RAW, for the attack,  viewing it as an attempt to sabotage the efforts to develop political consensus on China Pakistan Economic Corridor.  Thereon,  Pakistani media extensively propagated the state-led narrative proclaiming that RAW was trying to systemically sabotage the Corridor project through proxy warfare and political maneuvering.
In the days following the Karachi attack, Pakistan's office-bearers have repeatedly taken aims at RAW.  Following another terrorist terror attack on a public bus in conflict-ridden Baluchistan, provincial home minister Sarfraz Bhugti claimed that the attack had been planned by RAW to scuttle the development of CPEC.  It is now widely believed among Pakistani populace that India seeks to reverse the impending revival of Pakistan's economy not only by employing proxy terrorism but also through intervention in Pakistan's domestic political sphere.  Many Pakistanis believe that India is secretively sponsoring the dissident campaigners who oppose CPEC in its bids to subvert the project right at its inception. Nationalists in Pakistan's smaller provinces- Khyber Pakhtunkhwa and Baluchistan- have been rallying against the project blaming Islamabad for altering CEPC's route to favor the province of Punjab and ignoring the interests of less developed, smaller provinces.  Pakistani media has been reporting, citing Pakistani intelligence sources, that RAW has created a special desk to streamline disruptive activities against CPEC. Pakistan has also vowed to bring the evidence against RAW's subversive program at international level but this has not yet materialized.
While Pakistan's claims of RAW's interference in the country may be exaggerated, there are clear indications that India has motivations to pursue a hostile policy on CPEC. India's incumbent National Security Advisor, Ajat Doval, is known as an advocate of a defensive-offensive grand strategy against Pakistan which would exploit Pakistan's vulnerabilities vis-à-vis the insurgency in Baluchistan and the Taliban incursions in the North-West.  In a recent statement, India's Defence Minister, Manohar Parrikar,  even went to the extent of advocating a policy of 'neutralizing terrorists through terrorists' which was picked up by Pakistan as an 'open confession' of India's involvement in abetting terrorism in Pakistan.
China continues to flaunt the project as a win-win initiative that will unleash a new era of economic prosperity for the entire region.  China has suggested that India needs not to be 'overconcerned' about CPEC.  Pakistan has also flatly rejected India's objections.  Nevertheless, India remains skeptical of the wider geopolitical implications of the project.  India is particularly wary of China's strengthened naval profile in the Indian Ocean and the Persian Gulf, since the operational control of Gwadar port will be entrusted to Beijing under the CPEC framework. Chinese naval projects in the Indian Ocean are already seen by India as 'strings of pearls' meant to encircle India by influencing its maritime neighbors.  India considers Indian Ocean as its exclusive sphere of influence and the successful realization of CPEC could disturb the present strategic calculus.  Besides that, CPEC route passes through the Pakistani side of Kashmir over which India holds irredentist claims.  New Delhi is already embroiled in multiple boundary disputes with Beijing. Furthermore, Pakistan has shown no signs of granting transit rights to India in future.  That is to say, CPEC offers almost no incentive to India in terms of economic integration.  India, therefore, is compelled to view the development of CPEC through a geopolitical lens.
Nevertheless, India has very limited options to affect the project's development. Exploiting the fears of Pakistan's smaller provinces and aiding the domestic opponents of CPEC by involving India's intelligence apparatus may be an appealing choice.  To augment that, India may obviously seek to support the anti-state militants in Pakistan.  While this strategy might appear attractive, India must be mindful of its long-term implications.  By all means, Pakistan's failed strategic history should be there to guide India's policy.  For decades, Pakistan pursued proxy warfare in India and Afghanistan as an instrument of its foreign policy.  In India, Pakistan sponsored an intrusive insurgency in Indian-held Kashmir seeking justifications on ambiguous ideological grounds.  This flawed approach clearly backfired and the militants ultimately turned their guns against the state of Pakistan itself. India must weigh its options carefully before it decides to tread on a similar path.