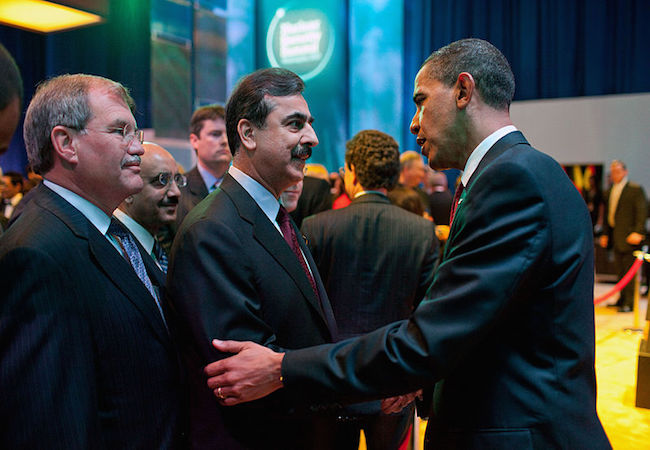 By Yasir Hussain
The just concluded seventh round of the US-Pakistan Security, Strategic Stability, and Non-proliferation Working Group in Washington yielded promising results in favor of Pakistan. Pakistani delegation vociferously presented its perspective on various issues including access to the civilian nuclear technology. The delegation led by Foreign Secretary Aizaz Ahmad Chaudhry and US counterparts had a productive exchange of views on variety of pertinent issues such as international efforts to enhance nuclear security, peaceful applications of nuclear energy, non-proliferation, export controls, regional stability and security. The U.S. welcomed Pakistan's efforts to harmonize its strategic trade controls with those of the Nuclear Suppliers Group and other multilateral export control regimes. It expressed full confidence in Pakistan's indigenous efforts to strengthen nuclear security, and also endorsed Pakistan's efforts to strengthen export controls and border security including through ongoing efforts for installation of radiation portal monitors at border crossings, as well as Pakistan's hosting of IAEA training activities at its Nuclear Security Center of Excellence. In addition to that, both sides emphasized the desirability of continued outreach to integrate Pakistan into the international nonproliferation regime.
In the backdrop of skepticism expressed particularly, in western media regarding Pakistan's nuclear safety and security, the US official stance itself speaks volume. Despite the fact that Pakistan has unearthed all the stones to make its nuclear safety and security apparatus stringent, western media has painted dark picture of Pakistan's nuclear assets. 
In the past, we have witnessed too much divergence and too little agreement, on crucial matters such as fissile material stocks, nuclear weapons reduction, nuclear safety and security. The strategic dialogue was perceived to be an another episode in the saga of continued talks and ineffectual outcomes but this time, effective diplomatic display by Pakistani authorities proved old rhetoric wrong. 
Both, Pakistan and US exchanged their respective perspectives on nuclear non-proliferation as well as on other strategic issues. Pakistani officials made a very convincing argument focusing on Pakistan's right to become member of Nuclear Suppliers' Group (NSG) a 48-nation body established four decades ago to ensure that civilian trade in nuclear materials is not diverted for military purposes. The plea was loud and clear. Pakistan demanded for a civilian nuclear deal similar to the India-US accord that allows India's access to nuclear technology despite being a non-signatory to the Nuclear Nonproliferation Treaty (NPT). Earlier there was lack of considerable diplomatic support in favor of its inclusion in NSG. Pakistan clearly declared that access to the civil nuclear technology was a socio-economic imperative. 
Today, the country is facing worst kind of energy crisis. The chronic power shortage has restricted its industrial production capacity and constituted a big hurdle in economic development.  Nuclear energy, in this regard, seems viable option to meet growing energy demands and it is only possible once Pakistan become part of global nuclear trade industry. Pakistan has a history of safe operation of nuclear plants, it deserve to be integrated into the nuclear suppliers group (NSG). It is the need of hour for the global community to accept Pakistan as a de-Jure nuclear power otherwise; keeping it isolated from nuclear business will undermine all kind of global efforts for nuclear arms control and disarmament.