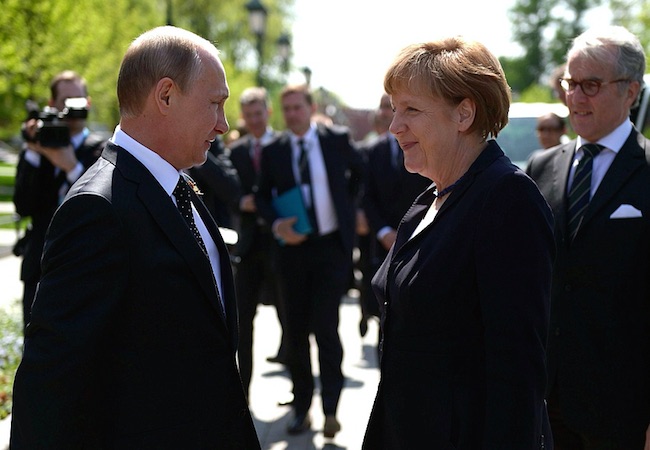 By Bina ul Haq
Summary
Russia is a pill Europe cannot swallow nor can spill; exit costs from Russian trade and foreign relations will have long lasting and adverse effects on businesses and trade globally.
The factors discussed in this article indicate the economic war in Europe. Greece bail out or not, Russia is in a win-win position with deep trade roots in the EU.
Moscow holds a position to influence policies/opinions with ties on the far right and hard left. Moscow may employ divide-and-conquer strategies towards Greece and others to undermine the EU and NATO.
Russia is vital in BRICs, and could join with Greece to create large-scale energy projects including a pipeline to carry gas from former Soviet states to Europe.
West sanctions against Russian target major financial, energy and military industries. The EU needs a coherent strategy towards Russia. Russia is seeking strategic military partnerships with various EU countries.
The article provides a background about Russia and Europe historically and extended impacts in modern Europe. I will highlight Russian economic involvement in Europe, generally and its interest in Greece, specifically. The article will also highlight the impact of sanctions and recommendations.
Europe Will Always Need Russia
In 1756, the major powers of Europe got entangled in a conflict now known as the Seven Years War that was to last until 1763. The causes of this war originated in the results of the War of the Austrian Succession, colonial conflicts and competition between European countries and Franco-British conflict in North-America. Subsequently, these conflicts led to the Diplomatic Revolution.
The Prussian "era of reform", which included reform of community boundaries, the army, schools, universities, taxes and value systems has influenced aspects of culture with efficiency, austerity and discipline. Prussia and Russia became allies and controlled wars and treaties and re-established European boundaries to their antebellum locations and embossed political reforms, economic history and social theory, in a "great transformation" and Industrial Revolution. This has influenced the deficiencies of the self-regulating market and potentially dire social consequences of untampered market capitalism in an era of globalization and free trade in today's world.
Russia is the largest country on earth, it emerged from post-Soviet economic and political uproar as a world power. Russia has an assertive foreign policy interest in former Soviet states. Russia's foreign policy consists of a strategic partnership with the EU, economic integration between the Eurasian Economic Union (EEU) and the EU, cooperation with Brussels and other European capitals for integration processes based on similar principles and norms of the WTO. It is a prominent player in BRICs. The Seeking Alpha emerging Markets ETFs Screener shows Russia (NYSEARCA: RBL) YTD contribution is 18.0%seekingalpha.com – as of 07/11/2015, 6:32 PM ET.
The Russian Federation and the European Union are interdependent as largest geopolitical entities linked by their common civilizational roots, history, culture, and future, as Russia and the EU are the two major political and economic power focuses on the continent.
Impact of Sanctions on Russia
It is no hidden fact that the sanctions will remain one of the main Western tools for pressing Moscow to stop intervening in Ukraine or to create economic pressures. Sanctions on Russia have been levied in a haste response to a feeling that 'something must be done'. While sanctions have an impact, they are not the primary impact on Russia's economy. Russia's current economic issues are due to dwindling oil prices, a falling rouble and its economic policy mistakes. These will continue to be a factor though, as under the Minsk agreement, Russia will only hand back control of the border at the end of 2015.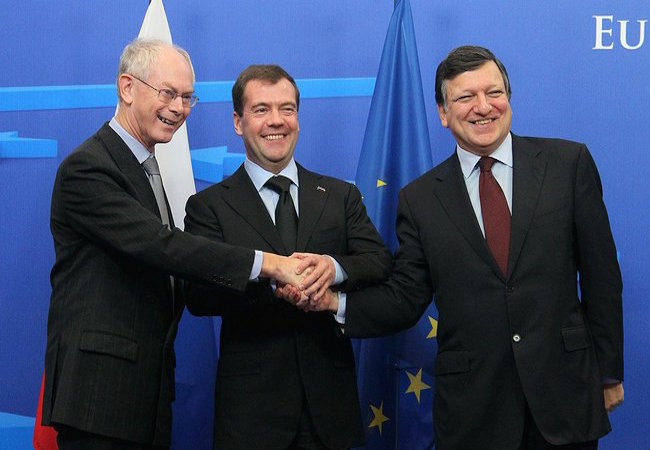 Russia's Strong Strategic Economic Relations and Trade Links with Europe
Energy supply
Russia is the EU's No. 1 supplier of natural gas through the state-run gas monopoly Gazprom (GAZP), which is the world's largest producer and exporter and supplies gas satisfying one-quarter of the EU's overall demand. It also remains the 2nd most important exporter of crude oil and oil products to Europe. Russian gas accounts for over 50% of total gas consumption in Eastern Europe, including several advanced economies, such as Belarus and Moldova. Since the 1990's Gazprom has invested 50% in the energy trading and construction company Prometheus Gas. The company aims to construct a floating LNG terminal in Northern Greece to interconnect with the Greek, Bulgarian and Turkish gas transmissions systems, a triangle country gas flow by the Trans-Adriatic Pipeline (NYSE:TAP), the Interconnector Greece-Bulgaria (IGB), South Stream and the new gas link between Bulgaria-Turkey. Gazprom, Shell (ADR), E.ON (EOAN) and Austria's OMV Group signed a memorandum for a joint venture deal involving a new pipeline that will have the capacity to ship 55 billion cubic meters to European each year.
Trade and Manufacture
Russia is the third biggest trading partner of the EU, partnering with thousands of companies. It makes high-speed trains in partnership with Siemens (OTCPK:SIEGY), builds cars with BMW (OTCPK:BAMXY), VW (OTCPK:VLKAF) and Renault (OTCPK:RNLSY), Ford (NYSE:F), Toyota (NYSE:TM), Honda (NYSE:HMC), Rolls-Royce, and Mercedes-Benz (OTCPK:DDAIF). It makes agricultural machinery with Fiat (NYSE:FCAU), has opened pharmaceutical factories with AstraZeneca (NYSE:AZN) and Pfizer International (PFZ) and traded with Boeing (NYSE:BA), Mitsubishi Heavy Industries (OTCPK:MHVYF), Coca-Cola (NASDAQ:COKE), Goodyear (NASDAQ:GT), Intel (NASDAQ:INTC), IKEA, Michelin, Landmark, LG, Microsoft (NASDAQ:MSFT), Goldman Sachs (NYSE:GS), Deutsche Bank (NYSE:DB), Morgan Stanley (NYSE:MS), Nikin, Nokia, Schlumberger (NYSE:SLB), Shell and Starbucks (NASDAQ:SBUX).
Investment flows
Foreign direct investment ("FDI") from Russia in industries such as banking, energy, and metal and mining exceeds 5% of GDP for Belarus, Bulgaria, Moldova, and Montenegro. A number of advanced economies notably including the Netherlands and Ireland have significant FDI in Russia as well.
Financial links
Many Western banks have sizable exposure to Russia. Austrian, Hungarian, French, and Italian banks have subsidiaries in Russia and also lend directly to customers in Russia from their branches outside Russia. Russian operations have accounted for a large share (in some cases over one third) of their profits in the last few years. In 2007 the Russian bank Kedr establish itself in the Greek banking retail sector and acquired a sizeable niche segment serving Greeks immigrating to Greece from former Soviet Union states, as well as, the sizeable Diaspora of Russians, Armenians, Moldovans, and Ukrainians in Greece.
European bank claims on Russia
The same Western banks also lend to other countries in Central, Eastern and South-eastern Europe (CESEE). This accounts for 60% of the total cross-border lending to the CESEE region, with Russia accounting for about one third of the region's total borrowing from these creditors. Hence, if a large shock to Russia triggers a reassessment of regional risks by common creditors, it could result in a broad pullback in lending to other countries, as well (IMF 2014b).
Largest creditors and recipients of cross-border lending
Foreign portfolio investments to Russia are also sizable, given that Russian assets account for 6-12% of emerging market benchmark indices (J P Morgan 2014).
Hungary – Russia sealed a deal with Hungary to build reactors at the Paks power plant in return for €10bn in tied credits. Prime Minister Viktor has been one of Putin's most consistent supporters within EU circles. The Russians already supply 80% of Hungary's natural gas. Over the next decade, Russian technology and expertise will now also be supplying 56% of Hungary's electricity.
Venezuela and Russia's top oil producer, Rosneft, have agreed on around $14 billion in investment in the South American OPEC country's oil and gas sector. Fresh investment would be a boon for Venezuela to ramp up oil output to counter an economic crisis and the recent tumble in oil prices
Argentina – Russian initiated financing of a hydroelectric power plant on Argentina's Neuquen River and Russia's Rosatom nuclear corporation will begin work at Argentina's Atucha 3 nuclear power plant. These projects would bring "the latest Russian technology" to Argentina. The two countries agreed to expand co-operation between their defence agencies.
Greece – The religious ties between the two nations, with majorities of both countries adhering to the Eastern Orthodox Church, has a significant role in Greek-Russian relations. Russian companies will explore natural gas and oil reserves off the country's eastern coast and Greece will support the Kremlin's new pipeline plan though Turkey, known as "Turkish Stream". The Kremlin may lift its EU food import ban in exchange for Athens pushing a pro-Russia line. Russia could be the Greeks economic and military ally; Russian and Greek paratroopers conducted joint military exercise in Elefsin in Greece in 2010. Russian investments in Greece include Russian ICT group a major shareholder in the Bank of Piraeus. Russian concern Sitronics, a subsidiary of the Russian multinational Sistema Holding, bought 51% of the largest Greek domestic telecom supplier, Intracom Telecom. Agroinvest-MIRUM Company bought 200 hectares of land in Eastern Crete to construct a series of exclusive hotel resorts having invested 100 million Euros. The Russian Dmitry Rybolovlev bought the Skorpios private island as a world-exclusive private resort. Russian group Wimm Bill Dann Foods (owned 66% by PepsiCo) bought the Dodoni dairy industry in Greece. The Greek-Russian businessman that owns the Donskoy Tabak Company bought the PAOK football club, the SEKAP tobacco industry, and long-leased the Makedonia Palace upscale hotel. Russian investments in the Greek tourist real estate market range from 100,000 Euros to 5 million Euros. Boris Mouzenides, a Pontic Greek businessman from Russia has invested in the tourism market by establishing Ellinair airlines, buying the Potidaea Palace resort, Portes Palace Hotel, Mouzenidis Wine vineyard, creating the Grekodom Development real estate company, the BoMo Club hotel management service, Mouzenidis Intour tourism agency & Mouzenidis travel that handle more than 600,000 incoming Russian tourists in Greece, as well as the Grekomed medical tourism service, Solun pilgrimage tourism service and founding the CSR Service courier post company. The Russian tourist agency Nataly Tours are in the process of investing 1.2 billion Euros for the construction of 20 hotels around Greece with the Greek-German Atlantica Hotels & Resorts. Greek Ministry of Foreign Affairs, BBC, CNBC.
United Kingdom – The UK imports more goods from Russia than it exports. Russian investments, in the London property market both old and new, are worth more than £ millions. The UK also has investments in Russia – in the form of BP oil. It has an almost 20% share in the biggest Russian oil producer, Rosneft, which generates profits for the British-owned company. This partnership continues to expand with BP (NYSE:BP) recently buying a $750 million stake in a Rosneft owned field, in spite of sanctions. According to a report from December 2012, more than 600 UK companies were operating in Russia. In January 2014, UK Trade and Investment announced it was widening its remit to encourage Russian companies to set up in the UK.
France – French-Russian business and trade are performing well; this includes LVMH (OTCPK:LVMHF) the top luxury group in the world, perfumery and cosmetics retailer Ile de Beaute and Danone (OTCQX:DANOY), Sanofi (NYSE:SNY) a top pharmaceutical company. Oil and gas provider Total (NYSE:TOT) recently announced a refinery sale to Rosneft. In the automotive industry, Renault-Nissan has an alliance with AvtoVAZ. Hypermarket chain Auchan is one of the largest foreign employers in Russia with some 35,000 employees. Home-improvement retailer Leroy Merlin and sporting goods chain Decathlon have thousands of employees, as well. France is the No. 2 investor in Russia after Germany in terms of direct investments. Nearly 1,200 French companies are working in Russia, 37 categorised as very large from the French CAC40 list, as well as numerous small- and medium-sized French enterprises.
Benefits of WTO Duties – WTO is to freeze or reduce its export duties. It is estimated that up to 75% of Foreign Direct Investment stocks in Russia come from EU Member States. This will bring down the level of Russia's import duties to a reasonable level, thus improving market entree for EU businesses and facilitating investment through a more predictable legislative framework that will create healthy competition.
Recommendations
Sanctions from the West against Russian financial, energy, military, and industrial entities, and major businesses should be based on having clear objectives and a concrete assessment of political and economic influence on the EU. They must separate arrogance on both sides and make recommendations beneficial for future relationships, trade, businesses investment and foreign policies. EU is on the brink of economic war and therefore must evolve a coherent strategy with Russia.
Many European countries depend heavily on oil imports from Russia. The pipeline through Ukraine has the largest capacity and transports almost half of Europe's gas imports from Russia, so any disruption in the flow through that particular pipeline could halt or severely impact European industrial activities. Russia played power politics with gas in 2009 over Ukraine and disrupted a pipeline to Europe and prices jumped by 17pc in the UK. Natural gas will remain an integral part of the European energy mix, new projects are important to satisfy the demand for energy carriers, due to declining domestic gas production in Europe. Vladimir Putin could use energy as a "new nuclear weapon".
Appreciating the facts of the involvement of EU financial institutions' Euro denominated deals and BRIC NDB (New Development Banks) and petroleum dollar-based trade, for all future transactions with Russia, foreign currency is a main denominator, providing transparency and managing trade risk. There is a need for trade relations to be fully reinstated and to urge on political reforms.
European countries and certain industries depend on Russia for the import of gas and oil, chemicals and minerals, metals, and manufacturing equipment. These industries are exposed to a top-heavy impact if there are trade disruptions or price increases on energy imports from Russia. Russia's neighbours such as Ukraine, Moldova, Belarus, and the Baltics, whose exports to Russia exceed 5% of their respective GDPs, could see significant impacts.
Russia will be the horizon for growth; companies that currently produce in Russia and others can take advantage by investing in Russia, since there are good deals and it is currently less expensive to invest. Germans have already started, French and European businesses that are present in Russia will not leave these prospects.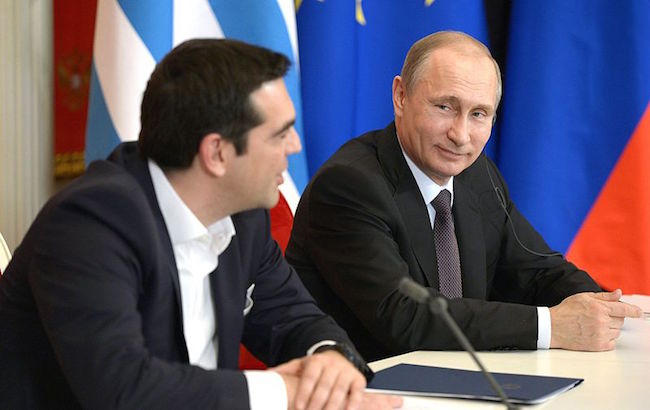 Russia could offer debt-ridden Greece controversial loans and discounts on supplies of natural gas in exchange for the country's assets. If Russia reaches out further to Greece, it should be without any contractual obligations with the BRICs. This will give Russia more power for it's positioning both in the EU and with the BRICs. Russia has plans to take stakes in Greek gas company DEPA, train operator TrainOSE. Seaports in Athens and Thessaloniki are also potential targets of Russia, which will strengthen its foothold in Europe.
The foreign investment and remittance will increase in Europe, as Russians continue with a preference to buy property in Italy, Bulgaria, the U.S., Czech Republic, Spain, Turkey, the UK and Greece. Russian direct investments include Bulgaria, Cyprus, Serbia, Montenegro, Serbian-Bosnia, Turkey, Romania, Greece, Albania, FYROM, Slovenia and Croatia mainly revolving around the energy, food processing and tourism sectors.
Europe will not develop without Russia and Russia will not develop without Europe. What the European Market has to look out for are how sanctions could backfire; Russia's presence in the EU economy is deep rooted by its investments and by foreign companies operating in Russia. This will have unbearable exit cost in terms of finances, infrastructure, trade and foreign policies. There is a major credit risk to consider, as well, as Russia accounts for about one third of the region's total borrowing from creditor Western banks.
Russia is a member of the World Trade Organisation and the number of companies will grow and provide a vast job market for foreigners such as engineers, managers, consultants, lawyers and entrepreneurs.
The collapse of the Russian economy would not be in the interest of the West, nor would a revanchist Russia wielding the power to dictate to its neighbours. The deeper the divisions within the West will become, it will be more likely some EU countries will block renewal of sanctions to avoid the trade turnover affected by the political tensions.
These factors discussed in the article indicate the visibility of the Economic war in Europe.
References:
http://www.cer.org.uk/publications/archive/policy-brief/2015/frozen-politics-and-economics-sanctions-against-russia#sthash.V8pWhP25.dpuf
http://www.voxeu.org/ imfdirect.imf.org
http://www.theguardian.com/world/2015/feb/16/russian-resurgence-how-the-kremlin-is-making-its-presence-felt-across-europe
http://www.telegraph.co.uk/finance/economics/11519651/Russia-ready-to-offer-Greeks-cash-in-return-for-assets.html
Europe Regional Economic Issues, "Cross-Border Production Chains and Business Cycle Co-Movement between Central and Eastern European Countries and Euro Area Member States," ECB Working Paper Series No. 1628