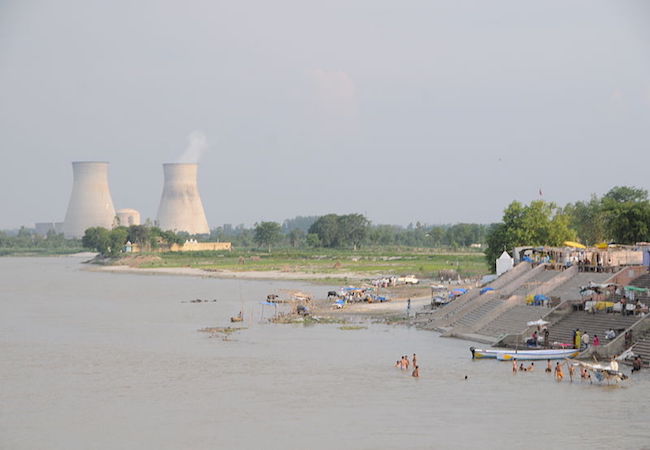 By Dr K S Parthasarathy
Mr Usman Ali Khan's op-ed India's Sprawling Nuclear Quest fromJuly 24th reveals a totally biased view on India's nuclear power program. Mr Khan passionately supports Pakistan's nuclear programme; however, he considers "Massive Indian Nuclear build up plans" as alarming. I have a broader view. Nuclear energy can play a vital role in all developing countries including India and Pakistan.
Usman criticized his compatriot Dr. Pervez Hoodbhoy, for opposing Pakistan's plan to construct two Chinese-supported nuclear power reactors in Karachi (Nuclear Energy Viable Option, Pakistannewsviews.com, April 14, 2014). However, Mr Khan quotes (Late) Praful Bidwai, for whom anti nuclear sentiment is an article of faith to criticize India's nuclear programme.
Mr Bidwai remained anti-nuclear till his last breath. Mr Khan must know that both Dr Hoodbhoy and Mr Bidwai are birds of the same feather! Ideologically, Bidwai was India's Hoodbhoy and Hoodbhoy is Pakistan's Bidwai!
While referring to the way Government treated anti nuclear movements in India, Mr  Khan wrote thus: "The protestors shouldn't be treated like ignorant and misguided children to be coached and disciplined by a nanny state. Their leaders are well-informed professionals, including S.P. Udayakumar, who has taught at a US university, M. Pushparayan, a lawyer, and Tuticorin's Bishop."
Bidwai wrote these words over three years ago on October 18, 2011 ("People's power vs nuclear power").He would have forgiven Khan for his indiscretion in copying his words!
"If one looks at the history of nuclear power projects in India, practically each reactor took longer to build, cost more than projected, and performed worse than had been envisaged when plans were made." Khan asserted.
This was exactly what Dr M V Ramana, an acerbic critic of India's nuclear programme wrote two years ago (Paragraph 10, "The Limited Future of Nuclear Power in India").
Usman sourced selected information on India's nuclear program exclusively from anti nuclear activists/writers such as M V Ramana. As is the practice recommended by the International Atomic Energy Agency (IAEA), the Atomic Energy Regulatory Board rates events in nuclear installations in India based on their safety significance and publish them in its annual reports. Anti nuclear activists such as Ramana portray a laundry list of such events as catastrophic and diabolic. Rather than parroting these views blindly, if Mr Khan seeks the views of the officials in Pakistan Nuclear Regulatory Authority (PNRA), he may realize how baseless are Dr Ramana's opinions on the safety status of India's nuclear plants.
Mr Khan invokes the memories of Bhopal to highlight the consequences of a nuclear disaster in India. Thus: "Memories of the Bhopal tragedy, which killed an estimated 10,000 people in 1984, are still fresh, and so is the mismanagement of the fallout by the government of the day, including letting the senior management of U.S. firm Union Carbide escape scot free."
Mr Kabir Taneja, a journalist, made the same statement in The Diplomat on December 13, 2013 (Lessons from Japan for India on Nuclear Energy).
Linking Bhopal tragedy with nuclear power is inappropriate.
Mr Khan asserted that "the details of nuclear programme information on several fronts are unavailable to the public".
"These include the question on: What exactly is the purpose of the nuclear programme- production of energy, or use of nuclear technology for 'peaceful' purposes, for India's security or for all purposes keeping in mind the story of CANDU reactors? What is the extent of nuclear energy potential in India on the basis of fuel to be used? What is the extent to which technology is imported from other countries? How much is spent on the development of nuclear technology and individual projects in India?" he added.
Khan reproduced these questions verbatim from what Ms Manju Menon wrote exactly four years ago (Who knows, who cares? Environmental and social safety violations in nuclear projects in India, 08 / 2011). One can answer these questions based on publicly available documents.
"Apart from the law that shields the nuclear programme from the public, it is the nuclear bureaucracy that guards its projects and schemes." Khan repeats another claim of Ms Menon in the same article.
Ms Menon's statements which Usman uses indiscreetly seem to be on the secrecy provisions in the Atomic Energy Act 1962. Those provisions are similar in other countries with similar stakes. The Honourable Supreme Court of India has upheld the constitutional validity of such provisions.
Usman copied para six starting with "Second,…and ending with "security culture"(148 words) describing a few nuclear events in India's nuclear reactors, which Lankan Ranger wrote on November 13, 2011.
In summary, Mr.Usman Ali Khan uses without attribution large portions of articles from many authors to show India's nuclear programme in poor light. Because of this practice, this article on India's nuclear program is biased and "tellingly short on facts and abundantly long on unsupported opinions", as I wrote earlier (Muddled Up Views On India's Nuclear Program, Eurasia Review, June 13, 2015  while responding to "India's Nuclear Muddle"(Eurasia Review, May 15, 2015).