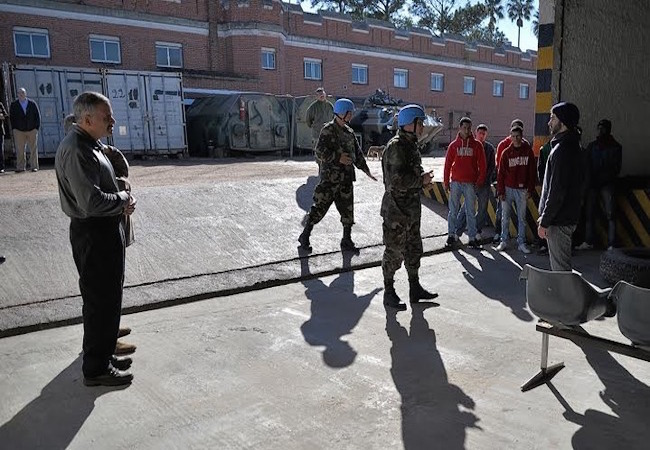 By Nastasia Barceló
Uruguay's National School for Peace Operations (ENOPU) and human behaviorists from the United States who participate in the Global Peace Operations Initiative (GPOI) sponsored a training mission from July 13-17 in the South American nation for Soldiers who serve as international peacekeepers.
GPOI, which is a U.S. State Department assistance program executed by the Department of Defense, strives to enhance international capacity to effectively conduct United Nations and regional Peace Support Operations (PSO) by building partner nation capabilities to train personnel and sustain peacekeeping proficiencies. It also works to increase the number of capable Military Troops and Formed Police Units (FPU) available for deployments, in addition to facilitating the preparation, logistical support, and deployment of Military units and FPU to PSO.
The training developed in Uruguay improves the ability of service members to protect civilians during peace missions and is intended to reduce the need to use force, lowering the odds that a peacekeeping unit or civilians will be injured. Using behavioral indicators, peacekeeping forces are taught to identify those who could harm the general population. They also facilitate the protection of human rights.
"Our Army is fortunate. We live in a peaceful region, and deploying for peace missions presents a challenge," said Uruguayan Army Colonel Carlos Frachelle, ENOPU's director. "So receiving this training, which is the result of years of practical experience from U.S. personnel, is an opportunity we find to be very valuable."The context of the peace missions is continually evolving; the operational environment is always changing. So, the challenges our personnel face are more and more complex," he added. "Training courses like this help them perform these missions more effectively and efficiently, and will help avoid unnecessary risks and even save lives."
Varied and relevant training
The training included debates as well as practical exercises, demonstrations, and events based on possible scenarios with the course culminating in closing ceremonies that gave students a chance to share experiences about what they learned.
"It is imperative that the United States support [Uruguay's] brave efforts in peacekeeping operations," said U.S. Navy Lieutenant Commander Shannon Souma, in charge of the GPOI at the Office of Security Cooperation in Montevideo.
The training helps service members perform tasks more efficiently and safely.
"The service members' operational environment is usually complex and often very dangerous," Lt. Cmdr. Souma said. "It is really important for them to be able to identify potential threats so they can protect themselves and the civilian population. Ultimately, in the future, Uruguay will be able to train independently, and all service members will receive this training before leaving on a peace mission."
Uruguay's contribution to MINUSTAH
Uruguay is a country with a population of less than 3.5 million, but is generally considered the top provider of peacekeeping Troops per capita in the world. Its Military is considered a worldwide leader in peacekeeping operations, as it continually provides Troops to many United Nations peace missions.
Among those, is the UN Stabilization Mission in Haiti (MINUSTAH). As part of the MINUSTAH Military component's draw down plan, Uruguayan service members closed the LTC Gonzalo Martirené Base in the commune of Mirebalais on February 4. 
The dismantling of the base after eight years of service was an extended effort involving 80 service members working night and day for 28 days.
The base's closure coincided with a reduction in the contingent of Uruguayan service members at MINUSTAH. Uruguay began contributing Troops and police officers to MINUSTAH in June 2004, and at one point had four bases in Haiti. In 2010, after a magnitude 7 earthquake struck Haiti, killing an estimated 225,550 people, injuring 350,000, and leaving about 1.5 million people homeless, the South American country had 1,200 Troops in Haiti.
But after meeting the mission's objectives, MINUSTAH's command directed Uruguay to reduce its contingent from 700 to 250 in January 2015.
Other peacekeeping missions
Uruguay is participating in other international peacekeeping missions as well.
As of January 31, there were 1,459 Military and police personnel working in UN peacekeeping missions, including MINUSTAH, the UN Stabilization Mission in the Democratic Republic of the Congo (MONUSCO), the UN Mission in Liberia (UNMIL), the UN Military Observer Group in India and Pakistan (UNMOGIP), and the UN Operation in the Ivory Coast (UNOCI), according to the UN report "Troop and Police Contributors."
Ninety percent of the service members in the Uruguayan Armed Force have or will participate in a foreign mission.
"At this time, there are civilian, police, Navy, Air Force, and Army personnel filling a wide variety of functions," Col. Frachelle said. "It is because of them that we can proudly say that we have a cumulative experience in peace missions that few countries possess."
The training program leverages the vast experiences of Uruguayan service members, some of whom have been on various missions, to create a course of instruction that prepares future service members efficiently. The training was also attended by a member of the Brazilian Army, as provided in the framework of the Latin American Association of Training Centers for Peace (ALCOPAZ), which in turn has facilitated the exchange of students and instructors with neighboring countries.
The course was developed by a team of experts from the U.S. Naval Research Laboratory who were led by one of the laboratory's sociology professors, Nathan Meehan, Ph.D.
The team's principle tasks included conducting broad research on human behavior, including interviewing Uruguayan peacekeeping service members, during which researchers asked the service members to recount their experiences in peace operations to determine what types of behavior indicated potentially hostile intentions.