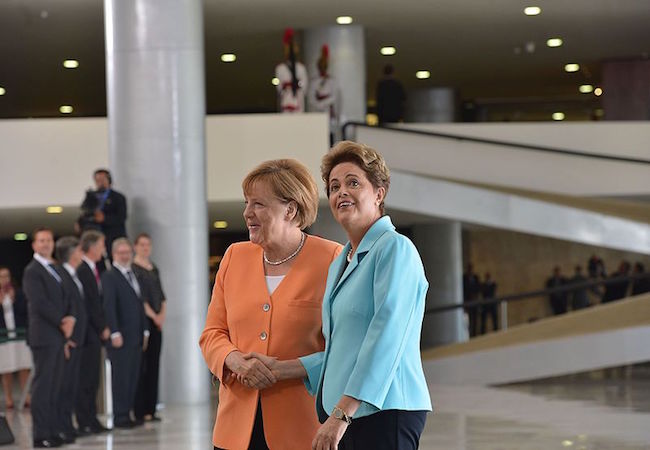 German Chancellor Angela Merkel pressed Brazil's government on Thursday to further open its markets to foreign companies, and said she saw an opportunity to reach a free-trade deal between the European Union and the Mercosur trade bloc. Merkel is on a two-day visit to Brazil with a large delegation of government officials and representatives from German companies.
"We could broaden our trade. We need reliable investment conditions", she said in Brasilia as she pressed for better access to Brazilian markets for German pharmaceutical products and medical technology, for example. German companies have invested more than 19 billion Euros in Brazil.
German government officials want to use the trip to lobby for German companies to be involved in a US$57 billion infrastructure investment program in railways, harbors and airports announced by Brazilian President Dilma Rousseff.
Those companies interested in the program include Siemens, Fraport and Deutsche Bahn . They face competition from Chinese businesses.
Brazil is hobbled by legislative gridlock, a lack of viable alternatives to the established political parties and an economic reversal that has pushed its currency to a 12-year low.
The economy is reeling from its sharpest slowdown in three decades. A vast corruption scandal has ensnared political and corporate bosses, and a federal audit is considering rejecting the government's 2014 book-keeping.
However, Merkel stressed Germany's "very special relationship" with Brazil, where more than 1,300 German companies are active. She also saw a new opportunity to clinch a trade agreement with the Mercosur trade bloc.
Off-and-on talks on an agreement have been held since 1999. Negotiations have floundered in the past over European Union agricultural subsidies and the opening of Mercosur industries to competition from Europe.
"I gained the impression that the president is very interested," Merkel said of the trade negotiation after meeting Rousseff. Mercosur members Paraguay and Uruguay are interested in a swift deal with the EU, though Argentina and Venezuela are reluctant.