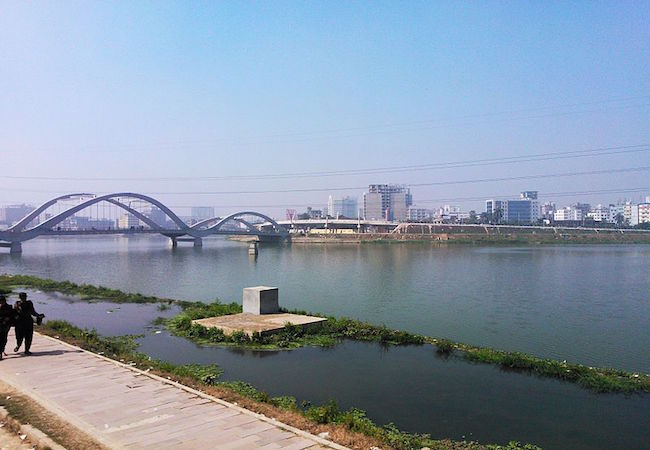 By S. Binodkumar Singh
On September 2, 2015, four eminent personalities, including Chittagong District Court's Additional Public Prosecutors Ashok Kumar Das and Chandan Bishwas; the Vice-Chancellor of Premier University, Chittagong, Dr. Anupam Sen; and International Crime Tribunal's Prosecutor Rana Dasgupta received death threats in the form of SMS text messages from the banned terrorist formation, Ansarullah Bangla Team (ABT, Volunteer of Allah Bangla Team).
Earlier, on August 12, 2015, Ittehad-ul-Mujahideen (IuM, United Council of Mujahideen), an affiliate of Tehrik-i-Taliban Pakistan (TTP, Taliban Movement of Pakistan), in a letter sent to online news outlet bdnews24.com issued death threats to 19 distinguished people. The list included Education Minister Nurul Islam Nahid; Social Welfare Minister Syed Mohsin Ali; Awami League (AL) Member of Parliament (MP) Suranjit Sen Gupta; 'War Heroines' Ferdousi Priyabhashini and Abdur Rahman; Professor of Shahjalal University of Science and Technology Muhammed Zafar Iqbal; Jahangirnagar University teacher Arafat Rahman; Member of the Udichi Shilpi Gosthi (Progressive Cultural Group, the largest cultural organization in Bangladesh) Makbul Hossain; bloggers Arif Jebtik, Sushanta Das Gupta, Arifur Rahman, Omi Rahman Pial, Ananya Azad, Mahmudul Haque Munshi, Maruf Rasul, Nirjhar Mazumder, Dr. Atik, Ashfak Anupa and Nur Nabi Dulal. Though the list also included Niladri Chattopadhyay Niloy aka Niloy Neel (28), who was brutally killed at his flat in Dhaka city on August 7, 2015; the name was struck through with a red pen. The letter contains the threat in the form of a poem:
Death will come one day friend, today or tomorrow. For the sake of Almighty we will take the life of His enemies. What is your identity if you do not cry for insult of the Prophet? Death will come one day friend, take the life of the enemy.
In the letter the IuM has labeled these people as enemies of Islam and madrasa (seminary) education, atheists, satanic bloggers, Hindustani brokers and munafiqs (someone who outwardly practices Islam concealing his disbelief).
On August 10, 2015, Ansar-al-Islam, the Bangladesh chapter of al Qaeda in the Indian Sub-continent (AQIS), issued a threat on its Facebook page to six activists associated with Gonojagoron Mancha (People's Resurgence Platform), a group demanding capital punishment for the 1971 war criminals. The post read "There are three anti-Islamic poets & three organizers of blogs. They are the enemy of Islam. We should do what will our aim (sic)." The six persons have been identified as poet Henry Swapan, sculptor Charu Tuhin, poet Syed Mehedi Hasan, organizer of Gonojagoron Mancha in Barisal District, Nazrul Biswas, poet Tuhin Das and Bangladesh Chhatra Union's Barisal unit general secretary Pritom Chowdhury.
These threats become more alarming given the fact that four bloggers have already been killed in 2015, by suspected Islamist terrorists. On August 7, 2015, Niladri Chattopadhyay Niloy aka Niloy Neel (28), a secular blogger and a Gonojagoron Mancha activist, was hacked to death at his Goran residence in the Khilgaon area of the national capital, Dhaka, in broad daylight; on May 12, 2015, Ananta Bijoy Das (32), a progressive writer, blogger, editor of science fiction magazine Jukti, and an organizer of Gonojagoron Mancha, was hacked to death, using machetes, by four assailants at the Subidbazar Bankolapara residential area of Sylhet city; on March 30, 2015, another blogger and online activist, Oyasiqur Rahman Babu (27), was hacked to death in broad daylight in Dhaka city for his allegedly atheist views; and on February 26, 2015, Bangladesh-born American citizen blogger Avijit Roy (42), the founder of the Mukta-mona.com blog, was hacked to death in Dhaka city. Investigations into these cases later confirmed that ABT organized the killing of these writers for their position 'against Islam'.
In 2013, ABT had issued a list of 84 "atheist bloggers" on the grounds that "All of them are enemy of the Islam (sic)." Of the 84 atheist bloggers named in the list, ten have been killed so far (till September 6, 2015). In addition to the four killed in 2015, the other six include Jagatjyoti Talukder, killed on March 2, 2014; Mamun Hossain, on January 12, 2014; Ziauddin Zakaria Babu, on December 11, 2013; Arif Hossain Dwip, on April 9, 2013; Ahmed Rajib Haider, on February 15, 2013; and Jafar Munshi, on February 14, 2013.
In a related development, Rapid Action Battalion (RAB) personnel arrested Supreme Court (SC) lawyers' Barrister Shakila Farzana (39) and Mohamad Hasanuzzaman Liton (30); and Dhaka Judge's Court lawyer Mahfuz Chowdhury Bapon (25), from the Dhanmondi area of Dhaka city on August 18, 2015, in connection with financing the Shaheed Hamja Brigade (SHB), a Chittagong-based terrorist outfit. They allegedly provided BDT 10.8 million to SHB. Shakila deposited BDT 2.5 million and BDT 2.7 million for the outfit in two phases while Liton deposited BDT 3.1 million and Bapon BDT 2.5 million. Attorney General Mahbubey Alam on August 20 stated, "It will be proved in trial whether the three lawyers are guilty or not. No lawyers have been held over such allegations before." On August 23, 2015, the three lawyers gave confessional statements before the Chittagong District Court, admitting their involvement in financing the terrorist group.
The Sheikh Hasina-led Awami League Government has tackled the rising specter of Islamist extremism and terrorism in Bangladesh with a high measure of success. In a further initiative to consolidate gains, on August 12, 2015, Foreign Secretary M. Shahidul Haque disclosed, "We will take a couple more weeks to put together amendments to the terrorism acts. Some of the global Non-Government Organizations (NGOs) in disguise try to get resources not for real welfare of the people but for this kind of terrorist activities." Measures like this are the necessary way forward to fight this menace, even as ongoing efforts to reverse the success story have been intensified by radical groupings. The succession of brutal killings of bloggers and surge of threats to people opposing radical ideologies are instances of such efforts. The emerging support base of these grouping among hitherto unattached section of the society is also worrisome.
A measure of ambivalence, nevertheless, continues to tarnish Government responses. Thus, regrettably, urging the bloggers not to 'cross the limit' while writing on religious issues, Inspector General of Police (IGP) AKM Shahidul Hoque, at a press briefing at the Police Headquarters in the capital Dhaka city on August 9, 2015, warned, "Do not cross the limit. Do not hurt anyone's religious belief. The 'freethinkers' should keep in mind that hurting someone's religious sentiment is a criminal offence."
A space yielded to the extremists by the Government has the potential to derail the success story against Islamist radicalism and terror in Bangladesh, and could provide fertile grounds for an extremist resurgence. Indeed, while the Government had succeeded in minimizing the threat from strong terrorist and extremist formations such as Jama'atul Mujahideen Bangladesh (JMB), Harkat-ul-Jihad-al Islami Bangladesh (HuJI-B), Hizb-ut-Tahrir (HuT) and Hizb-ut-Towhid (HT), the subsequent failure to rein in fundamentalist elements has led to the growth of groups like ABT and Ansar-Al-Islam, and the spate of murders and wider intimidation these groups have unleashed.
Indeed, on August 17, 2015, Tangail Superintendent of Police (SP) Mahfuzur Rahman, observing that, since the August 17, 2005, countrywide synchronized bombings by JMB, a new generation of terrorists had spawned, but there had been no change in Government tactics to deal with them. He noted, "The JMB doesn't have the organizational strength like that in 2005 following the arrest and execution of its top leaders. But it doesn't mean the organization has become very weak. The outfit is still active in different areas under different names. We need to monitor the elements whether they are in jails or outside, and fight them institutionally under a coordinated mechanism."
The emergence of new groups demonstrate the speed with which violent extremists adapt to even to the most extraordinary pressures and changes in the security environment. The processes of Islamist entrenchment have been ongoing for decades in Bangladesh and hundreds of thousands who have undergone various degrees of radicalization remain in the country as a potential pool of recruitment for violent mobilization. It is difficult to predict what could trigger a new cycle of escalation. It is imperative, consequently, for Dhaka to fight through any complacency that may undermine the present resolve to wipe out extremism from the country.
S. Binodkumar Singh is a Research Associate, Institute for Conflict Management