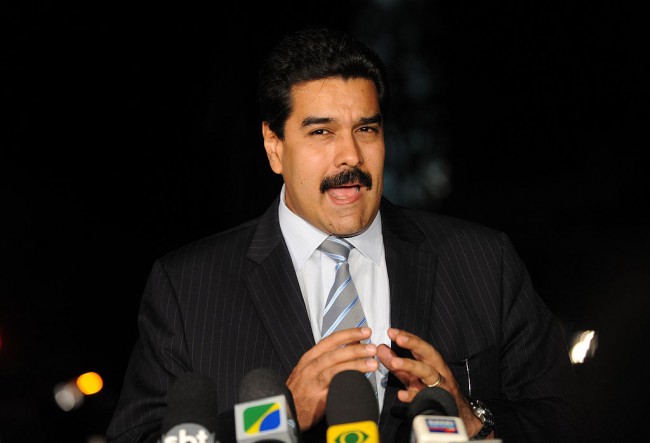 In the margins of the Petrocaribe Summit currently taking place in Jamaica, Venezuelan President Nicolás Maduro will be meeting the foreign ministers of Argentina and Brazil to discuss the border crisis with Colombia.
Vice-president of Venezuela Jorge Arreaza confirmed Argentina's Hector Timerman and his Brazilian counterpart Mauro Vieira were flying to Jamaica to hold a meeting with Maduro to address tensions between Venezuela and Colombia, that escalated earlier in August when Caracas shut two border crossings after a shootout between smugglers and troops wounded three soldiers.
Maduro later extended the closing indefinitely and stepped up deportations of Colombians in what he said was an effort to crack down on paramilitary gangs.
On Friday, Timerman and Vieira met with their Colombian counterpart in Bogotá, María Ángela Holguín.
Since the border crossings were closed, more than 1,500 Colombians have been deported from Venezuela, including some minors who were separated from their parents. Another estimated in 16.000 crossed with their belongings voluntarily with many families split.
The porous 2,219-kilometer frontier is frequently traversed by smugglers moving price-fixed goods from Venezuela to Colombia for profit, as well as illegal armed groups.
Colombia contends many of the deported were in Venezuela legally, and there has been an outcry from rights groups over security forces branding houses with a "D" for demolition and razing some of them. About 5.6 million Colombians live in Venezuela.
Images of hundreds of Colombians wading across a border river with refrigerators, chickens and mattresses on their backs as goats and children followed shocked many in Latin America. Diplomatic responses, however, have been muted.
In a setback for Colombia, the Organization of American States (OAS) voted against its proposal for a meeting on the border situation.
Colombia is housing many of its deported citizens in tents and other temporary facilities.
Colombian President Juan Manuel Santos says Venezuela must allow border crossings for humanitarian reasons, let the deported recover belongings from homes, and respect immigration protocols before he will meet with Maduro.